Welcome to my Lucky Hoop app review!
The creator of Lucky Hoop claims that you can earn a lot of money just by playing his free game on your phone. It's very addictive as it combines basketball, plinko, and slot machine!
All you have to do is tap to shoot the basketball through the hoop that moves from left and right. Whenever you make a basket, you will get token balls and the opportunity to earn rewards.
I am writing this post because I know there are still many people who will play it for long hours with the expectation to cash out. Therefore, this review will empower you so you can make an informed decision!
So, is Lucky Hoop a scam or legit app? Does it pay? Keep reading to find out!
Recommended: This step-by-step program helped me build my own online business and generate $1,600+ per month. It's free to join!
Lucky Hoop App Review
Full Name: Lucky Hoop (Early Access)
Developer: Nigel Fowler
Eligibility: Worldwide
Price: Free (no in-app purchases)
Overall Rating: 

1/5
What is Lucky Hoop?
Lucky Hoop is an arcade game where you toss basketballs in order to activate the plinko game and win cash rewards.
Lucky Hoop was developed by Nigel Fowler, who also operates Dozer Mania, Kitty Town, Monster Drop and a few other "money" games.
He person promoted his game extensively and achieved the remarkable mark of 100,000 installs so far. The major reason it went viral is the opportunity to withdraw the cash balance via PayPal.
How Does Lucky Hoop Work? 
Installation
Lucky Hoop is available on the Play Store and doesn't require registration or permissions. Just install the app and start playing right away!
How to Play?
The game comprises a plinko board, a slot machine, and a basketball hoop that constantly moves from side to side. It feels like playing a carnival game in the amusement park!
Just tap on the basketball to toss it towards the hoop. You don't need to take your aim, so it's not a big challenge to make a basket.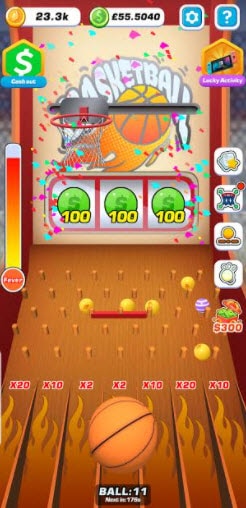 You start with 30 balls and add an extra ball every 300 seconds. They allow you to get extra 30 basketballs by watching a video ad or spending £1.6 from your virtual cash balance.
Whenever you score the basket, Lucky Hoop will give you token balls based on your shooting. There are three possibilities:
Perfect: 5 balls
Good: 2 balls
Miss: 1 ball
Each ball will hit the obstacles and fall into one of the 7 slots at the bottom, lighting the fire.
Once every slot is lighten up, it will activate the slot machine, and depending on the result, you will get extra balls, puzzle pieces and other items.
Yellow balls give you tokens, whereas green balls award you virtual dollars when it hits the slots.

Note there is a "Fever" progress bar on the left side. By filling up this bar, you get double rewards for a period of time.
Also, there three tools that can help you collect more rewards: Enlarge the basket, clear all obstacles and light up 1 fire.
Lucky Activity
Just like hundreds of Android games, Lucky Hoop allows you to collect puzzle pieces to redeem gift such as PS5, Sony TV, Samsung Galaxy s20 and more!
You can earn fragments by activating the slot machine as well as using the "bubble of puzzle" or Lucky Spin.
Bear in mind you will always have to watch a video ad first, which by the way, is how the developer is earning revenue with his app.
How to Cash Out?
Requesting your payment is very simple, but receiving the money is a whole nother story.
The first step is to earn enough virtual items. Open the cash balance or tap the "Cash out" button to check the requirements. For example, you need at least £120 to redeem £120 via PayPal or 3 million tokens to withdraw £240.
There are other withdrawal methods such as Coinbase, Cash app and Banco Inter.
According to the app instructions, your reward will be processed within 3 – 15 business days. Weekends are not included.
Check out the top-rated apps that pay you instantly here. 
Is Lucky Hoop Legit? Does it Pay? 

Unfortunately, I couldn't find any evidence that Lucky Hoop rewards users who reach the target. Although I have no proof, I am very confident that the developer won't pay you a dime.
The most likely outcomes is that you get stuck before reaching the payout threshold. That's what happens to most players who try to earn money with such apps.
But I may be wrong since I didn't play for long enough to verify. Well, in that case, it may take even longer for you to realize you won't receive the money.
The reason is that they might encourage you to wait for a payment that will never come! Forget about it if you value your time!
Read the Terms of Use and check for yourself that Nigel Fowler doesn't promise or guarantee any specific result from using his app. This is the main reason I cannot call Lucky Hoop a scam because the developer assumes you accepted his Terms. 
Similar apps to avoid:

This reward platform is going viral! Cash out via PayPal, Visa, Gift Cards, and in-game currencies - Click here to find out how to generate an extra $10+ per day! 
Conclusion 

It would be fun to play Lucky Hoop if Nigel Fowler was offering real cash rewards and prizes. But without the real deal, I pass!
This is neither the first nor the last time I review a "money game" that doesn't live up to people's expectations. I am publishing posts to warn people about them for many years now!
Many people get frustrated and wish app developers could be liable for unsubstantiated claims of winning big money. However, nothing happens and new applications are allowed to operate without restrictions.
Verdict: Not Recommended
Earn a Full-Time Income Online
There are several strategies that you can use to bring a decent income while working from home. However, I think becoming a content creator suits best for most people since they don't need any special skills!
Besides, it provides the highest level of freedom and peace of mind since you are your own boss, and don't handle customer service.
Thanks to this step-by-step program, I created a profitable site that ranks high on Google and earns me a living online.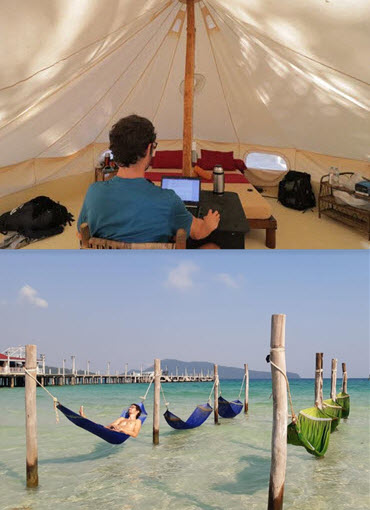 If you envision the same to your life in the future, follow the lessons, take consistent action, and don't give up until you make your dreams come true.
Final Words
Thanks for visiting this blog and reading my Lucky Hoop app review. I hope it was helpful!
If you have questions or thought about it, let us know in the comment box below.
Peace!