Welcome to my One Line Drawing to Win app review!
If you follow my blog, you know that I am constantly reviewing mobile games that entice users with big cash rewards.
Unfortunately, I cannot keep up with the large number of apps that appear on Google play. So, I try to expose the ones that are trending!
One Line Drawing to Win has gone viral recently because it supposedly lets people cash out $1000 via PayPal. 
Even though the ad says result is not guaranteed, many people still think it's worth trying! After all, the game is free, right?
So, is it really possible to make money with One Line Drawing to Win? Is it legit or fake? Keep reading to find out!
Recommended: This step-by-step program helped me build my own online business and generate $1,600+ per month. It's free to join!
 One Line Drawing to Win Review
Full Name: One Line Drawing to Win
Developer: David.Liu
Eligibility: Worldwide
Price: Free (no in-app purchases)
Overall Rating:

 1/5
What is One Line Drawing to Win?
One Line Drawing to Win is a puzzle game where you must move the animals over all the blocks without touching the same place twice.
The app is available on the Play Store for Android devices and has been installed 10,o00+ times so far.
The gameplay instantly reminded me of another game called Amaze Link to Win. They are so similar that I suspected it was created by the same person.
Well, I was right! When I checked on Google Play, I found both games were developed by David.Liu.
How Does One Line Drawing to Win Work? 
Just tap "play" to get started. All you have to do is wipe your finger and make the cat walk over all the blocks in the puzzle. Make sure you follow the correct path to avoid going through the same place twice.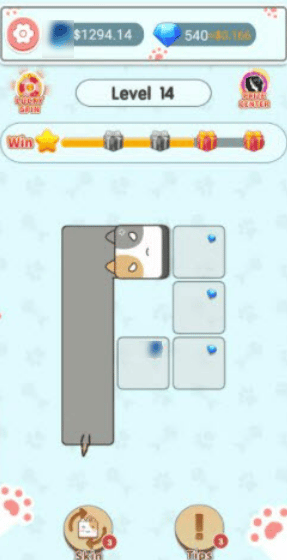 Don't worry as you can always undo and try again!
Upon clearing the stage, you have the chance to open the gift box and win virtual dollars. You must tap the "collect" button and watch the video ad in order to collect the reward.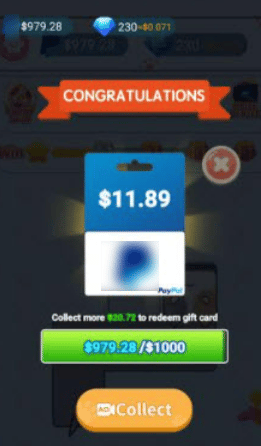 You will also earn PayPal cards, diamonds and stars as you touch blocks with the PayPal logo, gems, and star icons.
How to Cash Out?
Virtual dollars will accumulate in your account, but you can only withdraw the money once you reach $1,000. Tap redeem inside the cash balance page and enter your PayPal email.

Also, you can redeem 100 USD gift cards once you have 325500 diamonds. Available cards include Amazon, Google Play, Playstation, XBOX and iTunes.
Price Center
One Line Drawing to Win has the Prize Center, where you collect puzzles to win a Samsung Galaxy, HP EliteBook and other prizes.
Depending on the prize, you need 10 or 20 fragments awarded while using the Lucky Spin or Bubble of Puzzles.
Does One Line Drawing to Win Pay? Is it Legit?
No chance! The developer will not transfer a single penny to your PayPal account, let alone $1000!
I played the game and reached the payout threshold in less than 20 minutes.
Usually, games that claim to pay via PayPal decrease earnings and make it almost impossible to redeem. The reason they do that is to entice you to play it for longer and watch more advertising.
That's not the case with One Line Drawing to Win. They will let you cash out in no time, but I am afraid your payment request will be ignored.
I knew it was too good to be true! No game company could afford to dish out thousands of dollars to every player. They created this illusion to make big profits!
It's important to note that the Terms and Conditions state that users have no right to any virtual items. That's why I cannot accuse the company of fraud despite not giving rewards.
Conclusion 

I am not a big fan of One Line Drawing to Win because the game is boring and frustrate users with its unrealistic cash rewards. There are frequent interruptions, but you can always skip the ads if you just want to play for fun!
Don't play this game with the expectation to cash out because the developer has made no promises and is not obliged to pay anyone. You will just waste your time and internet data!
If you are still waiting for the payment, I don't have good news for you. It's easier to be struck by lightning than getting the reward.
Verdict: Not Recommended
Earn a Full-Time Income Online

This reward platform is going viral! Cash out via PayPal, Visa, Gift Cards, and in-game currencies - Click here to find out how to generate an extra $10+ per day! 
Millions of people want to generate an extra income from home, especially now during the pandemic.
Instead of searching for an " online job", why not build an internet business and make money on your own terms?

Every person is unique and will benefit from different strategies. However, I think becoming a content creator suits best for most people!
Well, I always recommend internet marketing because it gives highest level of freedom!
Thanks to this comprehensive program, I created a profitable site that ranks high on Google and covers all my monthly expenses.
Follow the lessons, take massive action, and you will have a real chance of working whenever and wherever you want!
An online business allowed me to earn in dollars while travelling around SE Asia since 2019!
I am sure this type of business can help you achieve your dreams too!
Final Words
Thanks for visiting this blog and reading my One Line Drawing to Win app review. I hope it was informative!
If you have questions, let me know in the comment box below. I am all ears!