Welcome to my 2248 Pops app review!
I am writing this post to warn you about another application that supposedly pays $800 – $5,000. 
2248 Pops is a numbers merge game where you must connect numbers that follows the sequence: 2 – 2- 4 – 8 – 16…
It gives you a significant amount of dollars that will allocate either to your Amazon or PayPal balance. But you can only request the payment after reaching a certain amount.
Millions of people are lured into playing games with the expectation to win easy money. However, after spending many hours watching videos and trying to meet the requirements, they realize the reward is just a mirage.
So, should you trust 2248 Pops? Does it pay thousands of dollars or is it fake app? Keep reading to find out!
Highly Recommended: This step-by-step program helped me build my own online business and generate $1,600+ per month. It's free to join!
2248 Pops App Review
Full Name: 2248 Pops (Early Access)
Developer: Aiono Studio
Eligibility: Worldwide
Price: Free (no in-app purchases)
Overall Rating: 

1/5
What is 2248 Pops?
2248 Pops is a connection number game similar to Pops Connect, Fall Pops 3D, 2248 Link and many others! The app is operated by Aiono Studio, and offers unrealistic cash rewards for those who play it for long enough.

This reward platform is going viral! Cash out via PayPal, Visa, Gift Cards, and in-game currencies - Click here to find out how to generate an extra $10+ per day! 
The developer promotes his app as if players could earn hundreds of dollar and cash out in just a few minutes. But make no mistake, it will take many hours to reach $1,000 and cash out.
How Does 2248 Pops Work? 
Installation 
2248 Pops is available for free on the Play Store. After launching the game, they will give you a check in bonus of $10. If you sign in for 7 consecutive days, you will get higher bonuses!
How to Play?
Eliminate neon squares by linking the same numbers and the ones that follow this sequence:
2 – 4 – 8 – 16 – 32 – 64 – 128….
Next, all the connected squares will merge with each other and be replaced by one with a higher number. For example, by connecting 2 – 2 – 4 – 8, you will get a square number 16.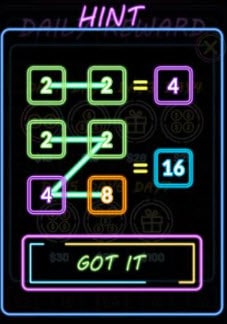 After merging the numbers, 2248 Pops award you a specific amount of dollars as long as you tap "Claim" and watch a video. However, the ads are not always available when you try to collect the reward.

The thing is, even if you tap "No Thanks", the game will still show you the annoying video. They just won't give you the virtual dollars. Ok, fair enough!
The iPhone 12 Prize
Just like countless games, 2248 Pops gives you the opportunity to win an iPhone 12 if you collect 100 puzzle pieces.
You can collect the fragments by playing the Lucky Spin, signing in and completing a certain number of levels. Remember, you will always have to watch a video.
How do You Get Paid? 
2248 allows you to withdraw the money via either PayPal or Amazon. The minimum payout threshold is $800 and $1,000 respectively.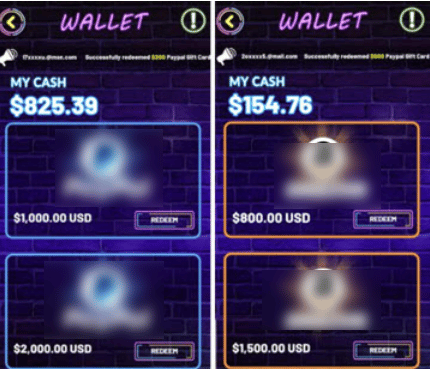 Is 2248 Pops Legit? Does it Pay? 
No, it doesn't. There is no chance 2248 will pay you because the cash prizes are very unrealistic. It's important to know that the developer is earning only a few cents per video, which means he cannot afford to pay $1,000.
He could pay if users participated in sweepstakes with only a few winners per week or month. But that's not the case, otherwise, there would be a specific set of rules to convey transparency and integrity. Check out the best apps that operate genuine sweepstakes here! 
I played 2248 Pops for a while and realized that my earnings decreased as I got closer to the payout amount. The first reward was over $100! But by the time I had over $735, it dropped to $18 – $44.
I knew if I continued to play, the rewards would get smaller and smaller. So, I stopped because the outcome was clear and I didn't want to waste more time.
Note that the company still provides early access to the app, even though it has been installed over 100,000 times. I suspect the reason for that is to prevent users from writing negative reviews on Google Play and raising the alarm.

Find out which game apps pay real money!
Conclusion 
No one should expect to earn a single penny from 2249 Pops, let alone $1,000! Even if you meet the requirement, there is no reason to believe the company will transfer 4 digits to your PayPal account.
That's too much money for playing a free game funded by ads! The simple fact is that the virtual dollars have no real world value. Besides, the developer has no obligation to reward anyone.
I would recommend this game just for entertainment if they at least respected the "no thanks" option.
Every time you merge the numbers, the app interrupts you with a "congratulation" pop up and a video ad. It's not only annoying, but it also consumes too much internet data!
Verdict: Not Recommended 
Earn a Full Time Income Online
Being able to earn money online is a blessing, especially now during this "new normal" situation.

It's possible to earn over $1,000 per month using several business models, but personally, I think content marketing is here to stay. It's one of the best strategies for those who don't want to risk their hard-earned money!
In 2015, I joined this excellent step-by-step program that put me on the right track to success. They helped me set up WordPress site, rank articles on the first page of Google and attract a large audience.
The more people visit your website, the more money you will make!
I put in the work and reached my financial goals because I wanted to quit my job and travel the world while earning in dollars. What is your motivation to succeed?
You can do the same, but it's important to have realistic expectations and understand that it takes time to grow.
>> Join for free here and take your first steps!
Final Words
Thanks for reading my 2248 Pops app review! Do you have any question? Wanna share your results? Kindly use the comment box below and exercise your freedom of speech.
Peace!