Welcome to my Gold Miner Mania app review!
Gold Miner Mania has been advertised as a game in which you can win big cash, iPhone and endless prizes.
In the app description, it says you can become rich just by grabbing underground mines and collecting virtual dollars. They even display people handing lot of dollar bills in their hands!
The expectation of earning easy money has led over 1 million people to install this application and play for hours on end. However, more and more people are questioning the legitimacy of Gold Miner Mania and wondering whether they will receive the money.
In this review, I will explain everything you need to know about this addictive game and give you my honest opinion about it.
Before you leave, discover the step-by-step program that helped me reach $1,600 per month working from home. No special skills required! 
Gold Miner Mania App Review
Name: Gold Miner Mania (Early Access)
Developer: Super Star Game Studio
Eligibility: Worldwide – age: +18
Payout threshold: $200
Overall rating: 

1/5
What is Gold Miner Mania?
Gold Miner Mania is a simple game where players must tap the screen at the right time and grab precious metals, stones and PayPal puzzles.Once you collect all the items from the underground, you will receive the level prize consisting of virtual dollars.
According to rules, you can supposedly withdraw the money to PayPal once you reach $200. 
Gold Miner Mania is operated by Super Star Game Studio, and it's still only available for Android devices.
How Does Gold Miner Mania Work?
Installation
You can install Gold Miner Mania on the Play Store and play for free from any country. Just be aware that this game is not intended for people under 18 years of age.
How to Play?
Gold Miner Mania comprises a mineworker with a hook that moves from side to side.
Aim at the underground minerals and PayPal puzzles. Then, tap the screen at the right time to release the hook and grab the items!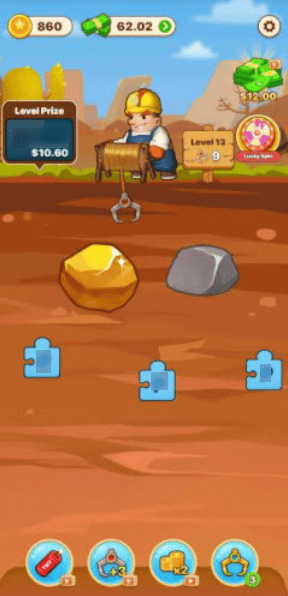 The goal is to collect everything before running out of hooks. It can be hard to hit the items, especially the ones that are far away. If you think you will run out of moves, you can use the TNT or get additional hooks by watching a video ad.
Collect puzzle pieces with the PayPal logo to achieve progress towards the level prize. Once you clear the stage, you will get a specific amount of dollars shown on the left side.
To collect the reward, tap the button and watch the advertising until the end. The downside is that you cannot skip the ads!
You can also earn coins by collecting stones, gold and other money bags. However, those virtual items cannot be exchanged for cash or prizes.
I thought Gold Miner Mania would also award the iPhone 12 as one of their ads suggests. But apparently, there are no iPhone puzzles in this game.

How Do Your Get Paid? 
At first, Gold Miner Mania suggests that you can transfer the money after reaching $200. You will meet this requirement in less than 15 minutes!
However, after you tap the button and enter your PayPal account, they will surprise you with another target. They say your money will be transferred in 3 days, but you must watch 50 videos to activate your order!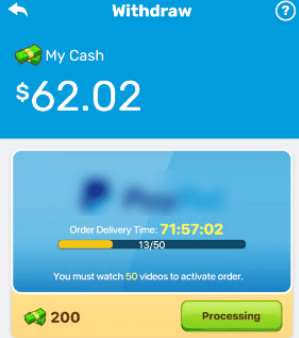 Well, that's not true!
Sorry to discourage you, but according to the rules, the company will pay you on a first come, first served basis. So, after watching all the videos, Gold Miner Mania will place you in a queue and you will receive an order number.
According to the Terms of Service, they will confirm your application within 30 days and transfer the money to PayPal only when it's your turn.
RECOMMENDED: Click here and discover my no.1 recommendation for making money online
Does Gold Miner Mania Pay? 
There is absolutely no evidence that Gold Miner Mania reward users who meet all the requirements.
They put you on a queue and give you an order number, which I don't think is the number of people on the waiting list. However, they don't want to tell you when and if you will receive the payment.
One thing is certain, Gold Miner Mania will make you watch lots of ads!
Unlike most money games, it lets you accumulate dollars and cash out within 15 minutes of gameplay. But there is no guarantee you will get paid.
I suspect they won't pay you because no game company can afford or is generous enough to award $200 to every player.

Since the developer is giving Early Access to the app, no one can publish reviews on Google Play. So, I checked the comments on a few YouTube videos and didn't find a single person who received the money. 
Is Gold Miner Mania a Scam? 
I cannot make any accusations about Gold Miner Mania since I have no proof of their business practices. As a content creator, I need to make sure I am not defaming other companies without showing undeniable facts.
What you read here in this post is nothing more than my opinion based on my own experience and reviews from other players.
Unfortunately, the reviews on the Play Store are blocked since the developer only provides Early Access to the game. I think this is unacceptable because the app has been running for a long time!

This reward platform is going viral! Cash out via PayPal, Visa, Gift Cards, and in-game currencies - Click here to find out how to generate an extra $10+ per day! 
In my opinion, this is only to avoid the critics and make it hard for people to see whether it pays or not.

Conclusion 
Don't play Gold Miner Mania with the expectation to win cash rewards. The game is great for killing time, but there is no reason to believe these guys will pay you.
At the end oft he day, you will just watch a bunch of adverts and uninstall the game with nothing to show for it.
After reviewing hundreds of games, I am yet to find one that transfer hundreds of dollars to PayPal. Some legit apps organize sweepstakes with big cash prizes, but the chances of winning are ridiculously low!
Thare are many popular apps that pay users for trying new games. Mistplay is probably the best option available on Google Play as some people are making over $25 every 3 months! 
Another decent option that I have recently found is Money Well. Many people seem to cash out with no issues, but not everyone has a positive experience.
Verdict: Not Recommended
Earn a Full-Time Income Online
Millions of people wish they could earn an extra income from home, but they do not know where to start.
There is so much pollution and disconnected information on the internet that is hard to decide.
Well, I always recommend content marketing because it's accessible to most people and offers the highest level of freedom!
Thanks to this step-by-step program, I created a profitable site that covers all my expenses even while I am travelling. I am sure I would struggle and probably give up without their excellent training and mentorship!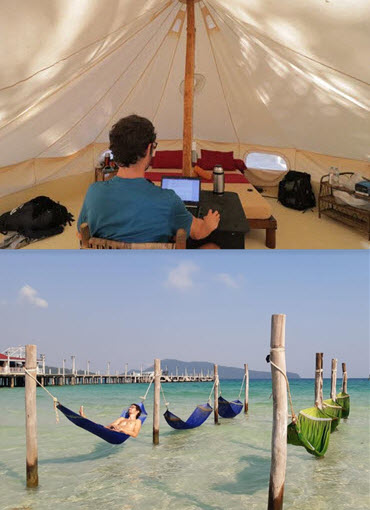 I am not saying this to brag, but to motivate you to pursue your dreams and take steps to achieve them!
Final Words
Thanks for visiting this blog and reading my Gold Miner Mania app review. I hope it helps!
So, did you get paid? Do you have questions? Let us know in the comment box below.
Peace!