Welcome to my Money Well review!
I have recently found Money Well, a popular application that rewards users for playing mobile games.
The concept is simple: Just install the game, play it for 10 seconds, and earn real money through PayPal and gift cards.
Unlike other deceitful applications, Money Well doesn't give players the false expectations of earning hundreds or thousands of dollars.
Instead, it shows smaller cash rewards of $5 – $7, which looks more convincing.
So, does Money Well offer a legit opportunity to earn money? Does it actually pay? Keep reading to find out!
Tired of earning pennies online? This step-by-step program helped me generate over 2,000 US Dollars per month and quit my job in 2019. Replicate my results by joining the Free membership here and take massive action!
What is Money Well?
Money Well is a mobile application funded by companies trying to gain more exposure to their games. As a member, you get tickets for installing and playing these games on your Android device.
You can redeem tickets for cash paid through PayPal or Amazon gift cards once the payout threshold is reached.
Money Well has been installed over 1 million times, but it's nowhere near revolutionary. There are many similar applications in the Play Store, such as App Flame, Lucky Miner, and Mistplay.
With so many options, it's essential to do proper research to avoid using the worst platforms.
How Does Money Well Work?
Installation and Registration
Money Well is available for free on the Play Store. Follow these basic steps before using the application:
Complete a short profile questionnaire so that Money Well chooses relevant apps for you.
Read and accept the Terms of Use.
Sign in with Google or Facebook. After creating an account, they will give you a welcome gift of 4444 coins.
Grant Money Well access to your usage data so that they can detect your playtime.
How Much Are Tickets Worth?
If you live in the United States, you can cash out 0.50 USD by accumulating 4999 tickets. So, 100 tickets are worth roughly 1 cent. 
How to Earn Tickets?
Upon launching Money Well, you will find the list of sponsored games you can play.
The availability of game offers depends on your location since advertisers target their marketing campaigns to specific countries.
Select the ones that appeal to you the most and/or that pay a higher rate. Then, install the game on Google Play and start playing!
Each game awards you a specific number of tickets per minute, which goes down as you continue playing. At some point, you must install another game as they will no longer give you coins.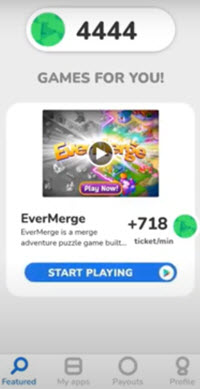 In some countries, the game list is empty. If that's the case, you may use a third-party provider called Fyber and earn tickets by playing games, completing offers, and answering surveys.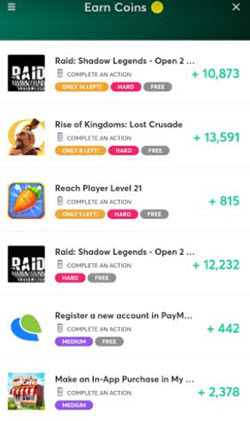 Read the instructions and complete all the tasks to receive the coins. For example, one offer involves installing Disc Wars and playing until level 500.
It's important to note that some offers are free while others require a purchase. Also, you can only get credited if you are a new user.
How Much Money Can You Earn?
It depends on many factors such as the time you spend playing games and your country. It's tough to estimate because the earning rate fluctuates.
For example, they may give you 1000 tickets in the first minute of gameplay and drop to 10 tickets after a few minutes.
Don't expect to earn a lot of money with Money Well. One user reported playing games for 1 hour per day and making £1.50 over one week. Another user claimed it took her one month to get $2.50!
How Do You Get Paid?
Enter the "Payout" section and choose the payment method available in your country. Then select the cash amount if you have enough coins and enter your email address.
You will probably be able to cash out via PayPal or Amazon gift cards.
Money Well pays in Euro, which is not a big problem since you can convert it to your currency using PayPal.
Is Money Well Legit? Does it Pay? 
Yes, it truly pays! Money Well is a legitimate platform that rewards users for playing games. There are many positive reviews from users who could cash out in no time.

You will probably reach the payout threshold quickly and receive the money or gift card within just 24 hours. 
However, many uninstalled Money Well because it took too long to verify their accounts. Unfortunately, they couldn't cash out without this verification.
Another common issue is that points are not credited to the total balance. It's frustrating when they don't give you the points you deserve.
Pros and Cons
Pros
It does pay out.
The money or gift card is usually transferred within 24 hours.
It doesn't take long to cash out 0.50 USD.
Get paid via PayPal and gift cards.
Cons
Many people complained that Money Well was taking a long time to verify their accounts.
In some countries, people don't see any suggested games.
Tickets are not always credited.
There are not many games to download.
Conclusion 

This reward platform is going viral! Cash out via PayPal, Visa, Gift Cards, and in-game currencies - Click here to find out how to generate an extra $10+ per day! 
Very few applications do what they say. Fortunately, Money Well is one that actually pays users who collect enough tickets. In addition, the company is processing fast payments via PayPal and gift cards!
That being said, not every player has a positive experience since points go missing and accounts are not verified.

Yes, the number of tickets you earn per minute decreases, and that is because there is a cap on the amount of money one can earn per game.
If you want to make a little extra cash while having fun, I highly recommend Money Well for the time being.
Verdict: Legit – Recommended 
Final Words
Thanks for visiting this blog and reading my Money Well review. I hope it was helpful!
So, what is your opinion about it? Did you cash out? Kindly share your experience in the comment box below.
Peace!