Welcome to my Space King app review!
I saw an advertisement yesterday that started with a woman asking his partner to buy her a pair of expensive rings.
Unfortunately, the card didn't go through because there was not enough money in their account.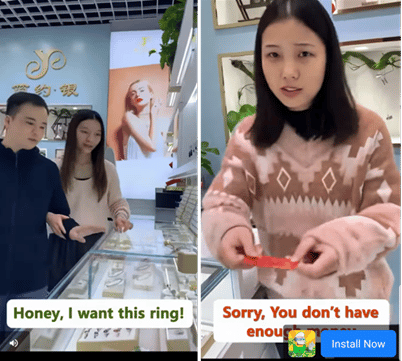 So, the guy simply downloads Space King on his phone and gets $1,200 in his PayPal account as magic!
Many people watching this ad believe they can make real money simply by tapping the spin button.
If you are thinking about doing the same, I urge you to stop and have a look at this post until the end. Is Space King legit or fake? Does it pay?
Let's find out!
Top recommendation: This step-by-step program helped me achieve 2,000 US Dollars per month and quit my job in 2019. There is a free membership available! 
Space King App Review 
Full Name: Space King (Early Access)
Developer: ElanElliot
Payout Threshold: N/A
Price: Free (no in-app purchases)
Overall Rating:

 1/5
What is Space King? 
Space King is an Android where you play the slot machine, earn virtual cash and build your space.
The app description states the free game can turn you into a millionaire, but it mentions nothing about earning rewards.
As you are playing Space King, you will frequently watch commercials, which is how the developer profits from the app.
Space King has only been installed 5,000 times so far, but I believe this is only the beginning.
The reason is that they promote this game as an opportunity to redeem over $1,200 via PayPal.
How Does Space King Work? 
Installation 
Space King is available on Google Play for your Android device and requires no registration. Simply install the game and start playing after the short tutorial.
How to Play Space King? 
The first step is to upgrade your territory by purchasing the first option called "Exterior modelling".
You must use the virtual cash in the game to buy the upgrades and achieve progress in the game.

The stars represent your progress, and your job is to keep building more and more!
In order to collect more money, you need to activate the slot machine by pressing the spin button.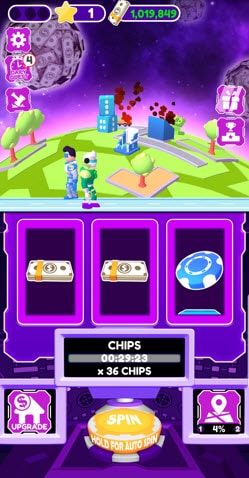 Each spin consumes one chip. Space King gives you 50 chips when you start the game, but you can get more by completing daily quests.
Depending on the symbols you match, you can attack other people's territory, earn cash, raid safe boxes and more.
As you accumulate in-game cash, you will climb up the rank of the top billionaires.
Is Space King Legit? Does it Pay?
Space King does not provide an opportunity to make real money. You can only use the virtual cash in the game itself to purchase the upgrades.
If you tap the cash balance at the top, nothing happens because it's just a simulation. If it was real, you would be able to request the payment once you met the payout threshold.
The advertising is very misleading since it displays the PayPal logo while collecting virtual dollars. But I wouldn't say the app is a scam.
There are many clone apps on Google Play, such as Cash City and Island King: Defend your Island. These games are nothing but get-rich-quick simulations! 
Note that Space King is still in early access, which means the app is incomplete and cannot be reviewed.
Many developers see this as a great opportunity to avoid the negative comments about their applications and keep a neutral reputation.

Conclusion 
To many people's disappointment, Space King does not provide real cash rewards.
The game is not exciting! You just have to tap the spin button to collect virtual items and upgrade your territory.
It gets very tedious over time, especially since you get interrupted with advertising all the time!
Everyone is free to play whatever they want, and I am not in a position to judge anyone. I am just here to warn people who thought they would be able to earn money via PayPal.
The way the developer advertises his game is the real problem here. He uses the PayPal logo and dollar signs to make players believe the cash is real.

This reward platform is going viral! Cash out via PayPal, Visa, Gift Cards, and in-game currencies - Click here to find out how to generate an extra $10+ per day! 
In my opinion, it's one of the most objectionable ways of increasing ad views and making profits.

Final Words
Thanks for reading my Space King app review. I hope this post was informative enough.
If you would like to share thoughts about this game, leave us a comment in the box below.
Peace!