Welcome to my Cat Paradise app review!
You are reading this post because you found Cat Paradise and the opportunity to win excellent rewards.
This idle game gives virtual items that you can exchange for Roblox, Free Fire Diamonds and other in-game currency.
I have reviewed lots of similar apps that claim to pay real money via PayPal such as this cutie merging game.
None of them pays, but now, developers are trying a unique approach to get your attention and maximize profits.
Instead of enticing people with cold hard cash, they are supposedly giving credits to spend on popular games.
They know many people are skeptical of apps that pay real money, but not so about earning virtual currency for gamers.
Nevertheless, your time is at stake and you need to know whether or not you receive your reward. So, is Cat Paradise legit or fake?
Let's find out!
If you are sick of wasting time with fake money games, check out my #1 recommendation. This step-by-step program helped me generate over $2K+ per month. It's newbie-friendly and free to get started! 
Cat Paradise App Review
Full Name: Cat Paradise (Early Access)
Developer: seazusouth
Payout Threshold: 10,000 diamonds
Price: Free (no in-app purchases)
Overall Rating: 1/5
What is Cat Paradise? 
Cat Paradise is an Android merging game available for Android and iOS devices. The goal is to combine same level cats and collect enough diamonds to redeem game credits.
After unlocking a higher level cat and watching the video, you will earn coins and diamonds.
Then, you can supposedly redeem game currency to spend on your favorite game such as Free Fire, Roblox, PUBG, Mobile Legends, League of Legends, and Brawl Stars.
Cat Paradise has been installed over 1 million times, which is remarkable considering this is a clone of so many merging games.
I can only assume that most people are only downloading this application because of the reward.
How Does Cat Paradise Work? 
Cat Paradise is funded by advertising, but that's pretty normal since most free apps need ads to survive.
The major problem is when they lure players into watching sponsored videos for cash or other types of rewards.
Usually, those commercials are very misleading, since they portray games that claim to pay hundreds and even thousands of dollars. Don't fall for any of them!
Wanna earn real game currency? Check out the best reward platform here! 

Installation 
Cat Paradise is available on Google Play for Android devices. After launching the app, you must choose 3 games you want to redeem rewards.
Next, you will receive a gift pack of 3,000 diamonds as a newbie bonus.
How to Play Cat Paradise? 
Drag the kitten and place it on another cat of the same level. They will both merge into a higher level cat that earns more tokens per second.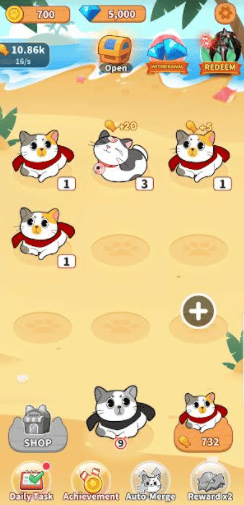 Complete daily tasks to collect more tokens. When you are offline, your idle kittens will generate tokens as well.
Keep in mind that you cannot convert such tokens to diamonds. Instead, you should use them to buy more cats in order to keep merging.
In addition, you can add more seats to the game and use props like the Auto-merge and Reward x2.
Whenever you unlock a new kitty, Cat Paradise dishes out a few hundred diamonds if you tap "claim" and watch a video.
Coins and diamonds will also be added to your account automatically while merging cats.
How to Redeem Virtual Items? 
You can redeem game currency only after you accumulate 10,000 diamonds 3 million coins.
For example, you can exchange 10,000 diamonds for 6,000 PUBG UC, which costs a hefty £99. Well, that explains why Cat Paradise is so popular!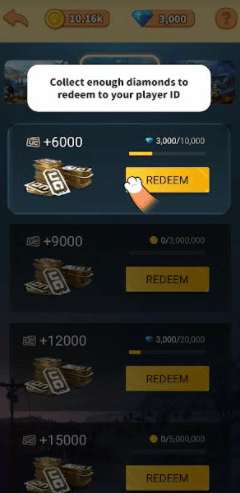 Just open your balance, select your favorite game and press "Redeem".
Then, you must provide your Player ID and wait for up to 5 business days, not including weekends.
How Long Does It Take to Redeem? 
At first, it seems like you will reach 10,000 diamonds quickly because of the generous rewards.
But the more you play, the longer it takes to unlock a new cat and the fewer diamonds you will earn.

This reward platform is going viral! Cash out via PayPal, Visa, Gift Cards, and in-game currencies - Click here to find out how to generate an extra $10+ per day! 
Therefore, it takes an incredible amount of time and mobile data to achieve meaningful progress and reach the requirement.
You will probably have to unlock over 25 levels and endure many hours of gameplay to accumulate enough virtual items.

It's tedious, especially due to the frequent ads Cat Paradise pushes down your throat.
Is Cat Paradise Legit? Does it Pay? 
No, Cat Paradise does not pay even if you fulfill the requirements. Game credits cost a lot of money and the developer could never afford to reward everyone.
Since the app is still in Early Access, there are no reviews on Google Play, so checked for comments left in some YouTube videos about the game.
One user claimed he was stuck at 9,963k for the entire day! So, it's likely that most players will never reach 10,000, which is the minimum payout threshold.
But even if you reach the target, I doubt you will receive the reward because it's very unrealistic. Besides, there is not a single word about rewards in Cat Paradise's Terms of Service.
Sadly, many people end up watching an insane number of ads for hours on end only to benefit the developer.
Conclusion 
It's very unlikely that Cat Paradise will transfer game-currency to your Player ID.
I tested other games with the same type of incentive, such as Fun Digital Gem and Gem Boom. None of them are serious about rewarding players!
The same applies to the so-called money games that supposedly pay thousands of dollars. They falsely advertise the game as an opportunity to earn easy money because they don't pay a dime!
Don't waste your time playing Cat Paradise unless you just care about merging cats.
How Can You Actually Earn In-Game Currency? 
If you wish to earn game currency without having to spend your hard-earned money, I suggest you join Prizerebel.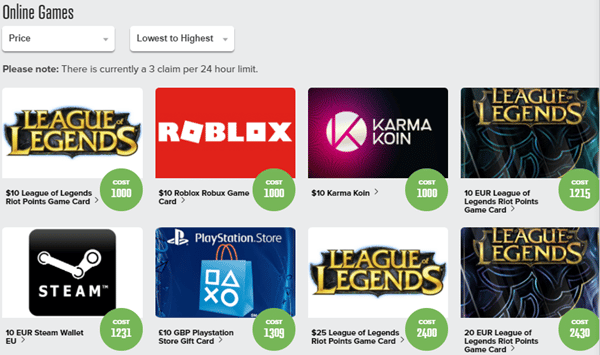 This reputable GPT site allows you to earn points for completing offers and answering simple online surveys.
You can even withdraw money via PayPal, and gift cards if you prefer!
Final Words
Thanks for visiting my website and reading my Cat Paradise review. If you have questions or thoughts about this app, let us know by leaving your comments below.
Peace!