Welcome to Fun Digital Gem App Review!
More than a hundred thousand people have installed Fun Digital Gem, which is extraordinary given the fierce competition among similar games.
But the app has something much more attractive than collecting points and having a good time!
It offers excellent cash rewards to gamers who play and watch a ton of sponsored videos.
The game gives away diamonds and claims that once you reach 10000 diamonds, you can redeem them to your player ID! That is why so many people are thrilled!
So is Fun Digital Gem App legit or fake? Do you receive diamonds or gold if all conditions are met? Read on to find the answers because your time is precious!
Before you leave, check out the step-by-step program that helped me grow an online business and reach  $2,000+ per month. 
Fun Digital Gem App Review
Full name: Fun Digital Gem (Early Access)
Developer: Cool mo. Inc
Genre: Puzzle, Casual
Price: Free
Overall rating: 1/5
What is Fun Digital Gem?
Fun Digital Gem is an casual puzzle game in which you clear the board by matching two or more gems of the same color. The Android application is a property and trademark of Cool mo. Inc developers, and has been rated 4.88 out of 5 stars in the Play Store.
It needs some focus for excellent elimination to complete each level. The more gems you remove at the same time, the more diamonds you get.
By playing Fun Digital Gem, you will collect coins and diamonds that players can supposedly exchange for items to use in games like Coin master, clash of clans, free fire, and more. You can also exchange gold coins for diamonds.
Even though the game installed 100,000 times, it is still categorized as Early Access, which I do not think is justified. Unfinished games on Google Play will not receive reviews.
In this way, the company can prevent critical and rude comments that are frequently published by players who don't get the reward they deserve.
It is okay for developers, but not for players who want to know whether other people are receiving the rewards.
How Does Fun Digital Gem App Work?
Fun Digital Gem is free and available to download on Google Play Store. While the app is installed on your mobile, it has access to all of your data, such as images, files, and videos.
And now, here is the scariest fact: it can not only read your data but also edit and even delete it.
I disagreed with these permissions, so I uninstalled the game right after testing.
How to play Fun Digital Gem?
After launching Fun Digital gem, you will earn 2000 diamonds as a welcome bonus. The game is easy to play, but it gets harder as you progress through the levels.
You only need to collect diamonds by matching all the gems on the board. Just touch two or more gems of the same color to destroy them and collect diamonds and gold coins.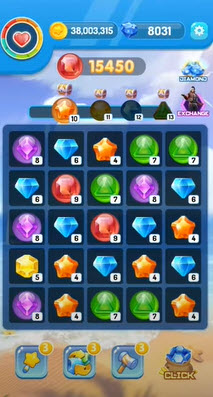 Try to match as many gems as possible. If you leave mismatched blocks, the app will use your saved gems.
You can only complete the stage if you finish the level with at least one gem at the end.
When playing Fun Digital Gem, don't forget to use powerful props to destroy more gems.
Earning Rewards
When you collect 10000 diamonds, you can use it to buy "in-app purchases." You can use diamonds and gold to exchange for items to use in the following mobile games:
Coin master
Clash of clans
Free Fire
Mobile Legends
Pokemon Go
Candy Crush
PUBG
Roblox
You have to click the "Get button" and watch 60 videos to receive your reward.
After completing the scene, the game will allow you to open gift boxes to get more diamonds and gold. But even here, you have to watch 220 additional ads.
How do you get paid?
Fun Digital Gem allows you to redeem diamonds when the amount reaches 10000 and is used to buy "in-app purchases."
After you collect 10000 diamonds and enter your player ID, you will prompt to watch 20 ads within 12 hours to activate the reward.
The next problem is that the daily limit is already reached. What's next?
Fun Digital Gem expects you to watch 60 additional adverts that you can request without delay. And now I hope your blood is already boiling.
If not, wait!

After you watch 60 adverts, the app says your diamond redemption will be issued to your player ID with 3-5 business days (weekends not included).
Please confirm that your Player Id is correct and unique before submitting the redemption. Diamonds obtained through gold coin exchange can also be used to exchange other in-game currencies.
So you need to verify the player id. The system will not complete verification until you watch 220 videos within 48 hours. Crazy, right?
How to buy in-app purchases
They say you can buy these "in-app purchases" is by winning diamonds. And when you have accumulated 10000, which does not take long, you will be able, "or so they say," to redeem them for spins in Coin Master, Free Fire Diamonds, etc.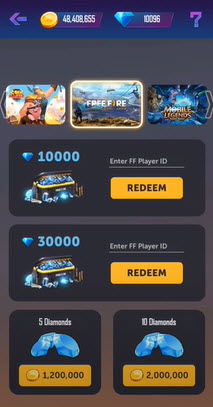 This reward platform is going viral! Cash out via PayPal, Visa, Gift Cards, and in-game currencies - Click here to find out how to generate an extra $10+ per day! 
Once you have collected enough items, you can choose the game and insert your Player ID.

Is Fun Digital Gem Legit? Does it Pay?
Absolutely not; it does not pay. Even if you meet the last requirement, it will ask you to watch more adverts. Therefore, diamond redemption and exchange of other in-game currencies are not possible.
I know there are many apps that use the same strategy to get users to see ads. The Fun Digital Gem app is just an example!
The main difference is that they are targeting people who would like to make game purchases without opening their wallets.
But here is the harsh reality: Even if you watched all the adverts, you won't get credited.
Conclusion
Do not play Fun Digital Gem hoping to redeem diamonds and exchange "in-game currencies, as the reward is wishful thinking.
It will surely annoy anyone who is in no rush to meet all the video requirements. You are just wasting mobile data and time!
There are many great puzzle games on the play store, so I do not think Fun Digital Gem is worth 100,000 installs.
The reason is that offering incentives for playing and not paying is DISGUSTING!
I have not found a single game that converts tokens/coins into in-app currency to use in popular games.
Avoid Fun Digital Gem at all costs!