Welcome to my Scratch4Cash review!
Over 500,000 people have installed Scratch4Cash to win real money by playing scratchcards.
The app description says you can get virtual dollars and coins for real money payouts. Besides, the game is entirely free to play!
Just sit down comfortably, tap on the card and scratch to collect daily rewards!
I lost count of how many fake games I exposed on this website. But my job never ends because they launch new ones every single day and vulnerable people still fall for them!
No one deserves to go through the tedious process of watching hundreds of videos in return for nothing. It's abusive and unfair!
So, can really make money with Scratch4Cash? Does it pay or not? Find the information you need and make an intelligent decision!
Don't forget to check out the best reward platform where members are making $300+ per month by completing simple tasks. Quickly cash out via PayPal and gift cards. Free to join and 100% legit!
Scratch4Cash Review 
Full Name: Scratch4Cash (Early Access)
Developer: Mega World Wide
Eligibility: Worldwide
Price: Free
Overall Rating: 

1/5
What is Scratch4Cash?
Scratch4Cash is an Android app that allows you to play free scratchcards and supposedly win excellent cash rewards.
They make it seem like you are earning free money just for scratching and matching the numbers.
The game's dashboard shows there are over 1,000,000 prizes of up $50! However, you can only cash out after reaching the payout threshold.
Bear in mind, Scratch2Cash is targeted at teenagers with no restrictions. This is a very addictive game that can jeopardize their education performance and other aspects of their lives.
I don't recommend these types of games for adults, let alone for teens! Click here for more information on the potential risks. 
Mega World Wide also operates a few other scratcher games, such as Scratch Cards Pro and Scratch4Cash.
How Does Scratch4Cash Work? 
Installation 
Scratch4Cash is available for Android devices, so you can install it for free on Google Play.
Be aware that after installing the app on your Android, it can access personal data such as photos, videos, and files.
That means the developer can not only read but also modify and delete content that belongs to you.
I think this is quite risky because you are handing your phone to people you don't even know.

How to Play Scratch4Cash?
It's very simple! After launching the app, you will find several tabs with scratchcards.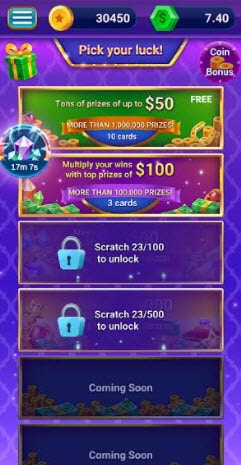 The first tab is said to have over 1,000,000 prizes of up to $50. You need to scratch 10 cards to unlock the next level, which has over 100,000 prizes of up to $100.
There are more levels with more significant cash rewards, and you will always be enticed to watch videos in order to get more cards.
Initially, the card is divided into 2 sections: "Winning numbers" and "Your Numbers". After unlocking the second tab, they will also include the coin multiplier.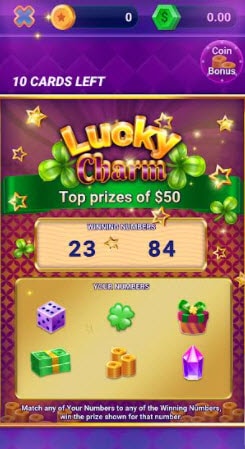 If any number matches the winning number, Scratch4Cash will give coins or virtual cash. 
You can also get coin bonuses and surprise gifts by watching more sponsored videos.
Tired of playing games for nothing? Check out my top recommendation for making money online. 
How do You Cash Out? 
Tap the menu icon followed by Redeem coins or cash.
Scratch4Cash allows you to withdraw the money through PayPal once you reach $100 or $500.
Besides, you can redeem a $2 or $5 Amazon voucher if you accumulate 25,000,000 or 50,000,000 coins, respectively.
It's important to mention that Scratch4Cash's Terms of Service has many similarities to apps like Cash'em All. 

They also require that players take a selfie before any payouts are made. As you will see in the next section, this can be an excuse to avoid payments.
Is Scratch4Cash Legit? Does it Pay? 
I doubt Scratch4Cash will pay you hundreds of dollars just for playing scratchers. It looks so unreal!
They have the $2 and $5 prizes for those who collect enough coins.
The chances of converting coins into cash are much higher, but still, I don't believe the developer is rewarding users.

This reward platform is going viral! Cash out via PayPal, Visa, Gift Cards, and in-game currencies - Click here to find out how to generate an extra $10+ per day! 
The reason is that Scratch2Cash is still blocking reviews on Google Play using the "Early Access" classification.
That's very strange, considering the app has already been installed over 500,000 times. Why are they trying to suppress people's opinions for so long?

But here is the most crucial piece of information you need to take from this post:
According to the Terms of Services, users have no right to receiving payments. The company does not guarantee any winnings!
In other words, you may never win any money even if you fulfill the cash out requirements.
Is There an Alternative to Scratch4Cash? 
There are many similar apps on Google Pay, but I don't recommend any of them! Lucky Time used to be great, but now, it seems that no one is getting paid anymore.
Instead of scratching cards, I suggest you try other sweepstakes apps like Givvy or Daily Raffle.
Conclusion 
There is no proof that Scratch2Cash is rewarding users who collect enough virtual items. So, are you willing to waste your time and end up with no money in your bank account?
Let me remind you that by watching videos, the developer is one getting paid by advertisers to promote their apps.
I believe you won't get paid because the cash prizes are too high. Maybe you can redeem the $2 Amazon gift card, but I would be very surprised if you did!
Me, personally, I don't think it's worth it since you will spend a significant amount of internet data as well.
Earn a Full-Time Income Online
One of the best methods to create a steady income from home is to provide valuable content that ranks on Google and/or YouTube.
For example, when people visit my site, it generates revenue through affiliate marketing and advertising.
The best part is that I can open my laptop from anywhere, write my articles independently, and get paid for my efforts.
If you want to learn more about this type of business and build a lucrative site, check out my top recommendation here. 
Final Words
Thanks for reading my Scratch4Cash review. I hope it was helpful!
Since you cannot share your thoughts about it on Google Play, feel free to use the comment box below!
Peace!