Welcome to my Word Safari app review!
I have recently installed Word Safari, a crossword puzzle game in which players can supposedly earn hundreds of dollars.
By unlocking the hidden words, you will earn virtual dollars that can be transferred to your PayPal account.
You can also redeem Amazon and Sephora gift cards once you reach the payout threshold.
Lots of people get addicted and keep playing Word Safari for hours in hopes to make easy money. But does it actually pay? Is it a legit or fake application?
Keep reading to avoid unnecessary frustration.
Top recommendation: This step-by-step program helped me achieve 2,000 US Dollars per month and quit my job in 2019. There is a free membership available! 
Word Safari App Review
Full Name: Word Safari
Developer: WordFun Studio
Payout Threshold: $
Price: Free (no in-app purchases)
Overall Rating: 1/5
What is Word Safari?
Word Safari is another crossword game where you connect the letters to unlock the hidden words. It's almost identical Word Bakery! 
Every time you do so, you earn virtual dollars that can be redeemed later for real cash rewards.
When you complete the level, you have the chance to spin the wheel for a chance to win cash coupons worth up to $101.
Keep in mind that you can only cash out once you satisfy the requirements imposed by the developer. You will discuss them later.
Word Safari is operated by WordFun Studio and is a complete game. That means players can publish reviews on the Play Store and share their experience.
How Does Word Safari Work? 
Installation 
Anyone can download and install Word Safari on Google Play and start solving the puzzles immediately.
Be aware that after installing the application on your Android, it will have access to sensitive log data, device ID & call information.
Not only that, but Word Safari can read and delete photos, videos and other files stored in your USB.
That sounds crazy, right? So, if you fear data leak and privacy, you'd better think twice before using this app.
How to Play Word Safari? 
Swipe to connect the letters and unlock all the secret words.
In the beginning, it's easy to solve the puzzle since words are made up of just 2 or 3 letters. But after passing a few levels, it gets more challenging with 4 or even 5 letters.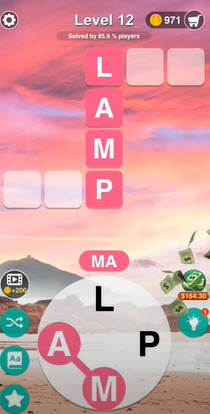 For example, Word Safari will add another letter to the board when you reach level 11.
After passing the level, you will earn coins that have no monetary value. You can only use them to get hints when you cannot guess the word.
Cash Rewards
Word Safari pays few dollars or cents for uncovering every single word, which is unbelievable!
Besides, it provides free spins whenever you complete the level and watch the sponsored video.
Simply tap the "Free Spin" button and watch the advert to trigger the wheel. Then, the reward will be added to your cash balance.
Note that you can also win Gold Cards by spinning the wheel. They don't tell you what these items are used for, but I will explain to you later.
How do You Cash Out? 
Word Safari provides three different payments methods for players who meet specific requirements.
You can cash out via PayPal when you reach $200. It's also possible to redeem Amazon and Sephora gift cards if you accumulate $1,000.
Is Word Safari Legit or Fake? Does it Pay?
Sorry to disappoint, but you won't receive any money from Word Safari. There is no chance of making $200 or $1,000 as the game suggests.
After you reach $200 and provide your PayPal account, you will get a massage saying that the transaction will take 7 days.

At this stage, many players complain Word Safari simply won't accept their email address. It says "Invalid email".
Other people reported that when the countdown ended, they had to watch 50 videos. But then, there was another requirement, which was to collect 30 Gold Cards on the spin wheel.
I hope you understand the developer is just giving you the false expectation of making money just so his app generates more ad revenue.
The more you play, the more money they make at the expense of your time. However, they won't pay you a single penny!
Is There an Alternative to Word Safari? 

This reward platform is going viral! Cash out via PayPal, Visa, Gift Cards, and in-game currencies - Click here to find out how to generate an extra $10+ per day! 
Please, avoid any game that supposedly transfers hundreds of dollars via PayPal. None of them pays! Here is another fake money game. 
As far as I know, CryptoWord is only one word puzzle game that gives players satoshi (nano Bitcoins) for connecting letters and forming words. It's 100% legit!

Conclusion  
Word Safari is a challenging crossword game to pass the time and improve your vocabulary. However, the cash reward is fake, so the money won't be transferred to your PayPal account.
Luckily, the game developer didn't classify the game as "Early Access. Therefore, you can check all the negative reviews on Google Play and make your own conclusions.
They either reject people's emails or ask them to fulfil more requirements. At the end of the day, you are just watching more videos that only benefit the developer.
Earn a Full-Time Income Online
If you want to make a decent amount of money online, I advise you to stop playing games and focus on providing value to the internet.
For example, by creating a site and publishing helpful content, you can rank on Google and attract many visitors.
Then, you can monetize your site using different methods like affiliate marketing.
That's exactly how I make a living online! It allows me to work anywhere as long as have access to internet connection.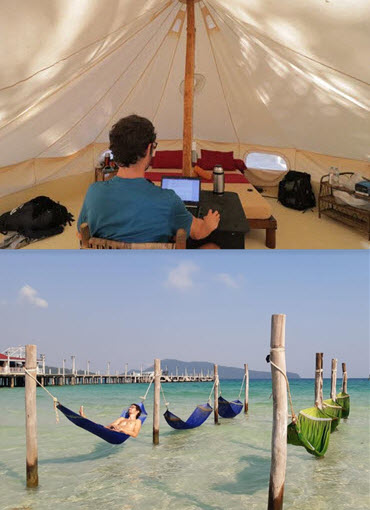 If you would like to create this type of online business, check out my top recommendation here. This program helped me grow a successful site and quit my job in 2019!
It takes time, and consistent effort, but you can definitely reap the benefits of working remotely if you apply all the strategies you will learn here. 
Final Words
Thanks for reading my Word Safari app review until the end. I hope it was helpful!
By the way, feel free to ask any question or share your thoughts in the comment box below.
Stay safe!