Welcome to my Pet Connect app review!
Lots of people are playing Pet Connect with the expectation to win in-app credits and spend them on popular games.
There are a few games using the same tactic to get people to watch more sponsored videos and boost profits.
Just like Fun Digital Gem, Pet Connect seems to target young people who love specific games such as Free Fire and Clash of Clans.
Since it takes a long time to collect enough coins and diamonds, you need to make sure you will get the reward.
After all, the developer is generating revenue through the hundreds of videos you are supposed to watch.
So, it Pet Connect Legit or fake? Read on to find out!
If you wish to make real money by playing games, check out legit applications here. 
Pet Connect App Review
Name: Pet Connect (Early Access)
Developer: blinggame
Eligibility: Worldwide
Prize: Free
Overall rating: 1/5
What is Pet Connect?
The name says it all! Pet Connect is a casual game in which players have to link identical pets in order to merge them into higher-level pets.
But the game offers something way more attractive than collecting worthless points:
They will give you coins and diamonds that can be exchanged for real in-game currency. For example, you can collect 100 Candy Crush credits once you accumulate 10,000 diamonds.
Pet Connect is operated by blinggames and installed over 100,000 times. Despite the large number of players, the game is still incomplete and therefore, not open to criticism on the Play Store.
This is ideal for developers who want to operate without receiving negative reviews. As for players, they end up playing games blindsided.
How Does Pet Connect Work?
Installation 
Pet Connect is an Android application, and it's free to download from the Play Store.
Before installing this app on your phone or table, please be aware of the permissions. The developer has access not only to your precise location but also your photos, media and files!
And this is the creepiest part: it can edit and even delete the content stored in your USB. I think this is very suspicious because you don't need to submit any data to play a simple game.
How to play Pet Connect?
Pet Connect is pretty straightforward. Just slide your finger to connect identical pets and merge them into a higher level animal.
Just like many 2048 games, the levels follow this sequence: 2, 4, 8, 16, 32, 64, 128…

Every time you merge pets, a decent number of coins will be added immediately to your coin balance.
If you connect a "WILD" symbol, you will earn diamonds with the condition that you tap "collect" and watch a sponsored video.
Sometimes, Pet Connect will give you the chance to flip a gift card and collect more diamonds and coins.
Bear in mind that diamonds are worth much more than coins. Indeed, you can exchange 1,200,000 coins for just 5 diamonds.
How to Redeem In-app Currency?
Pet Connect claims that if you collect 10,000 diamonds, you can redeem in-app credits on games like Free Fire, Clash of Clans, Mobile Legends, Coin Master, PUBG and more!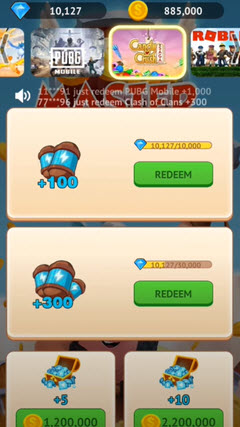 For example, you can redeem 100 Coins Master free spins, which costs over $4 in the US and £4 in the UK.
Once you have collected enough diamonds, enter the withdrawal page and choose a game from this list. Then, tap the "Redeem" button and insert your Player ID.
Is Pet Connect Legit? Does it Pay? 
After you submit your Player ID, they promise to process the order within 7 days. You can check the order status through the exchange record.
But after 7 days, Pet Connect will not transfer any credits to your game account.
I feel so sorry for those who are playing this game with the expectation to collect diamonds, free spins and other in-app credits.

If that's you, then I urge you to uninstall this app because it won't give you the reward you deserve.
Pet Connect clearly targets young people because they are using game currency instead of virtual dollars. I think this is very concerning!
You should know the developer is making money every time you watch the adverts. That's why you find many apps offering cash or other incentives these days.
So, be aware of misleading advertising. Don't fall for them!
Conclusion 

This reward platform is going viral! Cash out via PayPal, Visa, Gift Cards, and in-game currencies - Click here to find out how to generate an extra $10+ per day! 
Pet Connect is a very attractive app for those who want in-game items without spending their hard-earned money. Unfortunately, players are not receiving the reward after 7 days.
People are wasting a significant amount of time and mobile data by watching frequent videos in return for useless diamonds. It's not fun at all!

Even if you enjoy playing Pet Connect, there are plenty of similar alternatives out there. So, avoid this game at all costs!
Verdict: Not Recommended 
Final Words
Thank you for reading my Pet Connect app review until the end. I hope it was informative enough!
If you have any question or thoughts about this game, leave us a comment below!
Peace!