Welcome to my Cash City app review!
Playing video games and actively earning real money sounds like a dream, but it's a reality and something you can try out.
Cash City is wants to convince players they can make over $14,999 for reaching specific requirements.
You came here because you don't want to play for hours and leave empty-handed. You are not here for having fun!
The developer is making profits by showing you frequent advertising, but will you get a slice of that pie? Is Cash City legit or fake?
I should have published this post earlier to warn more people, but it's better late than never, right?
Before you leave, check out the step-by-step program that helped me grow an internet business and reach $2,000+ per month.
Cash City App Review
Name: Cash City (Early Access)
Developer: AntonyC
Eligibility: Worldwide
Installs: 50,000+
Prize: Free
Overall rating: 

1/5
How Does 2248 Cash City Works?
Installation 
Cash City is available for free on Google Play for your Android device.
This may come as a surprise, but the fact is that the developer can read, modify and even delete content in your phone.
It's very concerning since you cannot assume someone you don't even know will respect your data and privacy on the internet.
How to Play Cash City?
Cash City is a simple game where you are the mayor of a city. The idea here is that you will need to upgrade your city and take it to the next level by completing all kinds of rewards.
These can range from expanding your store to adding a terrace, remodeling the exterior of buildings, adding flowers and so on.
Each mission you complete gives you a star, and with 5 stars, you will complete the level and then move on to the next.
In order to get the money and fulfill tasks, you must trigger a slot machine. Here you can use chips that will help you earn what you need to reach the minimum payout threshold.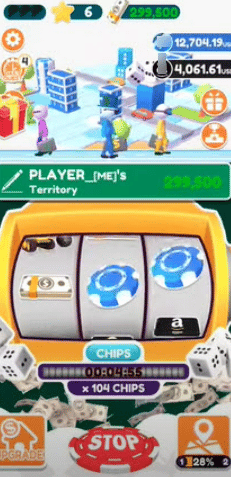 It all comes down to luck and how much of it you really get to have as you play.
Earning virtual cash rewards
By fulfilling all the upgrades, you can enhance your city and earn virtual PayPal coupons. The dollars add up in your account after you tap the "collect" button and watch the commercial.
You can also get Amazon cards that can be redeemed for real vouchers, or so they say!
It sounds like a great idea, because who doesn't want free money?!

How to Cash Out? 
Cash City allows you to cash out once you reach $14,999 on either your PayPal or Amazon balance. There are even higher payments thresholds, such as $24,999 and $34,999.
It may take around 30 minutes or 1 hour to fulfill the minimum requirement and withdraw the money.
After you input your PayPal email, Cash City ways you must watch 100 videos to activate the order.
Considering that most people have to work for years to save $14,999, watching just 100 videos may seem like a worthwhile endeavour.
So, many people will proceed to watch all the videos only to come across another requirement.
This time, Cash City will tell you they have already processed 30 orders today, and because of that, you can watch 50 videos to apply directly.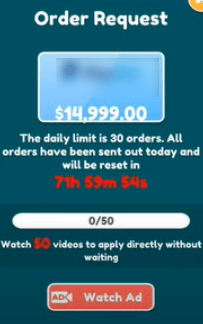 The question is: Will you eventually get paid if you do everything they tell you to?
Is Cash City Legit? Does it Pay? 
Make no mistake. Cash City will not pay you a dime because everything you earn in the game has no real world value.
It's all an illusion to lure players into playing for many hours!
I didn't waste my time watching the last 50 videos, but after some digging, I found they will just ignore your payment.
After 15 days, the payment request will simply vanish from the redeem page as if they owe you nothing.

It's important to understand this is not a sweepstakes app where winners are selected at random. Otherwise, the rules would be very clear from the start.
To make matters worse, you cannot even publish your review because the developer was smart enough to classify the app as "Early Access".
As you may know, incomplete apps are not open to criticism on Google Play. So, these developers have found a very comfortable environment to operate.
Conclusion 
Some people may find Cash City quite an interesting game. The fact that you can fulfill all kinds of quests, play some slots and also see a city grow in front of your eyes is engaging.

This reward platform is going viral! Cash out via PayPal, Visa, Gift Cards, and in-game currencies - Click here to find out how to generate an extra $10+ per day! 
However, if you play the game with the expectation to win real money, you will be very disappointed.
They treat you like a fool because you won't get paid even after all the requirements are met.

Unfortunately, most players will endure hundreds of videos only to discover the rewards are fake. This is so wrong!
I hope you found this post before wasting a significant amount of time and mobile data.
Verdict: Not Recommended 
Earn a Full-Time Income Online
If you want to make real money, avoid wasting time using applications like Cash City. Even legit options like Mistplay can be a complete waste of time!
So, what is the best strategy to make money online? Well, it depends on your profile and skills, but most people who make a lot of money online focus on one thing:
Content Marketing!
I was struggling to make money online in 2015 when I found this excellent step-by-step program developed by Kyle and Carson.
These guys helped me create a WordPress website and get lots of traffic using the best SEO practices. Mind you, I had no previous experience with web design or coding.
Today, my site allows me to work from anywhere and explore the world with no limits.
>> Check out my #1 recommendation and join now for free! <<
Final Words
Thanks for reading my Cash City app review. I hope it was informative enough.
Wanna share your thoughts about this game? The comment box below is all yours!
Peace!