Welcome to my Farm Plinko Go app review!
If you are wondering whether Farm Plinko Go will transfer hundreds of dollars to your PayPal account, you are not alone!
Thousands of people are playing this game with the expectation of earning at least $300 with this application.
It's very addictive because it feels like you are getting free money just to drop the balls.
It's a dream come true, especially for people who are struggling to pay the bills and need cash for yesterday! But Does it actually pay?
I have already tested many similar games, such as Plinkomania and Lucky Plinko. Sadly, none of them is proven to pay and have disappointed millions of players around the world.
In this review, I am going to show you how Farm Plinko Go works and give you my honest opinion this opportunity. Is it legit or fake? Does it pay or not?
Keep reading to find out!
Before you leave this page, don't forget to discover my top-rated gpt site! Members are making 200 USD on the side by completing simple tasks such as app offers. Withdraw the money easily via PayPal or gift cards. Click here for full details. 
Farm Plinko Go Review
Name: Farm Plinko Go: Lucky Winner
Developer: Dogwood Studios
Eligibility: Worldwide (age 18+)
Payout Threshold: $300
Price: Free
Overall Rating: 1/5
What is Farm Plinko Go? 
Farm Plinko Go is another ball dropping game that supposedly gives real money if you collect enough virtual dollars.
All you have to do is tap the screen to drop the balls and collect rewards. The game is very addictive because of the dollar signs on the screen and the opportunity to cash out via PayPal and Cash App.
The app is still incomplete, which means players are not allowed to publish their reviews on Google Play.
Be aware that the "Early Access" classification is being used strategically by developers who don't want people to expose their apps for what they truly are.
How Does Farm Plinko Go Work?
Installation
Farm Plinko Go is only available for Android users. Once you launch the application, the game will provide a short tutorial.
I have to confess that the type of permissions the app requires from users scares me a bit. For example, it can read sensitive log data and phone identity.
I am not saying your device will be exploited if you play Farm Plinko Go. I am not a specialist in app security, but it's something to consider when installing the so-called money games.
How to Play Farm Plinko Go? 
Tap on the screen to drop the balls. Every time they collide with the green or yellow obstacles, you will earn $0.05 or 5 coins, respectively.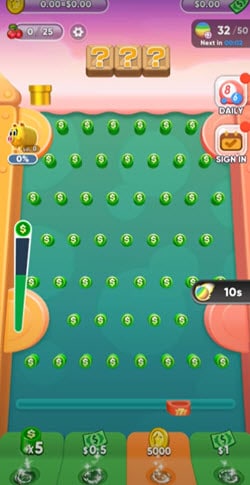 Farm Plinko Go will provide cash bonuses and fruits if the ball falls into any of the holes below the pegboard.
Note there is also a box moving from side to side. By dropping the ball into this box, the slot machine will be triggered, allowing you to collect fruits and virtual dollars.
Use props to get more rewards. For example, the super elastic Pinballs will make it easier to earn more cash!
Once you use the first 50 balls, the game will encourage you to get 30 extra balls by tapping the "Free" button and watching a video.
Even if you don't watch it, a new ball will be provided every 4 seconds.
Tired of searching for games that pay? Click here and discover the best gpt site for making real money online
How Do You Get Paid?
As you may already know, you can only withdraw the money once your balance reaches $300.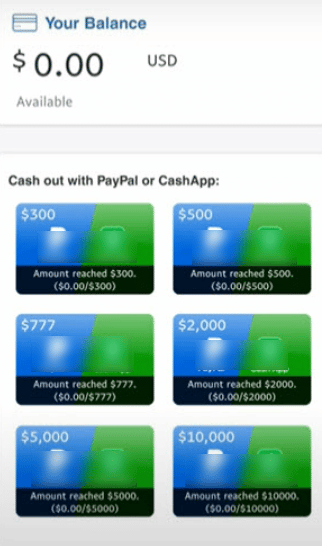 There are two payments options available: PayPal and Cash App. Once you accumulate this amount, you can tap the cash balance and select the payment method.
Coins can also be converted to cash at the following rate: 1k = $1.
Now, here is the crazy part! Farm Plink Go claims that if you collect 25 kinds of fruits, you can win 100,000.
Is Farm Plinko Go Legit? Does it Pay?
No, Farm Plinko Go is not giving real cash rewards, so players are just wasting their time and mobile data.

After you submit your payment request, you will see a countdown from 7 days. After 7 days, the money won't be transferred to your account.
I haven't played for long enough to reach the payout threshold, but make no mistake. There are only two possible outcomes:
The developer will either ask you to watch a specific number of videos or simply pretend that you don't exist. Watching more ads won't suffice, and they will simply ignore you.
You cannot even publish a negative review to warn others about this app because of the "Early Access" classification.
You can use the comment section below to express your opinions though.

This reward platform is going viral! Cash out via PayPal, Visa, Gift Cards, and in-game currencies - Click here to find out how to generate an extra $10+ per day! 
Conclusion 
Farm Plinko Go has been advertised as an opportunity to make hundreds of dollars by dropping Pinballs.

The game allows you to accumulate virtual items and reach the payout threshold fast. But unfortunately, the rewards are totally fake.
I am sure you don't want to play Hyper Plinko for hours and watch hundreds of ads just for fun. The game only makes sense if rewards are provided, which is not the case.
I hope Google can implement rules for this type of apps because they are causing a lot of trouble for millions of user. A genuine sweepstakes app should provide simple instructions and proof of payments.
Verdict: Not Recommended 
Earn a Full-Time Income Online
You can earn thousands of dollars per month if you provide enough value to the internet. But how can you go about it?
There are many strategies, but I like to be a publisher and work for my own website. That's how I generate over $2,000 per month using my laptop's keyboard.
Today, building a site from scratch doesn't require coding or another technical expertise. You can just follow this step-by-step training and use the best SEO techniques to attract visitor.
Just be aware that this is not a quick solution to making money online. It takes time and effort to rank on Google and get visitors. But it's well worth it!
Final Words
I hope this review answers all your questions about Farm Plinko Go. So, did you reach $300? If so, what happened after 7 days? Please, share your experience with us in the comment box below!
Peace!