Welcome to my Crazy Merge Chip app review!
You may have found Crazy Merge Chip and the opportunity to withdraw a decent amount of money via PayPal.
Apparently, all you have to do is match 3 poker discs, collect virtual dollars and reach $1,000!
Perhaps you have already played this game for hours and are still waiting for the payment. Or, you just downloaded the app, but you are very skeptical!
I am here to explain how Crazy Merge Chip works and give you my honest opinion. Is it legit or fake? Will they transfer the money or just ignore your existence after you watch hundreds of videos?
I know you value your time, so keep reading to find out!
If you are serious about making money online, don't miss out on the step-by-step program that helped me reach $2,000+ USD per month. No special skills needed! 
 Crazy Merge Chip Review
Name: Crazy Merge Chip
Developer: Fish King Wang
Eligibility: Worldwide
Payout Threshold: $1000
Price: Free
Overall Rating: 1/5
What is Crazy Merge Chip? 
Crazy Merge Chip is an android game where players earn virtual cash while matching chips and watching videos.
It's very similar to some app I already reviewed in this blog such as Chip Master and 2248 Chip Connect.
The developer claims you must collect up to $1,000 to withdraw the money via PayPal.
Not only that, but users are encouraged to publish a 5-star review on Google Play to get extra rewards.
Luckily, there are still many honest people willing to share the truth about this application instead of giving fake reviews.
How Does Crazy Merge Chip Work?  
Installation 
Crazy Merge Chip is available worldwide for android devices. However, the cash reward is only available in certain countries, such as the UK and the US.
Unlike most money games, Crazy Merge Chip is not so risky to use because it doesn't access to content in your USB.
After launching the game, it will encourage you to enter your real PayPal account so you can supposedly receive the payment.
How to Play Crazy Merge Chip? 
Just move a chip, and match 3 same numbers to merge the poker discs.
It's almost identical to the popular Candy-Crush. The fundamental difference is that when you match 3 discs, they will merge into a disc with a plus 1 number.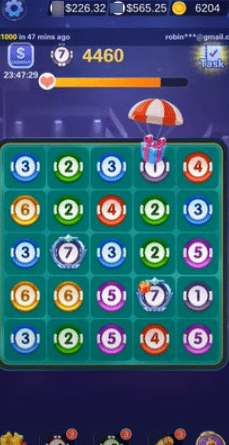 For example, 4 chips '2' will be replaced by a chip '3'. If you cannot merge any disc, you still have to make a move and consume one life.
Use props to eliminate chips, increase or decrease their numbers.
The game is over if you run out of lives, but you can revive the game by watching a sponsored clip.
Tired of money game that never pay? Click here and check out my top-rated reward platform! 
Earning Cash Rewards
As you match the numbers, you will collect a few cents that are added to either your PayPal or Amazon balance.
The game also offers generous cash coupons from time to time. To collect this reward, you must click "Get it" and watch a sponsored video until the end.
Note the game displays the PayPal logo every time you are about to collect virtual dollars. This makes the game a lot more tempting and exciting.
That's a crafty marketing strategy to lure people into watching lots of adverts.
How Can You Cash Out? 
Crazy Merge Chip claims you can redeem $1,000 once your cash balance hits the payout threshold. They give you the option to cash out via PayPal or Amazon gift cards.
Is Crazy Merge Chip Legit? Does it Pay? 
No, Crazy Merge Chip is not a money-making application by any means, so you won't receive the payment.

The Play Store is jam-packed with complaints and reports from users who didn't get paid.
All the positive reviews that I have seen didn't confirm whether the user received the money or not.
I suppose none of them got paid, otherwise they would just tell us. Also, don't forget that Crazy Merge Chip is promising to increase the reward if players rate them 5 stars.
So, they are not trustworthy!
I hope you realize the developer is just using the cash reward as a bait to increase his own profits. The more you play, the more ads you watch and therefore, the more revenue the app generates.

This reward platform is going viral! Cash out via PayPal, Visa, Gift Cards, and in-game currencies - Click here to find out how to generate an extra $10+ per day! 
Conclusion 
Lots of people fall for games like Crazy Merge Chip because of how the game is advertised. They make it seem like the easiest way to make money online just by playing a casual match-3 game.

However, the developer cannot afford to pay $1,000 for every user who collects the money in just one day.
The app probably generates a decent amount of revenue because thousands of people are playing the game every single day.
But make no mistake. It's not near enough to transfer $1,000 to everyone!
Crazy Merge Chip is very fun and exciting until you realize the cash reward is fake.
Verdict: Not Recommended
Earn a Full-Time Income Online 
If you want to make real money online, you must aggregate value to the internet.
One of the most used strategies out there is content marketing. By publishing content on my own website, I can rank on Google and attract thousands of visitors in search of reliable information.
As a result, I earn affiliate commissions and ad revenue when people visit my site and complete actions.
I've grown a lucrative site for that past 6 years thanks to this excellent step-by-step program.
I can't recommend this platform highly enough since I had a solid training and priceless support from successful affiliate marketers.
The best part is that you can join for free and get started with no strings attached!
Final Words
Thank you for reading my Crazy Merge Chip app review. I hope it was eye-opening!
If you have any question or thoughts about this app, feel free to use teh comment box below.
Peace!