Welcome to my 2248 Linked app review!
2248 Linked is a fun and immersive game where you need to connect jelly items on the screen in order to reach a certain goal.
But I am sure you are not here just for entertainment, right?
You have downloaded the app because it says you can earn real life items like the latest iPhone, Amazon Gift cards and, of course, MONEY!
There's a lot that seems great with this game, but is it legit or fake? Will the company transfer the funds to your PayPal account? What about the iPhone?
Keep reading to find out!
Before you leave, check out the step-by-step program that helped me grow an internet business and reach $2,000+ per month.
2248 Linked App Review
Name: 2248 Linked (Early Access)
Developer: wangbin1983
Eligibility: Worldwide
Installs: 100,000+
Prize: Free
Overall rating:

1/5
How Does 2248 Linked Works?
Installation 
2248 Linked is an Android application developed by wangbin1983. As such, players can install it on Google Play and start playing immediately.
Many people are not aware of the permissions the developer has implemented on the app. It may come as a shock, but the app can access your personal files such as photos, videos and documents.
Not only they can read but also modify and delete content from your phone or tablet. Now, you may ask, is it worth the risk?
You will know by the end of this post.
How do you play the game?
2248 Linked is designed with the idea of bringing in a unique twist on the regular 2048 gameplay.
Instead of having to add up to 2048, you must do that and reach 2248. It adds an entirely new challenge to players, since it's definitely more challenging to play this way.
Yet it's still a bunch of fun and you will find yourself immersed into the gaming experience.
2248 Linked is very similar to Hexa Connect, 2 For 2 Connect to Win and many others!
You just have to link jellies of the same number and color to eliminate them and create a jelly with a higher number.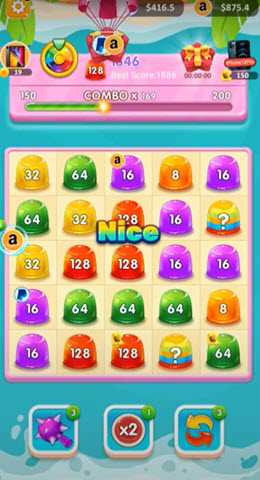 The more jellies you merge at once, the higher the resulting number and the quicker you complete the combo progress bar.
Use props to destroy, multiply by two and rearrange jellies.

Earning virtual cash rewards
As we mentioned earlier, you will be offered virtual cash as you eliminate jellies. However, you must tap "Collect" and watch a sponsored video to claim the reward.
The dollars add up on either your PayPal or Amazon cash balance, depending on the logo stamped on each coupon you receive.
After completing the progress bar, you will also receive rewards after tapping the gift symbol and watching the ad.
Not only that, but 2248 will also give you puzzles with the Apple logo. According to the rules, you must collect 400 of these fragments to redeem an iPhone 12.
Here is a screenshot: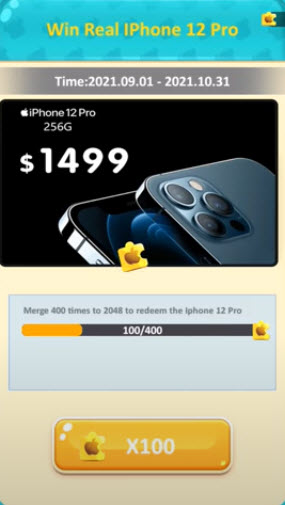 How to Cash Out? 
At first, they entice you to collect as much money as possible within 24 hours to withdraw the money via PayPal.
They also mention that if you collect $1,000, you can cash out immediately! It seems too good to be true, and the best part is that it doesn't take a long time to fulfill this requirement.
But after you press the redeem button and provide your PayPal email, something very fishy will happen!
2248 Linked will lure you into watching even more ads! This time, they use the excuse that you need to activate your $1,000 order by watching 30 videos within 12 hours.
Do you think they will finally transfer the money just for linking jellies and watching their videos?
Is 2248 Linked Legit? Does it Pay? 

No, 2248 Linked is not serious about cash rewards. It won't pay you a dime, regardless of your achievements and play time.
I stopped playing when they asked me to watch 30 videos because I knew the outcome from the beginning. I tested enough games and I know exactly how they operate.
You should not expect to claim the iPhone 12 Pro either. It's important to understand this is not a sweepstakes app like Givvy where players get prize draw entries. So, there is no chance of winning any prize!
You cannot see any reviews on Google Play because the app is classified as "Early Access" or incomplete.
Therefore, Google doesn't allow players to publish the reviews and expose the truth about 2248 Linked.
This only benefits the developer, who can ignore payments and still maintain a neutral reputation on the platform. Let's hope this situation changes in the future!

This reward platform is going viral! Cash out via PayPal, Visa, Gift Cards, and in-game currencies - Click here to find out how to generate an extra $10+ per day! 
Conclusion 

Thousands of people are playing 2248 Linked and watching a ton of videos in hopes to earn $1,000 or an iPhone 12.
Unfortunately, most of them will learn the hard way that prizes are completely fake. If you already wasted your time playing 2248 Linked, take it as a lesson for the rest of your life.
The internet is full of people who don't really care about your emotions, or how many sleepless nights you spent trying to earn a few bucks.
So, you have to do proper research and avoid any activity that seems too good to be true.
Verdict: Not Recommended 
Earn a Full-Time Income Online
Just like in the real world, the internet is full of opportunities for those who provide value.
One of the best strategies to create content and monetize internet traffic (visitors) through advertising and affiliate marketing.
For example, by publishing content for my website, I can rank on Google and attract web visitors. As a result, I earn commissions for promoting services that I think will benefit my audience.
If you want to work remotely and independently, there is no better business model for the average joe with no special skills.
I've built a solid online business over the past 6 years thanks to this excellent step-by-step program.
This affiliate training platform helped me grow website traffic from scratch, and quit my job in 2019.
The best part is that you can join today and complete the first 10 lessons for free!
Final Words
Thank you for reading my 2249 Linked app review. I hope it not only saves your time, but helps you pursue a real opportunity to earn money online.
Feel free to use the comment box to express your own opinions about the app and ask questions. I am here to help!
Peace!