Welcome to my Gem Boom app review!
Gem Boom is a casual android game that lures players to watch videos in return for virtual dollars and diamonds.
Many people are downloading this application because it supposedly transfers at least $19999 to PayPal.
Not only that, but you will collect diamonds that can be traded in for credits to spend on popular games like Free Fire, Roblox, and Coin Master.
The question is: If people are getting rich with the app, then why only 5,000 installs so far?
Gem Boom is not the only app using this type of marketing to increase profits. Google Play is jam-packet with similar money games such as Pet Connect and Pop Diamonds.
Since you have to watch an insane number of videos to collect items, you want to know if this is legit or fake.
Does Gem Boom pay, or is it a complete waste of time? Read on to find out!
Before you leave, check out the step-by-step program that helped me grow an internet business and reach $2,000+ per month.
Gem Boom App Review
Name: Gem Boom (Early Access)
Developer: Yidi Wang
Eligibility: Worldwide
Prize: Free
Overall rating: 1/5
What is Gem Boom?
Gem Boom is a puzzle game in which players connect gems of the same colour to collect virtual dollars and diamonds.
Although the developer doesn't make any promises, he suggests you can withdraw tens of thousands of dollars and redeem game credits.
All you have to do is play, watch videos and reach the cashout requirements. They make it seem like you are living the dream!
Gem Boom is operated by Yidi Wang, and installed over 5,000 times. Unfortunately, there are no reviews on Google Play and that is because the developer classifies the app as "Early Access".
Therefore, people have to do their own research to find whether cash reward is real or fake. I am here to provide the answer to that question soon.
How Does Gem Boom Work?
Installation
Since Gem Boom is an Android application, you can install it for free on the Play Store. Before you do so, just be aware of the permissions.
It may come as a shock that the app can read, modify, and even delete content stored in your USB.
This kind of permission is very troubling because it can pose unnecessary risk to your data and privacy.
How to Play Gem Boom?
Simply connect patterns of the same color and destroy as many gems as possible in one go.
To pass the level, you must reach the goal at the top before running out of moves. For example, level 6 requires that you eliminate 8 blue and 8 green gems.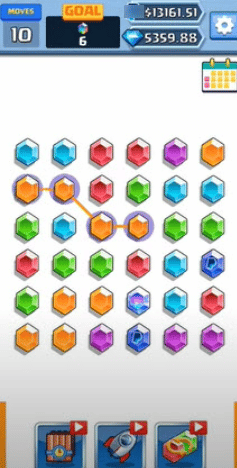 Every time you destroy gems, you will receive virtual PayPal coupons or diamonds.
The reward will be multiplied by a random number and added to your balance, but only if you tap "collect" and watch a sponsored video.
The first cash coupon is worth more than $1,000, which is crazy! You will get lots of virtual dollars, but the cash reward decrease in value as you get closer to $19,999.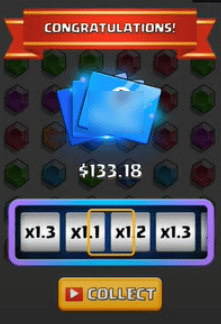 Note that some gems that have the PayPal logo connect with any other gem, and provide cash coupons if you link them.
How to Cash Out?
Gem Boom supposedly allows players to withdraw real money when they reach $19,999, $29,999, $59,999.
You can request the payment via PayPal by inserting your email address.
How to Redeem In-app Currency?
You can also redeem in-game currency if you collect enough diamonds. Just enter the Shop tab, select your favorite game and enter your Player ID.
The supported games are Free Fire, Clash of Clans, Coin Master, and Roblox.
Is Gem Boom Legit? Does it Pay?

No, Gem Boom won't pay you for reaching the minimum cashout requirements.
I am here to uncover what will happen to those who reach $19,999 and try to redeem. They will update your status and say you must watch 100 videos to activate the order.
As you probably know, the app developer generates revenue whenever you watch those adverts. So, you are wasting your time and mobile data only to make him richer!
Believe it or not, many players will watch all the videos only to get this message:
"The daily limit is 30 orders. All orders have been sent out today and will reset in 3 days."
Next, Gem Boom encourages you to watch another 50 videos to apply without waiting. I hope you realize the prizes are completely fake before you endure all those ads.
The app is classified as "Early Access" most likely because the developer doesn't want to display all the negative reviews below the "Install" button.

This reward platform is going viral! Cash out via PayPal, Visa, Gift Cards, and in-game currencies - Click here to find out how to generate an extra $10+ per day! 
Since Gem Boom was given the proper environment to flourish, it will continue to attract and frustrate lots of players.
Don't bother trying your luck because this is not about sweepstakes. Unlike WINR games like Toy Town, and Daring Descent, there is no chance of winning prizes.

Conclusion
Gem Boom is an interesting and immersive game for Android users.
Sadly, cash rewards are used as bait to increase corporate profits at the expense of the user's time and mobile data.
People are enticed to watch lots of videos in return for fake dollars and useless diamonds. This is so misleading!
Even if you enjoy playing Gem Boom, avoid this game because they don't deserve to monetize their traffic.
Verdict: Not Recommended
Earn a Full-Time Income Online
If you want to make real money online, you need to focus all your energy on providing value.
There are many strategies, but my favorite one is Affiliate marketing. By publishing content on my website, I can rank on Google and welcome visitors in search of reliable information.
As a result, I earn commissions for promoting products I trust and recommend.
I've worked in this industry for 6 years and build a solid online business thanks to this excellent step-by-step program.
The best part is that you can join for free and start your site with no strings attached!
Final Words
Thank you for reading my Gem Boom app review. I hope it was eye-opening!
If you have any question or thoughts about this game, please use the comment section below.
Peace!