Welcome to my 2 Dots App review!
You probably found 2 Dots: To Do Winner after watching this insane advertising: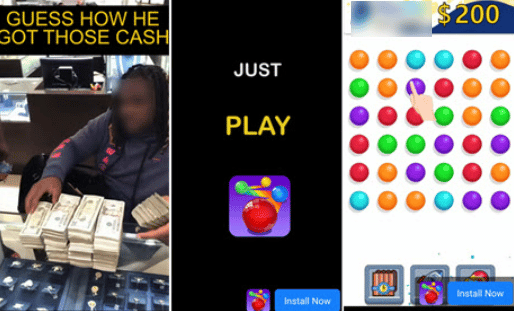 It showed a guy with stacks of cash on the table and encouraged viewers to guess how he got all that money.
On the next page, they answer the rhetorical question: "Just Play" 2 Dot app logo.
It's crazy that during the past 3 or 4 years, many games have been advertised as opportunities to become rich just for playing.
All you have to do is download the app and reach the cash out requirements! Easy, right?
I know you value your time, especially if you are struggling with the bills and are searching for ways to make money online.
Fake money games are everywhere! So, does 2 Dots pay? Is it legit or scam? Let's find out!
Top recommendation: This step-by-step program helped me achieve 2,000 US Dollars per month and quit my job in 2019. There is a free membership available! 
2 Dots App Review 
Full Name: 2 Dots: To Do Winner (Early Access)
Developer: Yidi Wang
Payout Threshold: $14,999
Price: Free (no in-app purchases)
Overall Rating: 

1/5
What is 2 Dots? 
2 Dots features the classic puzzle game where players link the dots of the same colour and earn virtual dollars.
The game claims that once you reach $14,999, you can withdraw the money via PayPal or Amazon vouchers.
It's incredibly unrealistic to expect that a free game could provide such a high cash reward. But many people take their chances because 2 Dots is entirely free to play.
Over 100,000 android users have installed 2 Dots so far, and yet, the app is still incomplete (Early Access).
It's a shame because this classification allows the developer to block reviews on Google Play and, as a result, avoid the negative repercussion.
How Does 2 Dots Work?
Installation 
2 Dots is available for free in the Play Store. Before anything else, I need to warn you about the permission that this application requires from users.
After installing 2 Dots, the developer can not only read contents of your USB but also modify and even delete them.
Yes, I am talking about all your photos, videos and files! It may come as a shock for many people who didn't take the time to dig deeper.
Now, let's expose how the game works, because if you can really make $14,999, it may be well worth the risk, right?

How to Play 2 Dots? 
After launching the app on your Android device, you can click on Day 1 and receive your first reward.
Players will get a substantial dose of adrenaline when they see the PayPal logo and the first prize of $1,033.
They just have to tap the button and watch the video to collect the money.
Next, tap play to start your first level. You will see a grid with 36 coloured balls (aka patterns or dots).
You must connect at least 3 dots of the same color to destroy them and open space for more ball that fall from the top.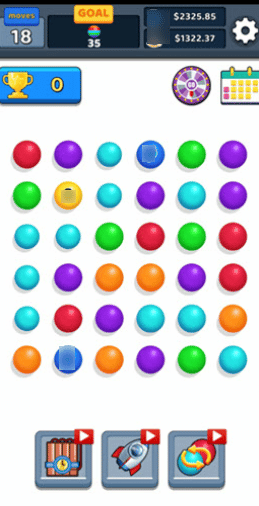 To pass the level, you need to achieve the goal before running out of moves.
Since 2 Dots is an app that profits from advertisements, they force a sponsored video under your throat after every other connection.
Whenever you link a decent number of dots, you will get a virtual PayPal or Amazon coupon. But of course, you are lured into watching a video to collect the reward.
This condition increases the amount of videos people watch and fills the developer's pockets with money.
Some dots have the PayPal logo or the Amazon logo. So, by connecting them and watching more ads, you will collect more virtual dollars.
Spin to Win
Believe it or not, 2 Dots also features a lucky wheel where you have the chance to collect puzzles and win these four prizes:

$10,000 PayPal
$10,000 Amazon
Playstation 5
iPhone 12
Tap "spin" in the center and wait for the ad as usual. You can supposedly win the prize if you accumulate 20 puzzles.
How Can You Cash Out? 
2 Dots claims the virtual dollars can be cashed out by PayPal or exchanged into Amazon gift cards after you reach the payout threshold. The minimum requirement is $14,999.
Simply press the "CLAIM" button at the top followed by "redeem".
Is 2 Dots Legit? Will You Receive the Money?  

This reward platform is going viral! Cash out via PayPal, Visa, Gift Cards, and in-game currencies - Click here to find out how to generate an extra $10+ per day! 
No. You will never receive a single penny from 2 Dots, let alone $14,999. There is no hope for any player!
If you click the exclamation symbol in the payment section, you will the following rule:

"We own the right of final interpretation and the cash reward supplies by relevant Game app." What that means is that they get to decide whether you will receive the money.
Now, do you really think they will give away $14,999 just for connecting dots and watching a couple of videos?
No way!
After you reach $14,999 and provide your PayPal email, the developer comes up with a card under his sleeve. This time, you must watch 50 videos to activate the order. 
Great, so 50 ads later, and now you are told to wait patiently.
How long should you wait for? No one knows the answer, but I am very confident that one will probably wait for a lifetime.
Make no mistake. No one can make tens of thousands of dollars by playing 2 Dots.
They don't even let players write reviews because they know everyone will complain they received no money.
Also, there is a complete lack of transparency since the developer provides no Terms of Service.
It's no surprise for me as I have tested hundreds of similar fake "money-games" such as Pet Connect, Hexa Connect, 2248 Chip Connect to name just a few.
Conclusion 
It's impossible to make money with 2 Dots or any other game that was probably advertised though the app.
Yes, some apps like Cashyy and Mistplay do reward users who complete game offers, but the earning potential is always very low.
Please, avoid installing games that lures you into watching videos in return for hundreds and even thousands of dollars.
Only the developers are making profits at the expense of your time and mobile data.
Earn a Full Time Income Online
If you want to make money online, it has to come from somewhere.
An excellent way to generate a full-time income from home is called affiliate marketing.
This business model allows you to promote other people's products and earn a commission if people purchase the product through your affiliate link.
But first, you need solid strategies to build an online audience. The more people you attract to your platform, the more money you can make!
There are many spects of this business you need to learn. Otherwise, you may fail miserably and end up wasting money on ineffective strategies.
This step-by-step training helped me create a site from scratch, achieve high rankings and earn over $2,000 per month.
You can sign up right now and try it risk-free! 

Final Words
Thanks for taking the time to read my 2 Dots: To Do Winner app review.
Use the comment section down below to share your thoughts about this application and ask questions.
Peace!