Welcome to my Lucky Chip Spin app review!
I just came cross another coin pusher game that claims to transfer virtual dollars to your PayPal account. How can it get any better than tapping your phone and earning free money on demand?
But, the first thing to realize is that there are lots of applications using fake rewards to increase profits.
Unfortunately, millions of people have already lost countless hours of their lives chasing the carrot, only to make developers richer and richer.
It's really sad because nothing seems to stop these apps from giving users false expectations. So, does Lucky Chip Spin or not? Is it legit or fake?
Let's find out!
Top recommendation: This excellent step-by-step program helped me generate over 2,000 US Dollars per month online and quit my job in 2019. Free membership here! 
Lucky Chip Spin App Review 
Full Name: Lucky Chip Spin: Free Puzzle (Early Access)
Developer: Slot Game developer
Payout Threshold: $300
Price: Free (no in-app purchases)
Overall Rating: 

1/5
What is Lucky Chip Spin? 
Lucky Chip Spin is an addictive Android game that features a coin pusher and a slot machine. It's very similar to Dozer Mania, Crazy Pusher and many others!
Just like in the real world, all you have to do is drop the coins, so they get pushed off the edge by the dozer.
As the coins fall from the platform, you collect virtual dollars redeemable via PayPal or Cash app.
In the Privacy Policy, the app is supposedly owned by an entity called "Luckyspin". However, I couldn't find any company with this name.
How Does Lucky Chip Spin Work? 
Installation 
Lucky Chip Spin is available in all countries for android devices. A quick look at the permissions page reveals it can read, modify and even delete contents of your USB storage.
This scares me because no one knows if and to what extent they can sneak through your photos and files.
Earn real PayPal money without installing any app on your phone. Check out this top reward site.
How to Play Lucky Chip Spin? 
It's easy to play Lucky Chip Spin since all you have to do is tap where you want the nickels to fall.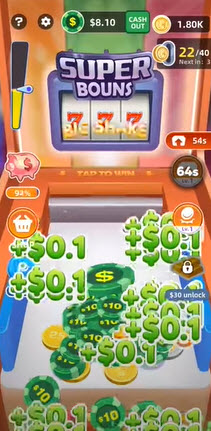 The dozer pushes them off the front edge, giving you either virtual dollars or tokens depending on whether you drop green chips or gold coins.
For instance, you will get $1 when green chips with the numbers 100 are fall off the platform.
When any chip or coin hit the 777 box, it triggers the 3-reel slot machine. If you match 3 symbols, you will earn extra nickels, fruits and cash rewards.

Use the shake or wall to eliminate many nickels and break the piggy bank to collect more rewards. You can also tap the gold bars to complete quests to win virtual dollars faster.
Be aware that most activities that put cash and tokens in your account require that you watch sponsored videos.
That's how the developer is capitalizing on the time you spent playing the game.
How Can You Cash Out? 
Tap the "Cash out" button beside your balance to find all the withdrawal options.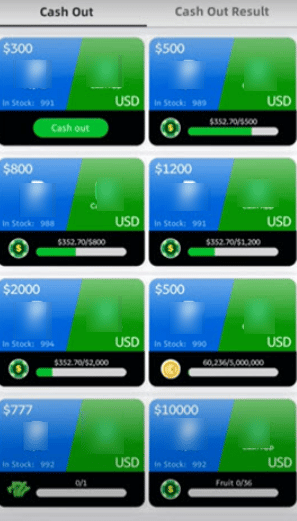 You need to reach at least $300 to cash out via PayPal or Cash app. Once you do, enter your account email and tap the "Redeem" button.
As for tokens, you can supposedly exchange 5,000,000 of them for $500.
If you are lucky enough to land 777 on the slots, you can supposedly win $777 paid though either PayPal or Cash app.
But wait… there is more! Lucky Chip Spin gives away a $1,000 prize for those who collect 36 fruits via the slot machine.
Will they let you meet any requirement and transfer the money? I will answer this question in the next section.
Is Lucky Chip Spin Legit? Does it Pay? 
No, it doesn't! Lucky Chip Spin is just a coin dozer simulation that does not transfer actual cash to the players' accounts.

The virtual dollars and items you collect while playing the game won't convert to real money by any means.
I can relate to your frustration when you realize all your time collecting the rewards were lost.
But there is nothing to be done in this case except turn the page and try to find a real opportunity to make money online.  
The fact that Lucky Chip Spin is still not fully launched on Google Play is a big red flag. Many games are being released as "Early Access" just to block reviews from upset users.
Conclusion 

This reward platform is going viral! Cash out via PayPal, Visa, Gift Cards, and in-game currencies - Click here to find out how to generate an extra $10+ per day! 
Lucky Chip Spin wants you to watch as many ads as possible with the goal of maximizing profits. Their key strategy is to offer virtual items that actually never convert to real money.
Since the developer advertises the app as an opportunity to earn money, it's his moral obligation to pay. However, virtues don't really count when operating businesses.

If you play Lucky Chip Spin, you will not only waste time but you may also lose money since videos consume mobile data.
Is there an alternative? Yes, but please be aware that winnings depend on luck. Coin Dozer allows you to collect entries for the daily prize drawing.
Final Words
Thanks for taking the time to read my Lucky Chip Spin app review. Use the comment section below to ask questions or share your opinions about this unfair coin pusher simulation.
Stay safe and peace out!