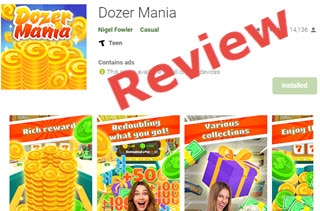 Welcome to my Dozer Mania app review!
Millions of people are playing coin pusher games in hopes to win big cash rewards.
Another app that went viral recently is Dozer Mania, which supposedly offers the richest prizes.
All you have to do is tap your screen and watch the nickels push the front ones off the edge.
I am writing this review because people are sick and tired of wasting time with "money games". If that's you, then you are in the right place!
So, is Dozer Monia legit? Will they let you withdraw the cash rewards to PayPal or not? Keep reading to find out!
Recommended: This step-by-step program helped me grow an online audience and generate $1,600+ per month. It's free to join!
Dozer Mania App Review
Full Name: Dozen Mania
Developer: Nigel Fowler
Eligibility: Worldwide
Price: Free (no in-app purchases)
Overall Rating: 

1/5
What is Dozer Mania?
Dozer Mania is causal game that gives you tokens and virtual cash for pushing coins off the platform. By lighting up all the light bulbs, you will trigger the slot machine for a chance to win more nickels.
In the app description, the app developer claims there are rich prizes available. Therefore, many people expect they will eventually cash out once they reach a specific amount.
How Does Dozer Mania Work? 
Installation and Permissions
Dozer Mania is available for Android devices through the Play Store. Even though it doesn't ask any permission, it will have immediate access to media and files of your phone!
This is worrying because they can not only snoop into your files but also modify and delete them! What the…?!
How to Play Dozer Mania? 
Just tap anywhere to drop the coins on the platform where the dozer moves back and forth.
Whenever a yellow or green coin gets pushed off the edge, you will earn token and cash respectivelly.
Depending on where you drop the coin, it will light up a bulb that forms the word SLOT.
When you lit all the letters, Dozer Mania activates the slot machine, giving you the chance to win yellow and green coins.
In the beginning, you will get £0.08 or £0.16 every time you drop a green coin. You can always trigger the slots once more by watching the video.
New coins are added every 3 seconds, which helps you play the game almost uninterruptedly. But you also have the option to watch a video or spend £1.60 to get 50 tokens right away.

There are three tools available to maximize earnings:
Wall – Build walls on both sides to prevent them from falling.
Light – Light 1 of 6 bulbs.
Big Shake – Shake the pusher machine and get extra misterious items.
Keep in mind you will spend most of your time watching clips that are helping the developer make profits.
Is Dozer Mania Legit? Does it Pay?
Nope! There is no payout! You will quickly reach $100 – $200, but all of a sudden the coins drop in value and you have to watch plenty of videos to collect green coin.
In other words, they will make it impossible to reach the target and withdraw the money. Here is another popular coin pusher that does not pay. 
I taped on my cash balance to see what was the payout threshold, but it did not open for me!
Some players get to see the minimum cash out requirement and other virtual items such as chips, gold bars and green stacks. I don't see any of that!
Since there is no cash out button, I have no chance to even try! Not that I would have wanted to.
Dozer Mania's advertising claims you can win cash rewards, but most people are complaining they didn't make a dime.
Check the reviews for yourself on Google Play. Some players report they have been playing for months with nothing to show for it!
Conclusion 
Dozer Mania is another ad hell designed to maximize profits at the expense of your time.

Tokens are not real currency and you don't have no right to any virtual items you earn in the game.
If you play Dozer Mania, you will not only waste time but also put your phone at risk.
There are countless coin pusher games on the Play Store, but only Coin Dozer gives you a real chance of winning cash prizes.
The main downside is that you have to count on luck to earn money since winners are ramdonly selected.
Earn a Full-Time Income Online

This reward platform is going viral! Cash out via PayPal, Visa, Gift Cards, and in-game currencies - Click here to find out how to generate an extra $10+ per day! 
Why play useless games when you can build your own online business and earn thousands of dollars per month! 
If you dream of achieving time and location freedom, I suggest you pay close attention. The internet offers an incredible opportunity for content creators!

For example, by creating a website, you can attract a global audience and earn revenue by showing advertising, promoting affiliate offers and even seeling your own products.
That's the exact business model I use to work from my laptop and benefit from the digital economy.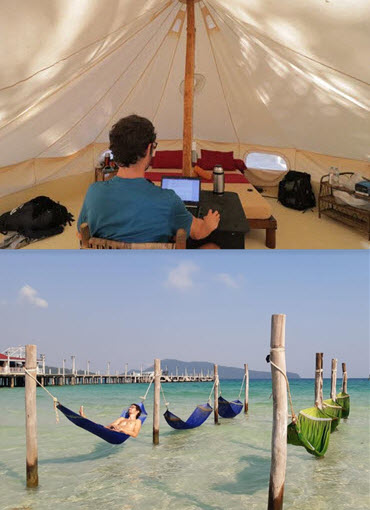 Despite the simplicity of the method, joining a well-structured program will help you avoid the pitfalls, and be better prepared for the challenges ahead.
I started my online business six years ago thanks to this excellent step-by-step program! 
You can join join now and take advantage of the risk-free membership.  >> Click here to learn more! 
Final Words
Thanks for taking the time to read my Coin Dozer app review. Feel free to use the comment section below if you have any questions or thoughts about this popular application.
Stay safe and peace out!