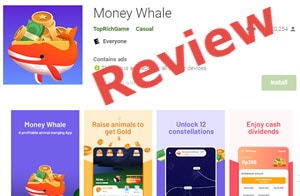 Welcome to my Money Whale review!
I have recently found another animal merging app, whose company claims to pay eye-catching dividends. It's called Money Whale!
The game is very addictive, especially because it supposedly lets players withdraw actual money
I believe most people are playing this games to earn money, and not just to kill-time! So, is Money Whale legit or fake? Will you ever see the dollars in your PayPal account?
Keep reading to find out!
Recommended: This step-by-step program helped me build my own online business and generate $1,600+ per month. It's free to join!
Money Whale App Review
Full Name: Money Whale
Developer: TopRichGame
Eligibility: Worldwide
Payout threshold: $10
Price: Free (no in-app purchases)
Overall Rating:

 1/5
What is Money Whale?
Money Whale is an idle game where players must drag together animals at the same level. By merging two same animals, you will create a new animal at a higher level.
Once you achieve specific milestones, you will get dividend whales that awards virtual dollars. Rewards are added in your cash wallet, but you can only cash out once you reach $10.
Money Whale is an identical to Money Dolphin, which seems to be running more smoothly.
How Does Money Whale Work? 
Installation 
Money Whale is an Android application, so it's available for free on the Play Store.
Be aware that once you install this app on your device, you grant access to all the media and files on your SD card.
That means the company can read, modify, and even delete your content. Can you believe that? Here is the proof!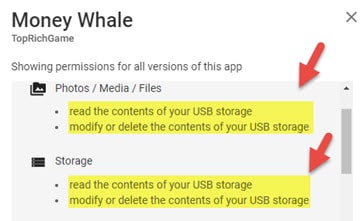 That's why I tested Money Whale and uninstalled it immediately!
How to Play Money Whale? 
Simply drag and put two animals of the same level together. After merging the two animals, a different animal at a higher level will emerge.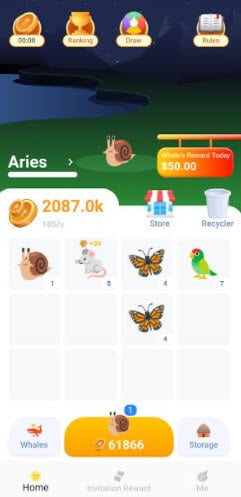 The higher the level, the more Gold per second it will earn. Use the coins to purchase more animals and keep combining more animals to reach higher levels.
If you run out of gold, it encourages you to watch a video to earn more coins. Remember, the developer is making profits while you do that.

You can always drag animals to the recycle bin or storage to release the lot.
Every 5 levels, you will get a limited-time Dividend whale and collect virtual dollars.
They say once you upgrade to level 38, you can merge a special whale to win permanent dividends worth 20% of advertising revenue.
Keep in mind there are 100,000 dividend whales available on a first come, first served basis. Besides, you may have to unlock multiple whales.
As you make progress in the game, you will unlock constellations and earn secret prizes.
The main downside of Money Whale is that it frequently reverts back saying "different animals cannot be merged". It's a very annoying glitch!
Also, many users complain about network connection timeout even though they claim to have good network.
Invite Friends
Money Whale allows you to earn cumulative revenue from friends. Just tap the "Invite Friend" button and send an automated message to any person on WhatsApp, FB, or any other social media.
The invitation reward comes from a friend's active revenue, which is based on multiple factors such as the active time, video views, and the number of invitations.
The more indirect and direct friends, the more active revenue you can enjoy every day.
How Do You Get Paid? 
Select "Me" and open your cash wallet. The first withdrawal can be done with $0.15, followed by $10, $50, $100 and $200.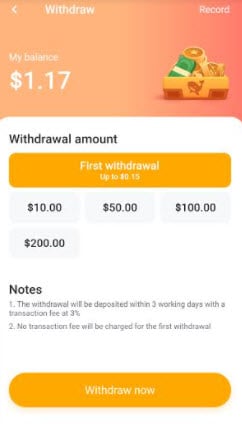 Money Whale claims you can only withdraw $0.15 after authentication, which happens when you reach level 10.
However, can you can cash out $0.03 even if you are not authenticated. Just tap "Withdraw $0.03" and choose the digital currency Dogecoin.
You can only request payments via PayPal, Dana, OVO, and Go Pay if you go for higher amounts.
In the "Withdraw" page it says the money will be deposited within 3 working days with a transaction fee at 3%.
Is Money Whale Legit? Does it Pay? 

This reward platform is going viral! Cash out via PayPal, Visa, Gift Cards, and in-game currencies - Click here to find out how to generate an extra $10+ per day! 
I don't think Money Whale pays. If it does, then only a tiny percentage of players get the money because I coudn't find any evidence of payments.
Many players complain that every time they try to cash out, it says "service is being upgraded. Try again later". 

I tried to redeem $0.03 to my dugecoin wallet and got the same message. Here is a screenshot: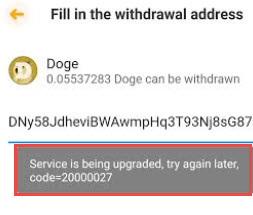 I suspect this is a permanent issue because if you check the reviews on Google Play, you will find people complaining about it since December 2020.
Conclusion 
Money Whale is poorly designed and will probably never let you withdraw their so-called "dividends".
It has glitches that destroy the gameplay, so it's not even worth playing for fun. Many users complain about a supposed network connection issue, but the developer never fixes it!
Please, don't expect to earn any money from Money Whale, or else you will just waste our time and internet data.
Not to mention that you are giving access to personal files on your phone, and thus, putting yourself at unnecessary risk.
There are many similar games such as Merge Animal Kingdom, Kitty Town, and Lucky Ship. However, none of them will transfer the funds to your PayPal account!
Verdict: Not Recommended
Earn a Full-Time Income Online
I know you are sick of playing mobile games and not being able to cash out. It's very disappointing and soul-draining!
You can earn a decent amount of money online, but that will require a completely different approach.
One of the best ways to earn money from home is to become a content creator and build a solid online presence.
I didn't have a clue back in 2015, but thanks to this excellent program, I learned the ropes and created a profitable affiliate site.
It's one of the few activities that will give you complete time and location freedom!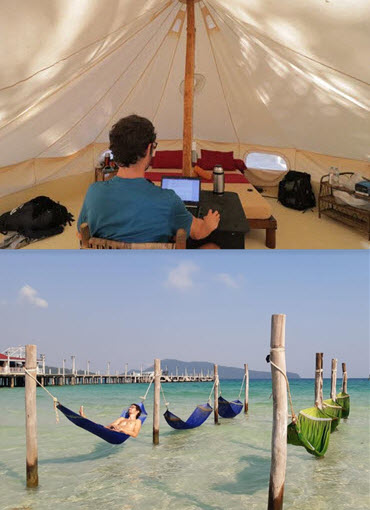 If you wish you could make money on your own terms and enjoy perfect work-life balance, the time is now!
Final Words
I hope my Money Whale review was helpful! So, what is your opinion about this application? Did you cash out? Tell us how was your experience in the comment box below.
Peace!