Welcome to my 2248 Chip Connect app review!
Thousands of people are connecting chips and watching video ads with the expectation to earn thousands of dollars.
In today's post, I will expose another game that allows you cash out at least 9,999 USD via PayPal. It's called 2248 Chip Connect!
Since I created this website back in 2015, I have tested countless apps and sites that promise to give easy money.
Unfortunately, the vast majority are just operating at the owner's best interest and won't feel shame for ignoring payment requests.
You don't want to waste your time helping the developer earn money if he is not sharing a slice of the pie. So, is 2248 Chip Connect legit? Does it pay or not?
Keep reading to find out!
Top Recommendation: I used to complete online surveys for a little extra cash when I found an excellent program to build profitable affiliate sites. It helped me generate over $2K+ per month and quit my job at the coffee shop. Learn more here! 
2248 Chip Connect app Review
Full Name: 2248 Chip Connect
Developer: Xfungames
Eligibility: Worldwide
Price: Free (no in-app purchases)
Overall Rating: 

1/5
What is 2248 Chip Connect?
2248 Chip Connect is an addictive puzzle game where you connect the same numbers to merge the chips and earn virtual dollars.
Rewards will be credited to either your PayPal or Amazon balance after connecting the chips and watching a video ad.
Then, you can supposedly cash out once you reach the minimum payout threshold.
There are countless games that also claim to pay users when they collect a specific amount of virtual items. For example, Fall Pops is one of the most popular merge numbers game on the Play Store.
How Does 2248 Chip Connect Work?
Installation and Permissions
2248 Chips Connect is available on both Android and iOS platforms and despite being installed 100,000 times, it is still "Early Access".
Therefore, reviews are blocked so you cannot discover the truth from other users who played the game.
I always recommend people to run away from incomplete apps, especially those that promise real money.
Another problem is that by installing the app, you automatically grant permission to read, modify and even delete personal content on your device. That includes your photos, videos, and any other files.
I bet most people don't have a clue about the risks they are taking!
How to Play?
Playing 2248 Chips Connect is very straightforward. All you have to do it slide your finger to connect all chips containing the same number.

Connections can be made in any direction, even diagonally. Besides, they can include numbers that follow the sequence:
2, 4, 8, 16, 32, 64….
Here is one example: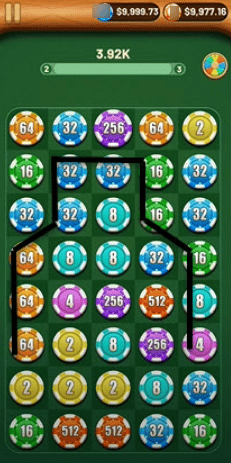 After connecting at least 2 Chips, they will merge into a single chip of a higher number. So, three discs "8" will turn into a disc "16". You got the idea!
There is not specific goal like completing levels or achieving scores. 2248 Chips Connect is all about unlocking higher numbers and earning cash rewards.
Cash Rewards
As you already know, the game dishes out virtual dollars as you merge the discs and watch video ads. It alternates between PayPal and Amazon cash rewards.
They give you just a few cents at a time after you tap collect and watch the commercial until the end.
2248 Chips Connect is extremely unrealistic! players could cash out 9999 USD via PayPal or Amazon gift cards.
Is 2248 Chips Connect Legit? Does it Pay?
No, there is no chance of earning 4 and even 5 digits just by merging chips. This would never happen, even in your wildest dreams!
You can eventually reach over 10,000 USD, but then, 2248 Chips Connect will come up with another requirement.

This time, you must watch 150 videos to activate your order. However, the company won't pay you even if you comply will all additional requirements,
Basically, they are treating you like a fool because all they care about is making profits from the ads you watch.
All you can do is report the app to Google and hope for justice. But don't get your hopes high because games like 2248 Chips Connect usually have a long lifespan on the Play Store.
Conclusion
It's impossible to earn actual money with the 2248 Chips Connect app. The game just provides fake currency to get more people to watch videos and maximize profits.

This reward platform is going viral! Cash out via PayPal, Visa, Gift Cards, and in-game currencies - Click here to find out how to generate an extra $10+ per day! 
I do not recommend you nourish hope of receiving cash rewards, because it will certainly cause unnecessary stress and anxiety.
I always cringe every time I find a game promising to pay hundreds of dollars.

Well, it seems there are no limits to what developers can do to lure players into watching adverts.
For example, this similar chip puzzle game entices players with a Tesla Car. It's insane!
Unfortunately, there is no similar game that reward players. Check this post to find legit game apps that transfer actual cash or bitcoin to your PayPal or wallet.
Verdict: Not Recommended
Earn a Full-Time Income Online
You can earn thousands of dollars every month if you use content marketing to build an online audience.
This excellent step-by-step program helped me created a successful website that ranks on Google and attracts visitors searching for information.
There are many other ways to earn a living online, but creating a blog and promoting products as an affiliate worked like a charm for me.
Besides, I think it provides the highest level of freedom since you don't need to handle physical products nor costomer service.
You can give it a try completely for free by subscribing to the starter membership here!
Final Words
Thanks for taking the time to read my 2248 Chips Connect review. If you have questions, I am glad to help you via the comment section below.
Peace!