Welcome to my Chip Winner 2048 app review!
Perhaps you found Chip Winner 2048 after watching a commercial saying you will earn lots of money! 
The app went viral recently because it claims to pay real cash bonuses at every level.
I am sure a lot more people will download this application and watch hours of videos in hopes to withdraw $1,000!
I lost count of how many fake games I reviewed in this blog with the same "chip" theme.
If only 1% of them paid users what they give as virtual dollars, no one would ever work for money!
Since money doesn't grow on trees and time is money, you are here to find the truth about Chip Winner 2048.
So, will they pay you? Is it legit or fake? Keep reading to avoid frustration!
Before you leave, don't miss out on my top-rated GPT site. Members are making $200+ on the side by completing quick surveys and offers. Cash out via PayPal and gift cards!
Chip Winner 2048 App Review
Full Name: Chip Winner 2048
Developer: 2608 Game Studio
Eligibility: Worldwide
Payout threshold: Cash out any amount after 24 hours
Price: Free
Overall Rating: 1/5
What Is Chip Winner 2048? 
Chip Winner 2048 is a casual game in which you match at least three numbers to merge the discs.
As you combine the chips, you will earn cash coupons worth hundreds of dollars.
Not only that, but you can supposedly win an iPhone 12 Pro if you collect 300 puzzles and watch 200 videos.
How Does Chip Winner 2048 Work? 
Installation 
Chip Winner 2048 is available on Google Play for Android users. The app is completely free, so there is no risk of losing money.
BE CAREFUL! 
As soon as you launch the game, they ask you to fill in your PayPal email twice.
Even though it says you must enter your email address again, people may actually provide their password by mistake. 
Once you provide your email and password, anyone can access your PayPal account if you haven't provided two-step verification.
You don't know what these developers are capable of once they get access to your credentials.
I heard horror stories about a person who lost a lot of money after he tried to cash out from another game. So, pay attention and never give enter your password!

How To Play Chip Winner 2048? 
Simply drag the two chips to the grid. You can turn them clockwise to find a more favorable position.
Your job is to place at least three numbers together, so the chips merge into a higher number disc.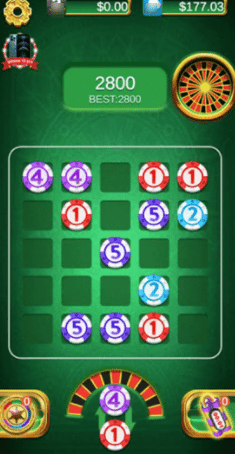 The more chips you eliminate at once, the higher your chance of earning a cash bonus.
From time to time, Chip Winner 2048 provides PayPal and Amazon coupons after you merge the chips and watch the commercial.
The reward accumulates in two separate balances, which you can cash out by meeting certain
By merging number 6, a colorful chip with no number is unlocked.
Once you math these special chips, you will receive iPhone puzzle pieces, but only after watching the video.
Realize that Chip Winner 2048 wants you to watch lots of sponsored videos because that's how the developer generate profits.
Drag the TNT to the grid to blow up a 3×3 area and eliminate up to 6 chips at once.
How Do You Cash Out? 
Chip Winner 2048 claims you can transfer all the money you collect after 24 hours. But if you reach $1000, you cash out immediately via PayPal.
As for Amazon dollars, you can only redeem once your balance reaches $300.
You can also claim an iPhone 12 once you collect 300 puzzles and endure 200 videos.

Is Chip Winner 2048 Legit? Does It Pay? 
No, it doesn't. Chip Winner 2048 will never pay you a dime, so the best you can do is uninstall the app and move on.
Every day, millions of people are playing casual games with the expectation of winning easy money.
If you are one of them, I encourage you to use your precious time to learn something new and achieve your goals in life.
Or, you could complete simple tasks online and getting paid for it! With Prizerebel, you won't get rich, but at least you will receive compensation for your time.

This reward platform is going viral! Cash out via PayPal, Visa, Gift Cards, and in-game currencies - Click here to find out how to generate an extra $10+ per day! 
Instead, they lure people into watching hundreds of videos for absolutely nothing!
Only the developer can collect the profits he receives from advertisers.

He could share a percentage of the revenue to reward players, but the app doesn't even provide the Terms of Service.
Therefore, it's very unrealistic to expect players are making $1,000s just by merging chips.
Clearly, this is a tactic to make people spend more time playing and watching countless commercials.
As if this was not bad enough, the game asks people for an excellent review in return for a $200 bonus.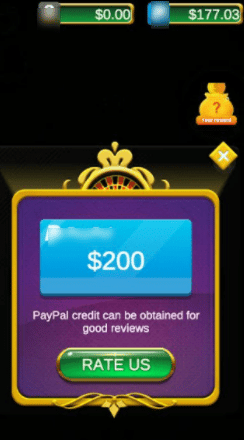 Is There An Alternative To Chip Master? 
Octa Glow is a similar game developed by a Canadian company called WINR Games.
By playing this game, you will collect entries to the weekly prize draw of over $3,000.
Alternatively, you can exchange tickets for cash and withdraw via PayPal once you accumulate $10.
It takes time to cash out and not everyone receives the money because there are no guarantees.
App developers cannot pay thousands of dollars unless they are organizing genuine sweepstakes.
Conlusion 
Don't be fooled by game developers who are hungry for video views! Don't let anyone persuade you to do what they want with the promise of easy money.
Save your waste your time and internet data by uninstalling any game or app that suggests you will get rich in no time!
Avoid at all costs and if you already wasted time with this game, don't blame yourself.
Just turn the page and learn from your past mistakes.
Verdict: Not Recommended 
Earn A Full-Time Income Online
If you came this far, you are probably wondering how you can use your time more productively and make real money online.
It's possible to generate a decent income from the internet if you provide valuable content or services.
I have chosen the first option, which worked very well for me!
In 2015, I joined this excellent program showed me step-by-step how to create a website and earn affiliate commissions.

Thanks to Kyle, Carson and all the like-minded members who helped me, I can now work from my laptop whenever and wherever I want!
Click here to learn how this platform can help you generate thousands of dollars per month!
Success is no accident. It is hard work, perseverance, learning, studying, sacrifice and, most of all, love of what you are doing or learning to do.

– Pele, Brazilian footballer
Final Words
Thank you for visiting my blog and reading my Chip Winner 2048  app review.
If you want to spread the word about this game, feel free to use the comment box below.
Peace!