Welcome to my Dabbl app review!
I was browsing the Play Store in search of a reliable app to earn cash rewards when I found Dabbl!
This application claims to pay users for completing offer wall tasks, answering surveys and watching videos.
There are countless reward apps that are making it hard for users to cash out.
They earn revenue from advertisers and ban your account just to keep the money as corporate profits.
Marketing research companies who partner with these apps may also collect your opinions and screen you out for no reason.
That's why you need to be careful and do proper research before investing your time and mobile data.
So, is the Dabbl app legit? Will they pay you or not? If so, how much money can you earn?
Let's find out!
Before you leave, check out the step-by-step program that helped me grow an internet business and reach $2,000+ per month.
Dabbl App Review 
Full Name: Dabbl – Earn Gift Cards in Your Downtime
Developer: Adjoy, Inc.
Payout Threshold: $5
Price: Free to join
Overall Rating: 4/5
What Is Dabbl? 
Dabbl is a reward app that allows you to turn your downtime into dollars.
The app was created in 2018 by an American company called Adjoy and is only available for US residents.
Since then, Dabbl has paid out over $3 million to its members for completing simple tasks on their phone.
As a member, you earn points for spending your free time taking surveys, uploading receipts, taking fun quizzes and more.
Once you collect enough points, you can turn them into gift cards for Walmart, Amazon and other major retailers.
How Does Dabbl Work? 
Installation 
The Dabble app is available for iOS and Android users who have a US-based mobile number.
So, you can download and install it for free on the App Store or Google Play.
Once Dabbl in installed on your mobile device, it will access to your location, camera, US Storage, Wi-fi, and phone status.

Registration 
First of all, you must sign up with your phone number, age and password.
You also need to grant Dabbl access to your geolocation or enter your postcode. It's that simple!
Points Vs Rewards
As you already know, you need to earn points by completing simple tasks.
With Dabbl, you can only exchange points for gift cards, and the minimum requirements is 5,000 points.
Gift cards can be selected in $5 (5,000 points), $10 (10,000 points) or even higher denominations.
The great thing about this app is that you can earn bonus points when you cash out at higher gift card amounts.
$10 – earn 500 points
$15 – earn 800 points
$20 – earn 1200 points
Unfortunately, the company doesn't transfer the money via PayPal, Bank transfer or other methods.
However, there is an extensive selection of gift cards to choose from, such as Amazon, Target, Best Buy, Hotels, and more.
If you prefer to cash out to your PayPal account, discover my recommended gpt site here! 
How to Collect Points? 
There are different ways to earn points within the Dabbl's platform.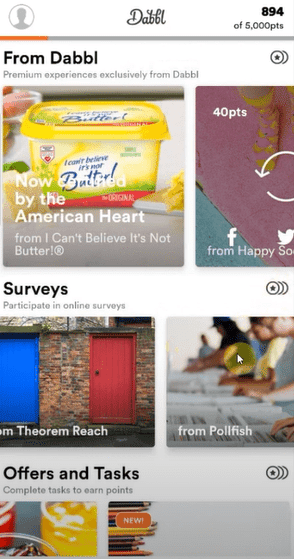 The easiest method of getting rewards is by watching picking any video offer on the top of the dashboard.

All you have to do is watch the sponsored video until the end and answer 1 or 2 simple questions.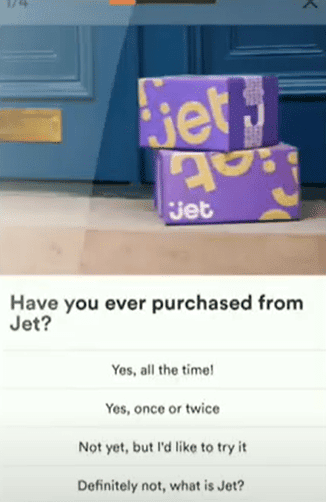 At the end, Dabbl will give you around 10 – 60 points.
You can earn a lot more points if you take the time to share your opinions by completing surveys.
Dabble connects you with some of the leading marketing research firms, such as Tap Research, inBrain, Theorem Reach and Pollfish.
Each survey takes anywhere between 4 – 20 minutes and you can earn hundreds of points. It may seem like a lot, but most surveys are worth less than $1. 

This reward platform is going viral! Cash out via PayPal, Visa, Gift Cards, and in-game currencies - Click here to find out how to generate an extra $10+ per day! 
The problem with surveys is that they ask many questions only to disqualify you after 5 or even 10 minutes.
The entire process can be very frustrating because it takes time to find a survey that actually pays you.

You can also complete tasks via third-party offerwalls like Tapjoy and IronSource.
Here, you can get points for installing new application, playing games and subscribing to free trials.
For example, Dabbl gives you thousands of points if you download a game and play until you reach a specific target.
Extra Savings
Dabbl works with different companies so you can earn cashback on online purchases.
If you are going to buy something online, use the app to earn extra points or discounts!
Scan Receipts
Another way to earn points is by uploading your receipts. You will get 25 points when you buy eligible products.
Referral Program 
Invite your friends and family to use Dabbl and earn 2,000 points when they collect their first 1,000 points.
Refer people with Facebook, Twitter, or any other social media platform.
It's possible to reach many people by publishing a short video promotion on YouTube and adding your referral link in the description.
Is Dabbl Legit? Does it Pay? 
Yes, Dabbl is 100% legit, and it does pay out as long as you earn enough points.
I have seen many reports of people who receive their gift card with no issues!
There some complaints because no app is perfect, especially when it comes to reward applications.
It's not always easy to collect points with surveys because the companies are always screening out applicants.
I have seen many complaints about bugs, but I don't think it's a big issue since the company is always updating and improving he app.
How Much Money Can You Earn? 
You can realistically earn around $5 per week depending on the tasks you complete with this app.
If you just focus on videos, it will take a very long time to reach 5,000 points and cash out.
Therefore, even if you waste time trying to qualify for surveys, it will be quicker if you go down this route.
Also, I advise you to complete offers because some of them pay really well!

Conclusion 
Dabbl is a legit and decent application for people who want to save money by collecting free gift cards.
The great thing about Dabbl is that you can earn points while standing in line, or watching TV at home.
You should not expect to earn a decent amount of money in gift cards because tasks don't pay much.
But if you are consistent, and patient, you can claim gift cards worth $20 every month or two. 
I just wish they allowed members to withdraw money via PayPal, like other apps and GPT sites do.
Earn a Full-Time Income Online
Everyone wants to enjoy life and spend more time with their loved ones.
If you are searching for an opportunity to earn a decent income from online, here is my advice:
Build an online business that allows you to monetize your content and generate excellent commissions.
Having an affiliate site allows me to make money on my own terms and get paid even while travelling the world.
I spent the last 2 years in 6 different countries even with these crazy restrictions!
I could only stay abroad for so long with my wife because I have an online income covering all our expenses.
So, how can you build this type of business as I did?
Well, I joined this excellent step-by-step program and worked hard to make my dreams come true!
Final Words
Thanks for reading my Dabbl app review. If you want to share your experience with this app or ask any question, just leave us your comment below.
Peace!