Welcome to my 2048 Drop Master app review!
Yesterday I saw another advertising on my phone that made my jaw drop!
The woman on the video said she was so broke a few weeks ago that she coudn't even afford rent.
But later, she tried out this game and supposedly earned so much money with it!
It shows stacks of cash in her hands and suggests you can get rich by winning real money with 2048 Drop Master.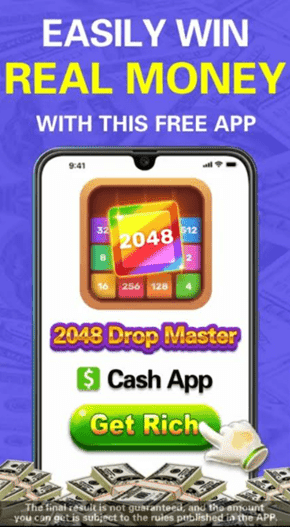 Unfortunately, many people believe every word on the internet and fall for scams due to lack of understanding and proper research.
You are here to find whether you can really cash out using this app. Is 2048 Drop Master legit or fake?
Let's find out!
Before you leave, discover the step-by-step program that helped me reach $2,000+ per month from my laptop, and quit my day job. No special skills required!
2048 Drop Master App Review
Name: 2048 Drop Master
Company: XIGAMEASY
Type: Puzzle
Eligibility: Worldwide
Price: Free
Overall Rating: 1/5
What Is 2048 Drop Master?
2048 Drop Master is a time killer game where you combine tiles with the same number to unlock new higher numbers.
This game gives cash rewards instead of points and claims to pay once your balance reaches $1,000. 
There are lots of similar games that come in many shapes and colors. Here is another block merging game that went viral last year.
2048 Drop Master has been installed over 100,000 times by people who desperately need some cash.
But will you be able to withdraw the money? That's what we will find after a brief explanation of the game.
How Does 2048 Drop Master Work?
Installation and Permissions
2048 Drop Master is available for Android users worldwide.
It's important to know that once the app is installed on your phone, it has access to content, such as photos and files.
For reasons unknown, it can modify and even delete your data. Crazy, right?
How to Play 2048 Drop Master? 
Just tap drop the tile anywhere you want and try to combine the tiles with the same number.
The two blocks merge into one tile that has double the value. It follows the geometrical sequence: 2, 4, 8, 16, 32, 64, 128…. 2048.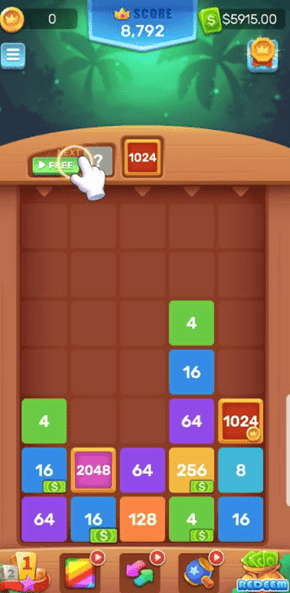 The best strategy is to pile up blocks in the opposite sequence from higher to lower numbers.
You can use props to make it easier to merge the tiles and make further progress in the game.
Ok, but what about the money?
Note that some tiles will have a small banknote stamp. Whenever you combine it with any another block, you will earn virtual dollars.
You can tap spin and watch the video to multiply your earnings. Or, you can simply claim the money without with no interruption.
Unlimited Cash! 
I just want to share something really weird that happened while playing 2048 Drop Master.
The app was glitchy on my phone, so I had to close and relaunch the game every time I received the reward. That was because the cash reward page wouldn't close!
But then, I realized that If I tapped the "claim" button more than once, the cash balance would keep growing indefinitely. With $30 per tap, I accrued $5000 in less than 2 minutes!
Of course, that could not be real, so I had no hopes of cashing out!
Is 2048 Drop Master Legit? Does it Pay? 
At first, they say you can only cash out once you accumulate at least $1,000.

But once you reach this amount and tap the redeem button, they will take another mission under their sleeves.
So, next you are supposed to merge 40 times and cross your finger!
But then gain, you are told to complete another mission with no guarantee of payout!
Sadly, that's just the tip of the iceberg because they will keep giving you task after task, without telling you if this will ever end.
You can complete every single mission and you won't receive your money!

This reward platform is going viral! Cash out via PayPal, Visa, Gift Cards, and in-game currencies - Click here to find out how to generate an extra $10+ per day! 
So, no 2048 Drop Master doesn't pay a dime and I hope you didn't play this game for too long before reading this review.
The cash rewards are totally fake and you don't even need to take my word for it.

Check the reviews on Google Play and you will find hundreds of players spilling the bins!
Conclusion 
2048 Drop Master is a joke of a game designed to make people watch insane amounts of advertising.
That's how the developer is making big profits!
The game helps to kill time and boredom, but they should not advertise the game as an opportunity to win thousands of dollars.
This is wrong on so many levels, but certainly, they are not alone in this.
If they were not receiving money from the advertisers, they wouldn't be offering fake dollars to people in need.
Final Words
Thank you for reading my 2048 Drop Master review. I hope it helps!
So, did you try to complete countless missions to receive the money? Let us know in the comment box how it went for you.
Peace!