Welcome to my UFO Catcher Slot app review!
I just came across UFO Catcher Slot, a free game that combines the slot and claw machine.
The reason this app went viral recently was because the developers are promoting it as an opportunity to win real money.
They claim users can cash out via PayPal once they accumulate $1,000. There are many other prizes that will discuss later in this article!
You are reading this review because you have better things to do other than spinning and watching adverts for nothing!
So, does UFO Catcher Slot pay once the user meets the conditions? Is it legit or fake?
Find out before you waste even more time!
Before you leave this page, discover the step-by-step program that helped me reach $2,000+ per month online, and quit my day job. No special skills required!
UFO Catcher Slot App Review
Name: UFO Catcher Slot
Company: bubblejk
Eligibility: Worldwide
Payout threshold: $1000
Type: Entertainment with no financial risk
Price: Free
Overall Rating: 1/5
What Is UFO Catcher Slot?

This reward platform is going viral! Cash out via PayPal, Visa, Gift Cards, and in-game currencies - Click here to find out how to generate an extra $10+ per day! 
UFO Catcher Slot is a free game that features a 5-reel slots and a claw machine.
This app entices players to watch sponsored video in exchange for virtual dollars that can be cashed out to PayPal.
It's a very addictive game, especially for those who believe they can eventually withdraw $1000.
You just have to tap the button to rotate the reels and trigger the claw that catches the toys.
UFO Catcher Slot has been installed 10,000 times and rated 3.4 stars on Google Play.
How Does UFO Catcher Slot Work? 
Installation 
UFO Catcher Slot is available in the Play Store for Android users worldwide. Before playing the game, the user just has to agree with the Privacy Policy.
Unfortunately, the developer provides no Terms of User, meaning there is no legal agreement between the player and the company.
Therefore, you have no guarantees they will honor the payment once you meet all the requirements.

Check out the best apps to earn money with gaming here. 
How to Play UFO Catcher Slot?
This is a game where you tap the orange button to activate the slot machine and win cash rewards. You will spend 5000 tokens each time you do.
As you already know, there is a claw crane with plush toys above the slot machine. Those are called UFOs.
You can trigger the UGO catcher by getting 3 bonus symbols in the slots.
Every time you press the button, you can win tokens and virtual cash depending on the pay line.
All symbols pay left to right in active pay lines expect the Scatter and the bonus symbols.
You can check the game rules by opening the setting icon, but I wouldn't waste my time and you will know why!
Once you collect 10 specific UFOs, you will get 4 mystery Toy boxes with either tokens or virtual dollars.
You will always have to watch the sponsored clip to open each box. If you open all the boxes, you will get 10 iPhone 13 puzzle pieces.
UFO Catcher Slot suggests you can get an iPhone 13 if you collect 500 plush toys and 120 puzzle pieces.
As if all those prizes were not tempting enough, the developer is giving away an iWatch for those who clock in for 3 days.

How do You Get Paid?
UFO Catcher Slot says you must collect $1000 to redeem the PayPal card within 24 hours. Open your cash wallet and request the payment.
You can also redeem gift cards worth $1,000, $2,000, $3,000 and $4,000 once you get enough tokens. The options are Visa, Amazon, Steam, Google Play, PlayStation and Xbox.
Sadly, the developers didn't tell you the whole story. Bear with me, as I will expose this game in the next section.
Is UFO Catcher Slot Legit? Does it Pay? 
No, UFO Catcher Slot doesn't pay a dime! At first, you are supposed to reach $1000 and easily withdraw the money via PayPal. 
But they ask you to watch 5 videos once you press the cash out button. Now you cannot trust these guys anymore.
After watching all the videos, they say your gift is ready, and you are told to input your email address.
When you click "Confirm", guess what happens?
There is another page saying that this order is under review and that you must watch another 30 videos in 1 day to get the reward.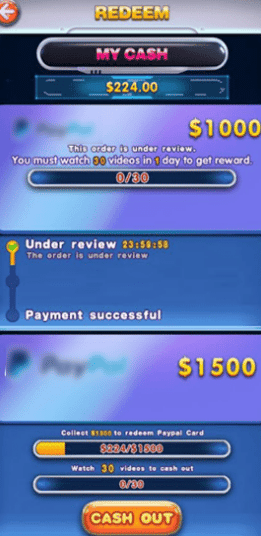 Ok, my patience is gone with this app, and I am not in the mood to spend my whole day with something so predictable.
Someone said they will require another 60 videos, but they won't pay you!
Conclusion 
UFO Catcher Slot has excellent graphics, but it's no fun if you won't receive any money.
They entice players to watch videos in order to collect the dollars, but the currency is totally fake!
This app will consume a lot of time, data and battery to meet all the requirements.
But even if you complete all the tasks, the money won't be transferred to your PayPal account.
The same for tokens and puzzle pieces as they won't convert into real prizes.
I wouldn't waste my time playing this game!
Verdict: Not Recommended 
Earn a Full-Time Income Online
You can make a decent amount of money with a business model called internet marketing 
In 2015, I have created a website after joining this excellent program. 
Thanks to this platform, I was able to grow an online audience and reach my life goals.
So, I quit my job and bought a one-way ticket to South-East Asia with my wife.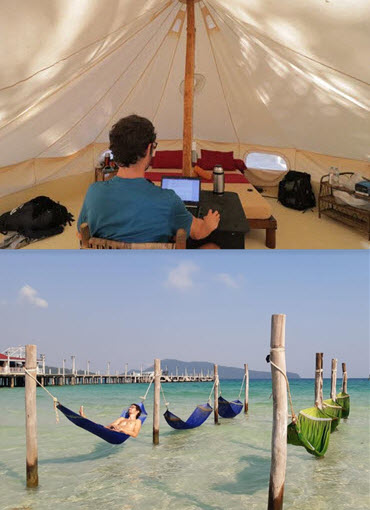 If you wish to have the freedom to work from home or be a digital nomad, this is the best place to get the knowledge and support you need to succeed.
Final Words
Thanks for reading my UFO Catcher Slot app review. I hope it helps to raise awareness about this and many other similar applications.
Peace!