Welcome to my Crazy Domino app review!
I was trying to find a legit money-game on Google play when I stumbled across Crazy Domino.
Developed by Jerry Wang, this app claims you can win $1000 just by competing with actual players.
The crazy part about this game is that you will win, accumulate $100 in less than 30 minutes of gameplay.
Just download the application and start playing the classic board game on your Android phone.
Unlike the popular Dominos Gold, you don't need to spend any money to participate.
That makes be very skeptical since the developer is only generating profits with sponsored videos.
You are reading this post because you deserve to know whether you will receive the payment as advertised. Is Crazy Domino legit or fake?
Let's find out!
Tired of earning fake dollars? Members are making $200+ on the side by completing simple online tasks with this excellent gpt site. Cash out via PayPal and gift cards!
Crazy Domino App Review 
Full Name: Crazy Domino
Developer: Jerry Wang2021
Payout Threshold: $200
Price: Free (no in-app purchases)
Overall Rating: 1/5
What Is Crazy Domino?
Crazy Domino is the classic board game played with rectangular tiles known as Dominos.
The app description states that you will play with actual characters, but your opponent is actually a computer program.
You can easily check that by leaving the game for a while. When you return, the "person" is still available for playing, regardless of how long you stayed away.
If someone was playing against you, they would not have the patience to wait for so long.
Crazy Domino will give you virtual dollars if you win the game, but you can only cash out if you reach $200. 
How Does Crazy Domino Work? 
Installation 
Crazy Domino is available on Google Play for your Android device.
After launching the game, it will ask permission to make and manage phone calls without explaining why.
Select "Deny" because you don't need to grant any permission to play.

How to Play Crazy Domino? 
Each Player receives seven tiles and the remaining tiles will be available in the boneyard. The player with the highest double tile starts the match.
You must place a tile that matches one of the two ends. If you have no tile to play, you must draw one from the boneyard until you find one that matches.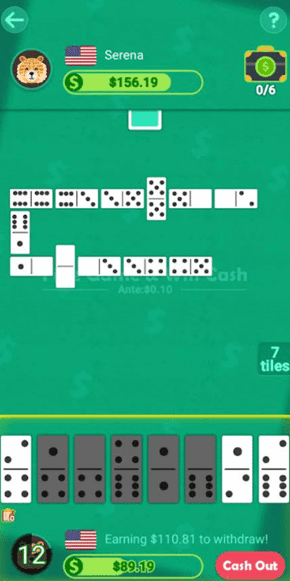 The match continues with players putting their tiles on the board until one of the following condition occur:
Domino – The round ends when a player puts the last tile on the board.
Block – When the number at the ends of the board has already been used 7 times. The match is then blocked because there is no valid play left.
In case of a draw, the player with the smallest tile in hands wins.
It's important to mention that Crazy Domino is completely free to play, so you are not putting your own money at risk.
Cash Rewards
If you are the winner, Crazy Domino will give you $2 plus the number of points your opponent has in hands.
You can always tap the button and watch a sponsored video to multiply the reward by up to 5.
Next, you may be able to spin the Lucky Draw wheel to win more cash rewards. But of course, you will have to watch another video to claim the dollars.
If you lose the match, you will lose the money unless you choose to Retrieve.
When you exit the game, you also have the chance to play Lucky Time, Ticket Scratcher, and Lucky Draw.
How Do You Get Paid? 
You can supposedly withdraw the money via PayPal, Amazon and Bitcoin when you accumulate $200.

Just tap the cash balance and choose your favorite payment method.
Crazy Domino Legit? Does it Pay?
No, you won't receive a single penny from Crazy Domino.
After you cash out, you are told your payment is under review and will take 24 hours, but you won't get paid. 
Don't take my word for it. Check the reviews on Google Play and will find hundreds of people saying the same thing.
They reached $200, waited for 24 hours, but never received their payouts.

This reward platform is going viral! Cash out via PayPal, Visa, Gift Cards, and in-game currencies - Click here to find out how to generate an extra $10+ per day! 
Some people claim they watched an insane number of videos and got stuck at 98% – 99%.
It's a shame that Crazy Domino is just like the other money-games that entice people with fake dollars.

Conclusion 
Crazy Domino is a nice game to kill time, but the cash reward is an illusion.
If you are playing the game with high hopes of cashing out, I urge you to uninstall the app and try something else.
Many people feel outraged when they discover they have watched hundreds of videos for no money.
I hope you didn't take a long time to research about this app to find the truth.
Otherwise, you just need to move on with life and forget about trying to make real money with these free games.
Only the developer is making money from all the videos you are persuaded to watch.
I believe the only domino game that pays is Dominoes Gold by Skillz.
Earn A Full-Time Income Online
You can actually earn a lot of money by building an online business and providing content to the internet.
It's one of the best ways to make money as it gives you the flexibility to work from your laptop.
In 2015, I have created a website after joining this excellent program. 
Thanks to this platform, I was able to attract thousands of visitors per day and reach my life goals.
If you dream of working from home or while travelling the world, this is the best place to learn the ropes.
Final Words
Thanks for reading my Crazy Domino app review! If you would like to share your though and help in the discussion, leave us your comment below.
Peace!