Welcome to my Neon Rain app review!
Neon Rain is giving players the opportunity to win $1000 just for sliding the money stack.
With millions of people struggling to pay the bills, it's not difficult to understand why such applications go viral.
They provide the easiest way to generate income anywhere you go. Just open the app, tap the banknotes and cash in! Amazing, right?
Well, it would be very skeptical and think twice before installing this application on your phone.
This is not the first I review a get-rich-quick game, so I know that the prospects are bleak.
I know you are here because you value your time as much as I do. So, is Neon Rain legit or fake? Will they pay you?
Keep reading to find out!
Before you leave, check out the step-by-step program that helped me build an online business and generate over $2,000 per month.
Neon Rain App Review
Name: Neon Rain: Money Season
Developer: Harvey Specter Andrew
Eligibility: Worldwide
Payout Threshold: 
Price: Free
Overall Rating: 1/5
What Is Neon Rain?
Neon Rain is a game where the player has to flick banknotes, level up and collect virtual cash rewards. It's almost identical to Rush Rain and many others!
The app description says you will experience the joy of making easy money and experience a different life.
When they say "money" do they mean real or fake money as in a simulation? Are they trying to confuse you?
If this is a simulation, they are making it seem very realistic because they use the PayPal and Amazon logo.
They even allow you to enter your email to cash out.
Tired of fake reward apps? You can earn over $100/month by joining Prizerebel and completing simple tasks on your phone.
How Does Neon Rain Work?
Intallation
Neon Rain is available for Android users in all countries. You can install it for free on Google Play and start collecting free money right away.
Before the game starts, you will see the link to Privacy Policy and Terms of Service. However, these important pages won't open when you click the link.
You should not ignore this big red flag!

How to Play Neon Rain?
As soon as you open Neon Rain, you will see a page with the PayPal logo and the progress bar to reach £704.10.
They say claim you will receive a random PayPal bonus by watching videos.
In this page, you can click the button and fill in your email address linked to your PayPal account.
There is also a countdown from 24:00:00, suggesting that you have limited time to withdraw the money.
This is a common scarce tactic used in marketing and should always be ignored to avoid making rash decisions.
Next, they show different cash rewards for those who sign in for 7 consecutive days. Just tap "receive" to collect your first £70.41.
When you open Neon Rain, you will see a stack of cash and a hand pointing at it.
Just tap on the banknotes to throw them out and accumulate virtual currency. This type of currency can only be used to level up and increase the banknote's value.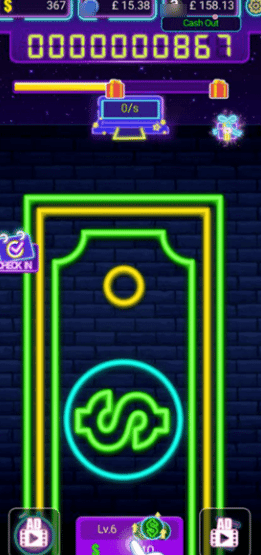 Earning PayPal Cards
There is a progress bar at the top with a small red gift at the edge.
By completing this bar, you have the chance to flip the cards and win PayPal or Amazon cash.
However, you will always have to watch a sponsored video to collect the "reward".

How do You Get Paid? 
Once you reach £704.10 ($1000), open the PayPal or Amazon balance and request the payment.
Right after you press the cash out button, the developer asks you to review Neon Rain.
I am sure many people will give it 5 stars before they know whether they will receive the money or not. How smart!
Is Neon Rain Legit? Does It Pay? 
No, it doesn't! Neon Rain doesn't transfer any money because, well, they simply don't have to.

This reward platform is going viral! Cash out via PayPal, Visa, Gift Cards, and in-game currencies - Click here to find out how to generate an extra $10+ per day! 
Right after you rate the app, they say you must watch more 30 videos to activate the redeem code.
The order delivery time is again 24 hours, and it's pending.

Of course, this is an excuse to lure you into watching even more videos with no guarantee.
I hope you didn't waste your time trying to comply with this requirement, otherwise you will be told to watch more videos.
If you check the reviews on Google Play, you will witness something really say.
People have played the game and watched hundreds of videos, only to find that the reward isn't real.
Conclusion 
There is no way you can win $1,000 or even a single penny from Neon Rain. You will just waste time to help the developer monetize his amazing app creation.
The company or person given the Neon Rain will perhaps say that this is just a simulation.
But honestly, who wants to watch tons of videos in exchange for fake dollar bills? Life has so much more to offer!
I don't recommend this app because are you just tapping your phone screen with zero chance of winning something.
Verdict: Not Recommended 
Earn A Full Time Income Online
Being able to earn money online is a blessing, especially now during this crazy times we are living.
They can shut down the economy anytime and your income can vanish because your job may not be considered essential.
That's why I think everyone should build alternative sources of income online.
Working from my laptop allowed me to quit my job and pursue the things I love in life, such as travel.
In 2015, I created this website thanks to this excellent step-by-step program.
They helped me rank it on Google and attract a large audience in search of valuable information.
You don't need to be a YouTuber or Instagram influencer to enjoy the same lifestyle!
>> Click here to join for free and take your first steps today! 
Final Words
Thanks for reading my Neon Rain review! If you have any question or want to share your thoughts about this application, leave us a comment below.
Peace!