Welcome to my Water Sort Puzzle app review!
You probably installed this addictive game to withdraw lots of money via Cash App or PayPal.
Now you are playing it daily and trying to meet the payout requirements. 
After launching Water Sort Puzzle, you also find that you can win a real iPhone 13 and many other gifts, such as a Tesla Model S!
I am serious! They really want people to believe they can get rich with this app!
You get even more excited once you realize you can play for just a few hours and accumulate $1000/.
So, can you make a decent income by merely sorting colored water in the test tubes? Is Water Sort Puzzle legit or fake?
Let's find out!
Before you leave, discover the step-by-step program that helped me reach $2,000+ per month from my laptop, and quit my day job. No special skills are required!
Water Sort Puzzle App Review 
Name: Water Sort Puzzle
Developer: Grason Zhong
Eligibility: Legal residents in the United States, Canada, Hong Kong, and the United Kingdom.
Prize: Free (no in-app purchases)
Payout Threshold: $1000
Overall rating: 1/5
What Is Water Sort Puzzle?
Water Sort Puzzle is a game where you pour water between glass bottles to sort the different colors. It's very similar to this ball sorting game! 
To clear the level, each bottle must contain just one water color.
Whenever you fill up a bottle, you have the chance to win virtual cash and coins.
You will also collect puzzle pieces for different prizes, such as iPhone 13, MacBook Pro, iPad, and even a Tesla S.
It's important to mention that the game is only open to residents of the United States, Canada, Hong Kong, and the United Kingdom.
How Does Water Sort Puzzle Work? 
Installation 
You can play Water Sort Puzzle right after installing the application on Google Play.
Be aware the app can access content in your USB storage, such as photos, media, and other files.
It can also read your phone's status and identity. The fact they have so much control over your device concerns me a lot.
How to Play? 
Water Sort Puzzle features bottles with small quantities of liquids of distinct colors.

Your job is to pour the same color liquids into a single bottle.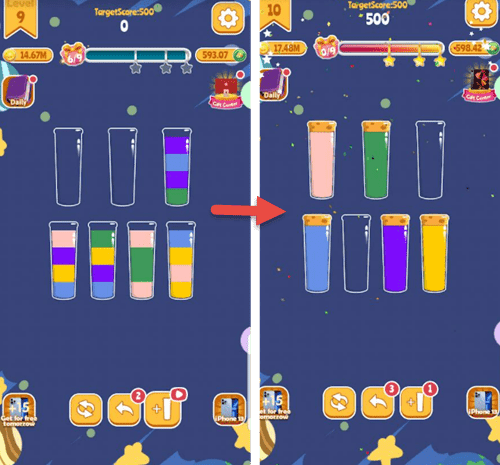 To accomplish this, you must use logic before transferring the water. Otherwise, you can get stuck!
It's very easy in the beginning, but it gets more challenging as you complete higher levels.
If you feel stuck at any given time, use props to change the color arrangement, add a bottle or step back.
The downside of playing Water Sort Puzzle is the large number of ads that drains your time and data.
Earning Rewards
Every time you close a bottle and hit the star, you will receive virtual cash, coins, or puzzle pieces.
You can double the reward by tapping the button and watching the commercial.
Water Sort Puzzle will also offer puzzle pieces while playing the game. You can supposedly claim the gift once you collect 30 fragments.
I am talking about expensive products such as smartphones, laptops, video games, and even a Tesla car. 
In the Gift Center, you can also watch videos and play the Lucky Spin for a chance to win more items.

How do You Get Paid? 
You can withdraw the money via PayPal, Amazon, Visa Prepaid car, or Google Play once your cash balance reaches $1000.
Also, note that 1 million coins are worth $1. You need at least $50 worth of coins to cash out $50 using the same payment methods.
Is Water Sort Puzzle Legit? Does it Pay? 
You won't receive any payment from Water Sort Puzzle as it will never let you reach $1,000.
Many people reported that their cash balance got stuck at $998 despite earning more.

This reward platform is going viral! Cash out via PayPal, Visa, Gift Cards, and in-game currencies - Click here to find out how to generate an extra $10+ per day! 
The same can be said about the puzzle pieces. You must collect 30 fragments, but you may never get the last one.
Water Sort Puzzle will bombard you with videos and generate profits, but it won't transfer the money to players.

It's very unfair because it wasn't for the reward. I am sure most people wouldn't install the app.
There are probably hundreds of similar games on Google Play, making it very tough to stand out.
That's why many developers will copy someone else's game and spicy it with dollar signs to attract players.
Conclusion 
Don't waste your time playing Water Sort Puzzle with high hopes of making real money.
You will get stuck and never meet the cash-out requirement. Forget about winning iPhones and other gifts too!
I think this is a great game to kill time, but I wouldn't install this particular app since there are many other alternatives.
Verdict: Not Recommended 
If you need a little extra cash, I advise you to join a reward site where you can get paid for completing simple tasks.
Prizerebel is the best platform of its kind on the internet. It will transfer the money to your PayPal account within 24 hours!
Now, if you are searching for something that can change your life, here is my top recommendation. 
This platform helped me create a lucrative online business that allows me to work anytime, anywhere I want.
Final Words
Thanks for taking the time to read my Water Sort Puzzle review. If you want to share your thoughts about this application, use the comment box below.
Peace!