Welcome to my Crop Blast app review!
Digi Ghost is promoting his application by saying most online games are fake.
I highly agree with his statement because players hardly ever withdraw money just by having fun.
But now, he wants you to believe his app is different! According to the advert, players can win hundreds of dollars directly to their Cash App.
Since my website is about opportunities to make money online, I installed Crop Blast and put it to the test!
So, is it legit or fake? Does it pay once you meet all the conditions?
Find all the answers you need by reading this post until the end.
Before you leave, discover the step-by-step program that helped me reach $2,000+ per month from my laptop, and quit my day job. No special skills are required!
Crop Blast App Review 
Name: Crop Blast
Developer: Digi Ghost
Eligibility: Worldwide
Prize: Free (no in-app purchases)
Payout Threshold: $1000
Overall rating: 1/5
What Is Crop Blast?
Crop Blast is another puzzle game that claims to reward players for clicking identical fruit items.
Like countless money games, you will earn virtual dollars after reaching milestones and completing levels.
The amount of cash Crop Blast gives you is very unrealistic! That's why it's so difficult to believe this is real.
As if the money wasn't enticing enough, you will be able to collect puzzle pieces and redeem big prizes.
Believe it or not, a Testa Model S is among the prizes at the Gift Center.
How Does Crop Blast Work? 
Installation 
Upon installing Crop Blast on Google Play, you can launch the game and start playing.
This android application is free, and you need to provide any information except your email to cash out.
Unlike other mobile apps, Crop Blast doesn't ask permission to access your USB storage, which is much appreciated.
How to Play Crop Blast? 
As soon as you launch the game, a pop-up says that you can cash out instantly.
They show you the Amazon and PayPal logos, suggesting you can use both payment methods to withdraw the money.

Next, tap the claim button to collect a $50 sign-in bonus. Making money has never been so easy! Of course, the question is whether this is real or fake.
Just tap groups of identical vegetables to eliminate them.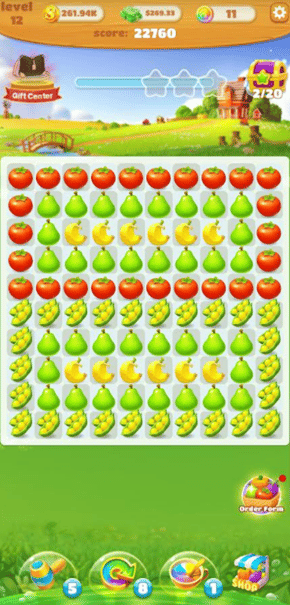 You earn virtual dollars every time you blast the objects, and the progress meter hits the star.
Sometimes, you can double the reward by activating the short video and watching it until the end.
Crop Blast gives you even more cash rewards if you clear the stage and achieve three stars.
There are three valuable tools you can use in the game:
Reset: reset to square position
Hammer: break a square
Color: Replace a square
Click the puzzle bubble and watch a video to collect puzzle pieces.
You can use the fragments at the Gift Center to win excellent prizes, such as MacBook Pro, iPad Pro, Nintendo Switch, Louis Vuitton bag, and even a Tesla!
You may also play the Lucky Spin to collect more pieces and virtual dollars.
Once you collect 20 stars, you will get more coins, cash, and other items.
How Do You Get Paid? 
You can cash out once you get $500 in your cash balance.
Crop Blast will let you reach the goal in less than 1 minute of gameplay, which is unbelievable!

But after entering your email to receive the payment, they ask you to reach level 30 to approve the order in 7 days.
You can choose to withdraw via PayPal or Cash app.
The application also allows you to redeem $50 via PayPal once you accumulate 50 million coins. 
Is Crop Blast Legit? Does it Pay? 
Unfortunately, Crop Blast doesn't pay a dime even though players complete all the requirements.

This reward platform is going viral! Cash out via PayPal, Visa, Gift Cards, and in-game currencies - Click here to find out how to generate an extra $10+ per day! 
They claim you need to reach level 30 to approve the order, but you won't be able to cash out instantly.
There will be thousands of people ahead of you to receive the payment, and you should watch more videos to jump the queue.

However, many people report getting stuck at number 5 and being unable to cash out.
I feel sorry for people who gave Crop Blast the benefit of the doubt and watched many videos.
One person reached level 261 and said they keep increasing the requirements, making it impossible to cash out.
The number of negative reviews on the Play Store is staggering and eye-opening.
But I already knew the outcome since countless games are using fake dollars to boost profits.
Please, don't fall for any other game because they are all the same!
Conclusion 
If you are playing Crop Blast to make money, I urge you to stop and uninstall the application.
Regardless of how many levels you complete, you can never withdraw the money.
You will just get stuck and regret wasting your precious time. Forget about winning all those gifts too! It's just impossible to win anything with such apps!
Verdict: Not Recommended 
Do you need a little extra cash? This reputable reward site pays members for completing simple tasks from their phone or laptop.
The money will be transferred to your PayPal account within 24 hours once you request the payment.
Now, if you want to discover the strategy that brings me a full-time income online, here is my top recommendation.
I used this platform to learn internet marketing and build the lucrative site you are reading right now. You can do the same and transform your life as I did!
Final Words
Thanks for taking the time to read my Crop Blast review.
If you want to share your thoughts about this application or ask any questions, use the comment box below.
Peace!