Welcome to my Tyrant Tycoon app review!
If you are playing Tyrant Tycoon with the expectation of winning hundreds of dollars, I urge you to read this post.
Perhaps you found this game through an advert saying you could earn up to $200 a day! 
They said the withdraw is simple and would arrive in just a second.
You thought this might be a great opportunity to earn some extra income without working for somebody else.
With so many deceitful and fake money games out there, the rule of thumb is: Never believe the hype.
So, can you really earn PayPal cash and Amazon gift cards? Is with Tyrant Tycoon legit or what?
Let's find out!
Top recommendation: This step-by-step program helped me achieve 2,000 US Dollars per month and quit my job in 2019. Free membership is only available here! 
Tyrant Tycoon App Review
Full Name: Tyrant Tycoon: Wealthy Empire
Developer: Lynn Kelvin
Payout Threshold: £704.10
Price: Free (VIP = £8.99 per week)
Overall Rating: 1/5
What is Tyrant Tycoon?
Tyrant Tycoon is an idle and clicker game similar to Zootopia Carnival and Vegas Tycoon.
The major difference is that it dishes out virtual dollars and claims you can cash out via PayPal and Amazon.
Therefore, players are lured into playing for many hours in order to meet their requirements.
The game is all about tapping the banknotes and gradually upgrading businesses
Tyrant Tycoon has many features to increase earnings, but one thing that caught my attention was the VIP function.
Players who become VIP for £8.99 a week will remove the adverts and unlock exclusive gift packs.
How Does Tyrant Tycoon Work? 
Installation 
Tyrant Tycoon can be installed for free on your Android device through the Play Store.
Before installing any application on your phone, it's important to check the Terms of Service.
Unfortunately, when you click the Tos link, it directs you to the Privacy Policy. So, there is no legal agreement between Tyrant Tycoon and the user.

How to Play Tyrant Tycoon? 
The number of icons on the screen can overwhelm many players, but the game is actually very simple.
Your job is to accumulate virtual dollars by tapping the banknotes and leveling up your trading empire.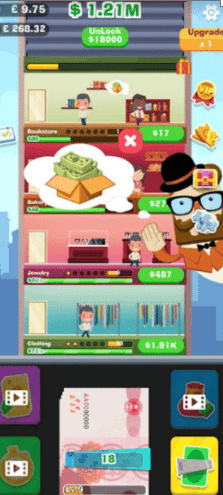 As you accumulate more and more game cash, you can unlock more businesses and generate passive income (cash per second).
Note that we are only talking about cash that can only be used in the game so far.
However, you will also earn cash coupons when you complete the progress bar or unlock a new store.
Most of the time, you will be enticed to watch a video to collect the reward, which comes with either the PayPal or the Amazon label.
That's exactly how Tyrant Tycoon entices you to watch his sponsored videos to maximize his profits.
The reward is added to separate cash wallets at the top-left corner.
You can also play the scratch off game and unlock more cash rewards by completing the million puzzle challenge.
VIP Membership 
Believe it or not, Tyrant Tycoon offers a VIP function that works for 3 consecutive days.
The advantage of purchasing this membership for £8.99/week are the following:
Remove all advertising
Unlock exclusive gift packs
Quick withdrawal
Payment arrives on the same day
Dedicated customer service.
It seems that you will earn a lot more money by purchasing the premium package.

Well, it would be great if the Tyrant Tycoon was honoring payment requests. Otherwise, you are just losing money!
How Do You Get Paid? 
You can supposedly withdraw the money once you accumulate £704.10.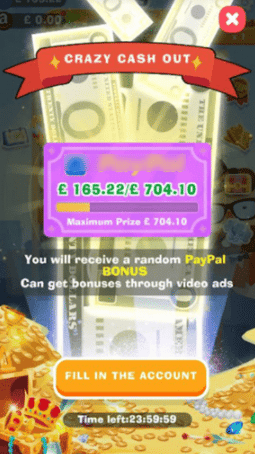 The game will ask you to bind your PayPal email and click the "Cash out" button.
Once you do that, the app will immediately ask you to rate Tyrant Tycoon between 1 and 5 stars.

This reward platform is going viral! Cash out via PayPal, Visa, Gift Cards, and in-game currencies - Click here to find out how to generate an extra $10+ per day! 
Most people will certainly select 5 stars before even knowing if the company will pay them.
Mistplay is one of the best apps to earn money playing games.

Is Tyrant Tycoon Legit? Does it Pay?
No, it doesn't! Tyrant Tycoon is just another fake money game trying to maximize video views.
Heck, this one is even trying to sell VIP memberships by selling the idea they can withdraw real money.
That's insane!
I am sure you would never expect to earn a $1000 donation from a stranger on the street.
Likewise, you should never believe you will earn lots of money from an app developer based in a faraway land.
As you probably know, it won't take too long to reach £704.10 and request the payment.
But just after clicking the cash out button, Tyrant Tycoon will ask you to watch an extra 30 videos to activate order. 
I lost count of how many developers are using the same tactic to maximize revenue for themselves.
They will require you to watch hundreds of videos, but you won't receive a dime!
Check the reviews on Google Play and you will confirm what I am saying. Players are not getting paid for all the time and data they lost.
Hopefully, this post will reach a significant number of people that are still playing the game.
Conclusion 
Tyrant Tycoon is a very addictive game because it makes users believe in easy cash rewards.
The sad part is that people are just wasting time, data and even money with the pretence of winning cash.
This is wrong on so many levels, but new games are popping up every week for the last 3 years. It's incredible!
At this point, I feel like the only solution in the long term is to raise awareness.
Hopefully, more and more people will realize they can never make real money by playing these games.
Earn a Full-Time Income 
If you are struggling to make money online, please don't beat yourself up cause you are not alone.
But it's important to learn from your mistakes and give more attention to methods that are proven to work.
For example, you can set up a website and grow a lucrative online business. The best part is that you don't need to create your own product or sell anything!
It's all about creating helpful content and attracting visitors to your site.

So, how do you start? Check out this excellent step-by-step training and take massive action now!
That's how I built this thriving website and quit my job in 2019 to travel the world. 
Final Worlds
Thank you for reading my Tyrant Tycoon app review. I hope this post helps you save time!
What are your opinions about this application? Write it down in the comment box below.
Peace!