Welcome to my Vegas Tycoon app review!
I was browsing the Play Store when I stumbled across an app called Vegas Tycoon: Jackpot Night.
In this game, you will collect virtual dollars and build businesses such as restaurants, hotels and even banks to grow wealth.
The reason I would like to expose this application is that it suggests players will withdraw real money via PayPal.
That's probably why you searched Google to find out whether it pays or not.
Over 10,000 people have already downloaded this app and need to know the truth! So, is Vegas Tycoon legit or fake? 
Top recommendation: This step-by-step program helped me achieve 2,000 US Dollars per month and quit my job in 2019. Free membership available here! 
Vegas Tycoon App Review
Full Name: Vegas Tycoon: Jackpot Night (Early Access)
Developer: feliciariley199
Payout Threshold: £704.10
Price: Free (no in-app purchases)
Overall Rating: 

1/5
What is Vegas Tycoon?
Vegas Tycoon is an idle and clicker game just like Adventure Capitalist and Tap Tycoon.
It's the same concept, but the developer added another virtual currency that comes with either the PayPal or Amazon logo.
What for? Well, he suggests you can cash out using both payment methods if you reach £704.10. Therefore, most people are playing Vegas Tycoon for the money, not for entertainment.
The opportunity to earn real money attracts more players and entices them to play for longer.
That's exactly what any game developer wants because the more you play, the more revenue they generate from advertising.
How Does Vegas Tycoon Work?
Vegas Tycoon is available worldwide for Android devices. You can launch and play it immediately after installing the app on your phone or tablet.
The game gives you two types of virtual cash, one of which has the PayPal or Amazon logo. You can supposedly withdraw this money once you reach £704.10.
The other one represents fictitious dollars used in the game to make upgrades, and cannot be converted to real money or vouchers.
Check out legit game apps here!  
How to Play Vegas Tycoon? 
It's crazy simple! Tap on the screen to earn virtual dollars. Then, use the cash to upgrade the money master and buy businesses such as a restaurant, theater, hotel and shopping mall.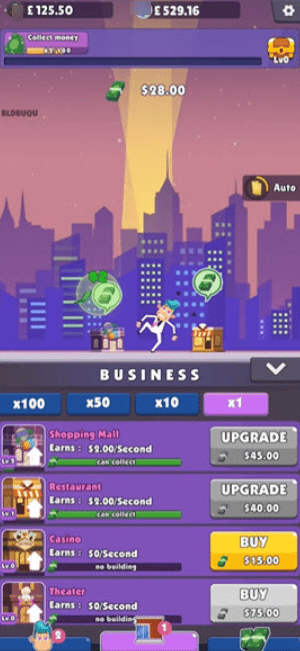 Every time you buy a business, it will generate a specific amount of cash per second. Once the progress bar is full, you can collect the reward that appears on the top of the building.

Upgrade the business to increase the earning rate and make profits faster.
Vegas Tycoon will also give you PayPal and Amazon coupons every time you tap the cash icon next to the business.
You need to tap the "get" button and watch a video in order to collect this type of virtual currency.
The game has many other features to increase the speed at which you collect virtual cash, such as levels and skills.
However, I won't get into more details in this post since the focus is on making money and not on the game itself.
How Do You Cash Out? 
Vegas Tycoon suggests you can cash out via PayPal or Amazon gift cards. At first, all you need to reach the maximum prize of £704.10 and bind your email address.
However, those who achieve the target will discover a hidden withdrawal requirement. To activate the order, they will ask players to watch 30 videos within 24 hours.
You probably know that Vegas Tycoon generates revenue though advertising. That's why they lure you to watch more videos with the promise of receiving cash rewards.
Is Vegas Tycoon Legit? Does it Pay? 
No. You won't receive the money even after playing for hours and watching thousands of videos.
Make no mistake. Vegas Tycoon will just ignore your payment request just like Tap Money Tycoon and many other games do!
The developer doesn't even provide the Terms of Service, so the cash reward is clearly fake.

Otherwise, there would be a comprehensive document stating the rules and other relevant information about rewards.
But if you tap the link "Tos" in the game settings, it returns an empty page with the saying: "Sorry, this website has been removed".
Conclusion 
Vegas Tycoon is not a real money-making app. The game has nice graphics and is very addictive, but it should not be played with the false expectation of earning prizes.
The cash balance has no monetary value, and the developer has no obligation to pay anyone.

This reward platform is going viral! Cash out via PayPal, Visa, Gift Cards, and in-game currencies - Click here to find out how to generate an extra $10+ per day! 
Many people fall for this because they believe Google would never allow application that mislead users.
But in reality, Google has no control over how app developers operate behind the scenes. They just provide a platform to connect users with third-party applications.

Don't waste your time and mobile data with Vegas Tycoon unless you don't really care about the cash reward.
If you want to get paid by playing games on your phone, Prizerebel is my top recommendation! The site is 100% legit and allows users to complete surveys and other simple tasks for real money!
Earn a Full-Time Income Online
Have you ever thought about growing an alternative source of income from home?
What if you could make thousands of dollars per month with your own online business? Yes, it's actually possible to succeed, even if you have no specific knowledge or previous experience.
In 2015, I discovered internet marketing and the opportunity to work for myself remotely. I wanted to travel long-term and spend more time with my family in my home country.
So, I learned the ropes and worked hard to make my dreams come true. This is the exact step-by-step training you need to reach your goals too!
Final Worlds
Thank you for reading my Vegas Tycoon app review. I hope you found this post just in time!
We would like to hear your thoughts about this game. Did you watch all the videos to cash out? Leave your comments down below!
Peace!