Welcome to my Rush Rain app review!
Yesterday I watched one of those "money-game" advertisements that look too good to be true. What a surprise!
A massagist approaches three men lying on the bed saying their bill is $200.
All of them insist to pay her since they made $200, $300, $800 with a game called Rush Rain.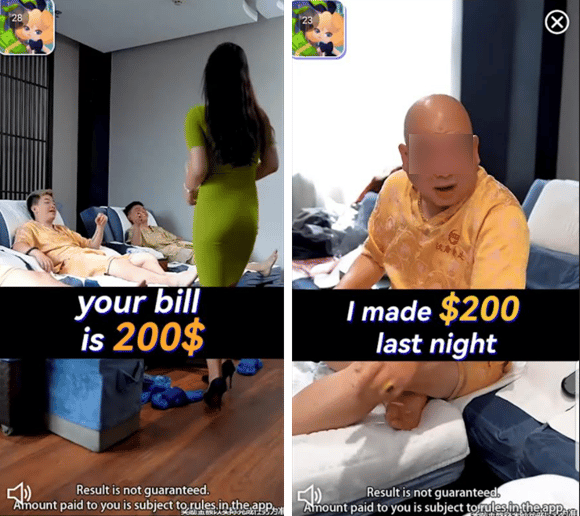 Then, it shows a PayPal balance growing every time the player throws a virtual banknote with just one tap.
Finally, it claims the money you earn is directly deposited into your PayPal account, and urges you to click the download button.
I have seen several tap money games that promise to pay when you fulfill certain requirements. But they turned out to be fake and a complete waste of time.
In this review, I will expose Rush Rain and let you know whether this is legit or fake. Does it pay or not? Keep reading to find out!
Before you leave this post, check out my top-rated reward site here! Members are making an extra 200 USD per month by completing simple online tasks on the go. 100% Legit.
Rush Rain App Review 
Name: Rush Rain: Unlimited Rewards (Early Access)
Developer: fun4u game
Eligibility: Worldwide
Minimum Payout: £704.10
Price: Free (no in-app purchases)
Overall Rating: 1/5
What is Rush Rain?
Rush Rain is another get-rich-quick simulation where players tap the banknotes to collect virtual dollars.
The app description claims there is no limit to how much money you can make. The more you tap on your phone screen, the more money you will make!
Not only that, but they say game and reality are combined when you reach a certain level.
From what I understand, they mean you can receive real cash rewards if you reach the payout threshold.
You can find the proof by launching the game. Right off the bat, you will see this page saying that you will receive a random PayPal Bonus through sponsored videos. The maximum prize is £407.10. 
Rush Rain has been installed over 100,000 times and rated 2.5 out of 5. What really matters is the incredible number of complaints. More on that later!
How Does Rush Rain Work? 
Installation 
Rush Rain can be installed and played for free on your Android device.
Be aware this app has access to photos, media and files stored in your memory even though it doesn't ask for any uploads.
Many other so-called money-games do the same, and it's so suspicious. I just can't feel comfortable with this type of permission.

Tired of fake money games? Make earn over $100/month by joining Prizerebel and completing simple tasks from your phone or laptop.
Getting Started
After you launch Rush Rain for the first time, it will encourage you to fill in your account details.
There is a PayPal logo at the top, but oddly enough, they say you can enter your email, mobile phone or user account.
Why would they ask for your phone number instead of your email linked to PayPal? That's another red flag!
Next, tap the "Receive" button to collect your first Sign in bonus of £70.41. Remember, real money only exists if it's in your pocket. 
How to Play Rush Rain? 
Once you start the game, you will see a pile of Yen (¥) cash, the Chinese currency.
Just tap or swipe your finger to dish out the banknotes. Your level shows how many cash notes you will throw away per click.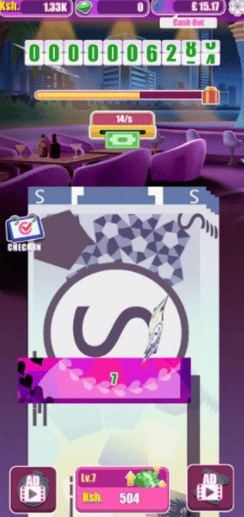 Can you see that number at the top? It represents the number of banknotes, which will decrease as you play.
In the beginning, you will flick out 1 banknote per tap. When you reach the target, you can press the button to level up and earn more banknotes.
The higher your level, the longer it takes to upgrade!
Keep in mind these banknotes cannot be used to withdraw money to PayPal.

For this purpose, you must accumulate another type of virtual dollars that you get from time to time during the gameplay.
Earning PayPal Cards
You may have noticed there is also a cash balance with the PayPal logo at the top.
As you are dishing out banknotes, you will achieve progress.
Rush Rain will give you the chance to flip 4 cards and collect cash coupons whenever the progress bar reaches the gift symbol.
Before you get your reward, though, you must watch a short commercial until the end. That helps the developer generate profits because he gets paid for displaying videos.

This reward platform is going viral! Cash out via PayPal, Visa, Gift Cards, and in-game currencies - Click here to find out how to generate an extra $10+ per day! 
You will also get cash prizes when your piggybank drops to zero and a new currency replaces the previous one.

How Do You Cash Out? 
You can supposedly cash out by opening your cash balance and tapping the "Receive" button. But first, you must accumulate the magic amount of £704.10.
It doesn't take long to achieve the goal and request the payment. But there is always catch! 
Discover in next section.
Is Rush Rain Legit? Does it Pay? 
No, it doesn't! Once you reach £704.10 and try to cash out, it says you must watch 30 videos to activate your order.
So, there you are, another game using the same excuse to lure players into watching more commercials.
I am afraid to say this is not the end of the story. They will never tell you the truth because otherwise, you would stop playing.
Then, you are encouraged to watch more videos to reduce the waiting time by 30 minutes.
That's another lie because when the delivery time is up, you will be told to watch more 80 videos to activate your order.
Yes, again! And no, you won't get paid in the end…
I am actually surprised that Rush Rain is not on "Early Access" and let players publish their honest reviews on Google Play.
As expected, there are lots of complaints because no one received the money that was advertised.
Conclusion 
It's impossible to make real cash rewards with the Rush Rain app! They make it seem like a very convenient and easy way to earn easy money.
Unfortunately, the only person who benefits from this application is the creator.
He is the one who gets paid by advertisers to promote other apps and services. In the meantime, you are just wasting your time and data watching over-hyped and misleading videos.
Avoid Rush Rain because it doesn't even provide the entertainment. It's a boring app with fake dollar bills!
Verdict: Not Recommended 
Earn a Full Time Income Online
Who doesn't want to make a decent income from home or while travelling the world?
That was my dream back in 2015 when I first discovered internet marketing.
Instead of following the easy road, I've chosen one proven strategy that takes more effort. That's why it still works for me in 2021!

Thanks to this step-by-step program, I created an online business that now generates over $2,000 per month. 
You can make it work too as long as you put in the work and wait for your audience to grow. It's worth it!
When I created this site, I had no previous experience and was working full time at a coffee shop. So, anyone can do it!
> Click here to learn more and take your first steps!
Final Words
Thanks for visiting my blog and reading my Rush Rain app review!
Feel free to use the comment box to ask any question or share your thoughts about this game.
Stay safe. Peace!