Welcome to my Happy Coins app review!
Many people wish to find a reliable application that allows them to make real money by playing games.
There are countless options for Android, but only a handful of them seem to play fair with users.
Most of them have the bad habit of refusing payments, canceling accounts, and missing points.
So, yesterday I was browsing the Play Store in search of a money-making app when I found Happy Coins.
Global Dream, which is the company that operates the app, promises to give you coins for each minute of gameplay.
Then, you can supposedly exchange the coins and withdraw the money via PayPal or any other payment method.
It seems pretty easy, but does Happy Coins actually pay? Is it legit or another fraudulent app?
Let's find out.
Top recommendation: This step-by-step program helped me earn $2,000+  per month and quit my job in 2019. Claim your free membership here! 
Happy Coins App Review 
Name: Happy Coins – CashApp Earn Money Play Games & Survey
Developer: Global Dream
Eligibility: Worldwide
Minimum Payout: 63,000 coins (5 Euros – PayPal)
Price: Free (no in-app purchases)
Overall Rating:

3

/5
What is Happy Coins?
Happy Coins is a reward app where you can earn in-app currency by playing third-party games on your Android device.
Not only that, but you can also take part in marketing research and complete promotinals tasks in exchange for coins.
As per the app instructions, you can withdraw your funds via PayPal or Voucher within 48 hours.
Happy Coins has been installed over 100,000 times and is similar to apps like Cash Alarm and Mistplay.
Except it also provides surveys and tasks to help you make more money.
How Does Happy Coins Work? 
Installation 
Happy Coins can be installed for free on Google Play in all countries. However, it's important to mention that the availability of games and surveys depends on where you live.
Companies may prefer to advertise in rich countries like the UK, the US,, and Canada because they are more profitable.
Getting Started
Before you can start using the app, select your language, accept the Terms of Use and permit usage access.

This last step may be confusing for some people. You have to click "accept", select the Happy Coins from the app list, and toggle on "Allow Usage Tracking".
You must activate this feature to allow the application to check how long you played a specific game. That's how they can track your playtime and give you the reward you deserve.
PIC
Earning Coins 
In order to withdraw money, you must complete activities and accumulate a specific number of coins.In the U
There are three main options you can use to collect the tokens:
1. Play Games
Select this tab if you want to earn coins by playing mobile games. You will see a list of third-party apps and the number of coins you will earn per minute of usage.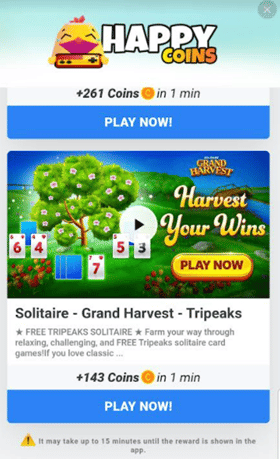 Tap "Play Now" and install the application directly on Google Play. Then, you will receive coins every minute.
Now, this is the part most people will get disappointed because they expect the rate of pay will stay the same. Not really!
The more you play, the fewer coins per minute you will get. Most games start at 200 coins per minute and dwindle until it's not even worth playing anymore.
That's why you depend on new games to keep earning money from Happy Coins.
Keep in mind it may take up to 15 minutes until the reward is shown in your account.

2. Surveys 
In this section, you get the chance to share your opinions with Bitlabs and receive more coins.
First, you must complete your profile so you can have access to paid surveys. Just answer a couple of questions like your birthdate, gender, employment status, etc.
The company will then unlock the top 10 surveys available according to your profile.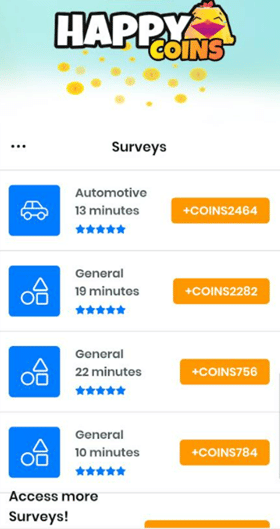 This reward platform is going viral! Cash out via PayPal, Visa, Gift Cards, and in-game currencies - Click here to find out how to generate an extra $10+ per day! 
Most surveys usually take anywhere between 5 – 20 minutes.
It's easy "job". Just bear in mind most studies are paying less than 7 cents of euro! Yes, it's that bad!

I suggest you search for companies that pay more than Bitlabs, otherwise, you will take ages to make cash out.
Here is what you can do. Join this GPT site and browse their vast list of surveys. Then, choose the ones with the best pay rate.
3. Quick Money 
Here you can complete a few tasks such as watching promovideos, sharing Happy Coins with friends on social media and partnering with the company.
Unfortunately, the platform doesn't tell us how many coins we will get for each task. But don't expect too much…
How Do You Get Paid? 
You can cash out 5 Euros via PayPal as soon as you reach collect 63,000 coins. Don't worry, if your currency is not Euro, you can easily convert using PayPal.
Happy Coins also provides many other payment methods, such as gift cards, in-game currency, Paytm, Paysafecard, and Western Union.
Is Happy Coins Legit? Does it Pay? 
Yes, Happy Coins is 100% legit, but it doesn't mean you will have a great experience.
There are mixed opinions about this app on Google play. Some people received the payment, but I noticed that most users struggled to earn enough coins.
The main reason is that the pay is ridiculously low, and therefore, many people give up before they reach 63,000 coins. You may have to play for weeks in order to cash out!
Also, some people complain the app does not credit properly their playtime. This is very discouraging!
There is no guarantee that Happy Coins will pay you, but I believe it will as long as you meet the cashout requirement.
Conclusion 
At first, Happy Coins because impressed me with the opportunity to get paid not only for playing games but also for completing surveys. It looks like Mistplay on asteroids!
I also like the fact that you can withdraw using several payment methods.
However, I got very frustrated with the rate of pay and the high payout threshold.
The company may process the payment within 48 hours, but it takes ages to accumulate 63,000 and cash out.
Is There an Alternative to Happy Coins? 
Yes! There are much better options out there. I think the most reliable apps for making money with games are JustPlay and Mistplay.
I like about JustPlay because it allows you to cash out every 24 hours as long as you reach the daily target. So, you don't need to accumulate points.

However, I wouldn't be so confident about receiving the money because some people get rejected during the facial recognition stage.
It's very frustrating because if the money is in your account, you deserve it, right?
There is an even better alternative, which is called Prizerebel. This is not an app, but you can join and complete the tasks from your mobile device as well.
This platform connects members with an incredible number of sponsored offers and survey partners. So, there is no limit to how much money you can earn there.
If you want to get paid by playing games, you will find lots of options inside the offer walls. 
Final Words
Thanks for reading my Happy Coins until the end. If you still have any questions, just ask in the comment box below.
You are also free to share your own experience with this application if you wish.
Stay safe. Peace!