Welcome to my AppKing app review!
You are reading this post because you found AppKing and the opportunity to earn some extra cash by downloading apps.
Considering the large number of fake money-making application, you need to know whether you will get paid or not.
As importantly, you are searching for a reliable app that will not steal your personal data.
You have come to the right place!
In this review, I will show you everything you need to know about AppKing. How much money can you make? Is it legit and safe?
I am here to answer all your questions!
Top recommendation: This step-by-step program helped me earn $2,000+  per month and quit my job in 2019. Claim your free membership here! 
AppKing App Review 
Name: AppKing – Rewards for Playing Games (Early Access)
Developer: Gamekit SA
Eligibility: Worldwide (19+)
Minimum Payout: $1000
Price: Free (no in-app purchases)
Overall Rating: 1/5
What is AppKing?
AppKing is an Android app where you can supposedly get paid for downloading apps and playing mobile games.
The app was developed by Gamekit SA, which operates a similar app called Gamekit.
Both applications follow the same concept as in Cash'em All, Mistplay, FunTap and so many others.
However, what I like about AppKing is that it shows the reward directly in dollars instead of points. So, you don't need to convert the virtual currency to find out the exact prize.
I just would like to warn you that AppKing is still in development, which is a legit cause for concern. 
After all, unscrupulous developers set their app as "early access" to avoid the negative reviews and maintain a neutral reputation on Google Play.
How Does AppKing Work? 
Installation 
AppKing is available on Google Play for Android devices. Before you gain access to the dashboard, you must sign in with your Google account and allow usage tracking.
The reason they need this is to track the time you play their games in order to reward you accordingly.
Next, provide your age and gender, so that AppKing recommends relevant offer for you.
Check out the top game apps to make money here! 

How Do You Earn Money With AppKing? 
AppKing suggests apps and games and rewards you with real money for trying them,
Check the list of offers by tapping on "Apps" and select any you want. Each game or app may ask you to complete a different quest.
Some games reward you according to the time you play them, whereas other games pay you for achieving specific goal.
For example, Word of Warships is currently paying $2 for users who play at least 1 battle on a tier II ship and reach level 14.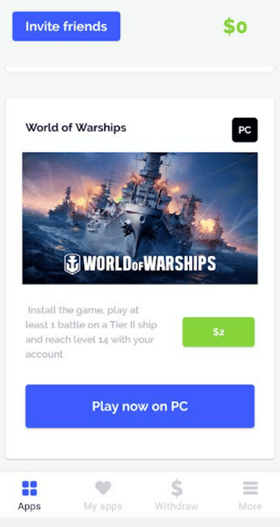 Some apps reward you after a simple registration. But some of them require that you use their services for a short period.
How Can You Cash Out on AppKing? 
You can cash out your money when you have at least $0.05. That's awesome!
The main problem is that when you try to withdraw your funds, they ask you to verify your PayPal account. 
By tapping the button "go to verification," AppKings directs you to a page where you have to provide your PayPal email and password.
I have been using many reward sites in the past 6 years and I never had to log in to PayPal to receive the payment.
Please don't go for it because you don't know if they can have access to your credential.
Since they block reviews on Google Play, it makes it even riskier because users cannot voice their experience they had with the app.

This could be a safe method of verification. However, because of many scams out there, it's important to avoid unnecessary risks and play it safe.
Conclusion – Is AppKings Legit?
I want to believe AppKings it legit. But what I can say is that you shouldn't get your hopes high.
The developer blocked the reviews on Google Play by classifying the app as Early Access. This is not good!
So, I checked the reviews on their other app called Gamekit and didn't like what I saw.

This reward platform is going viral! Cash out via PayPal, Visa, Gift Cards, and in-game currencies - Click here to find out how to generate an extra $10+ per day! 
There is an incredible number of complaints, with users reporting blocked accounts, errors and missing points.
Therefore, I suspect AppKings users will face similar issues.

Another significant concern is that you have to enter your PayPal email and address to verify your account.
Many users are put off by this verification requirement and end up uninstalling the app. I wouldn't put my hard earned money at risk for just a few bucks.
Earn a Full Time Income Online
In 2015, my life took a U-turn when I discovered the opportunity to build an online business. 
I dreamed of the day I could quit my job at the coffee shop and travel the world while making a decent income online.
Instead of taking the easy road, though, I focused on a proven strategy used extensively by successful internet marketers.
It was well worth it because I finally achieved my dreams. Bought a ticket to South East Asia and travelled for 2 years with my wife.
Thanks to this step-by-step program, I created this online business that covers all my living costs, even while travelling!
Everything you need to set up and grow a niche site is there. The best part? You can join for free and benefit from the first 10 lessons with no strings attached.
Final Words
Thanks for visiting my blog and reading my AppKings app review!
If you used this app and would like to share your valuable experience, use the comment box below.
Stay safe. Peace!