Welcome to my Royal Pop Tree app review!
The creator of Royal Pop Tree is trying to convince players they can make easy money just by eliminating blocks.
This crazy game features a match puzzle game and a virtual money-tree.
As you destroy cubes of the same color, the tree shakes and releases banknotes that accumulate in your account.
You will also earn cash coupons when you tap on the blocks with the PayPal or gift logo.
Thousands of people have downloaded this application in order to achieve the achieve $200 and receive the payment.
After all, the developer is advertising the game as an opportunity to withdraw the money if you meet the minimum requirement.
With so many scams and fake apps out there, it's impossible to not be skeptical. So, is Royal Pop Tree legit? Will they pay you or not?
Let's find out!
Searching for a legit platform that transfers real money to PayPal? Click here and discover my top-rated gpt site! Members are making over $200/mo on the side. 100% legit and no verification required.
Royal Pop Tree App Review
Name: Royal Pop Tree (Early Access)
Developer: Pony tong
Eligibility: Worldwide
Prize: Free
Payout threshold: $200 (PayPal)
Overall rating: 1/5
What is Royal Pop Tree?
Royal Pop Tree is a combination of match puzzle game and idle clicker game like Fairy tree.
Your job is to grow your money-tree by tapping it as wells as matching blocks of the same color.
The virtual dollars you earn while playing the game accumulate in your account and can only be cashed out once it reaches $200.
Royal Pop Tree has achieved the impressive mark of over 100,000 installs so far. Yet, reviews are still being blocked on Google Play because of the infamous "Early Access" classification.
Oddly enough, Pony tong has another clone on Google Play called Crazy Pop Tree. It's also in development and making profits.
How Does Royal Pop Tree Work? 
Installation 
The Royal Pop Tree app is available on Google Play for users in any country. You don't need to create an account not allow usage trekking before you can play the game.
However, the app has permission to modify and even delete contents in your USB storage. Does that mean they will access your folders and steal your personal data?
Well, it's impossible to say. But when it comes to apps and sites, there is always a risk.

How to Play Royal Pop Tree? 
As I mentioned, the player has to grow the money-tree by either tapping on it or eliminating the blocks. You will level up your tree when you complete the progress bar.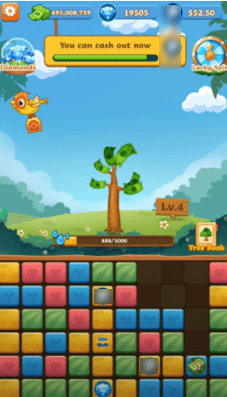 Tapping the tree makes the bar moves slowly. So, you'd better play the puzzle game to achieve faster progress.
Just tap sets of 2 or more blocks of the same color to destroy them and collect three types of items: Diamonds, banknotes, and virtual dollars.
The game will give you a few banknotes whenever you eliminate the cubes. I will explain how you can supposedly withdraw the money in the next section.
Once you complete the level or eliminate a block with the PayPal logo, you will get a cash coupon with the PayPal logo.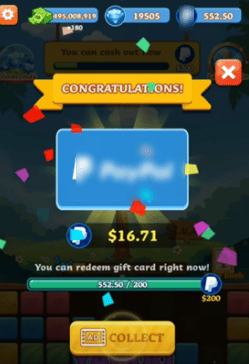 However, the funds are only added to your account after watching the commercial.
After eliminating all the blocks, Royal Pop Tree allows you to open 4 gift boxes and collect more cash and diamonds.
As you can see, there are different ways to collect rewards from this application, which seems too good to be true! 
How can You Cash Out?
You can trade cash notes for diamonds, which in turn can be used to redeem Amazon gift cards.
2,500,000 Banknotes = 10 diamonds
12,000,000 Banknotes = 50 diamonds
You need to collect at least 25,000 to redeem $200 Amazon vouchers, respectively.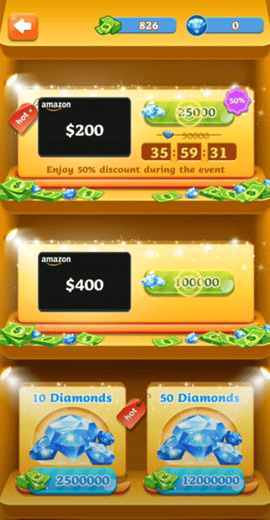 As for PayPal payments, the minimum cash out requirement is $200, but you can also redeem over $800.
Note there is a board at the top saying you need to watch 20 videos to cash out.
This number will decrease as you watch the videos. However, when you reach $200 and try to cash out, Royal Pop Tree doesn't account for all teh videos you already watched.
So, you are lured into watching another 20 to supposedly "activate" your order. But will you get paid?
Is Royal Pop Tree Legit? Does it Pay? 

This reward platform is going viral! Cash out via PayPal, Visa, Gift Cards, and in-game currencies - Click here to find out how to generate an extra $10+ per day! 
No, it doesn't. Royal Pop Tree won't transfer money to your PayPal account even if after watching thousands of "get-rich-quick" ads.
After meeting the initial cash and video requirement, you are supposed to wait for 24 hours.

But then, the developer asks for another 40 videos within 3 days. What a joke!
At this point, I am sure many users will press the uninstall button and call it a day. But unfortunately, many people are desperate for cash will blow up every ground they stand to receive the prize.
Other popular games to avoid:
Conclusion 
Royal Pop Tree is another time sucking app that only generates profits for the developer.
I have reviewed many similar games with identical outcomes. They make it seem like the easiest way to make money online, but the more you play, the more you realize its true colours.
The game will push additional requirements down your throat to get you to watch an insane number of videos.
Avoid Royal Pop Tree if you care about your valuable time and mobile data.
Verdict: Not Recommended
Earn a Full-Time Income Online
In 2015, I discovered the great opportunity to build an online business and make money on my own terms.
I dreamed of the day I could eventually quit my job and work from my laptop. Then, why not travel to South East Asia and spend a couple of months there working remotely?
Thankfully, I had found this excellent step-by-step program, which gave me the proper training and support to succeed.
It was worth putting the work because I finally achieved my goals, travelled for 2 years non-stop created the life I wanted.
Everything you need to set up and grow a profitable niche site is there. The best part? You can join for free and attend the first 10 lessons with no strings attached.
Final Words
Thanks for visiting my blog and reading my Royal Pop Tree app review!
If you were hooked by this game and would like to express your thoughts on it, feel free to use the commend box below.
Stay safe. Peace!