Welcome to my Fairy Tree app review!
Today, I would like to expose another application that claims to pay just by tapping a money tree.
Many people get hook by these games because they all use the PayPal logo to make it more convincing.
Not to mention the advertising, which is so appealing because it conveys the idea of getting rich quick.
One of their commercials shows a guy with a stack of cash on his hands saying "I got all this money playing Fairy Tree".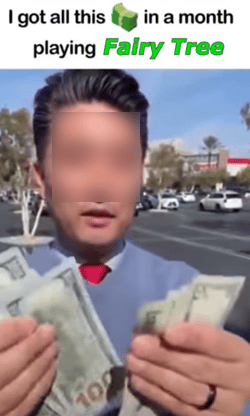 At the end of the video, there is a cash amount of $8280 at the top and the install button below. Crazy!
I am pretty sure you don't want to tap thousands of times on your screen and watch offers for nothing.
So, is Fairy Tree legit or fake? Does it pay once you reach the requirements? Let's find out!
Top recommendation: This step-by-step program helped me earn $2,000+  per month and quit my job in 2019. Claim your free membership here! 
Fairy Tree App Review 
Name: Fairy Tree: Magic Growth (Early Access)
Developer: Embracegame
Eligibility: Worldwide
Minimum Payout: £704.10
Price: Free (no in-app purchases)
Overall Rating: 1/5
What is Fairy Tree?
Fairy Tree is another get-rich-quick simulation where you tap a money tree to collect virtual dollars.
The app is operated by Embracegame, and is almost identical to Click Money and Starry for Cash.
Your job is to tap on the screen to collect banknotes and upgrade your tree once you reach milestones.
The tree will also release cash coupons with the PayPal logo from time to time.
Once you accumulate £704.10, you can supposedly request the payment and buy anything you want with your PayPal account. How about a one-way ticket to a tropical paradise? 🙂
How Does Fairy Tree Work? 
Installation and Permissions
Fairy Tree is available worldwide for Android users. Once you install the game through the Play Store, you are granting access to contents of your USB storage.
That means the developer may read, modify and even delete whatever you store in your phone's memory. I am talking about photos, media and other files.
Considering Fairy Tree has no uploading feature, this kind of permissions is very weird. So, that's something you should keep in mind.
How to Play Fairy Tree?
Before you play Fairy Tree, it will ask you to fill in your PayPal account email. There is a 24 hours deadline to reach £704.10 and withdraw the money.

The gameplay is very straightforward! Every time you tap the money-tree, you will collect green banknotes that accumulate on the top.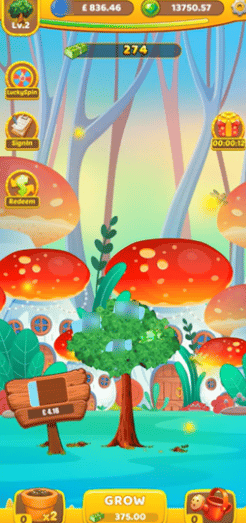 You can only use this cash to upgrade your tree and collect more notes per click!
Now, this is the part you were waiting for. Fairy Tree will give you PayPal gifts at regular intervals as long as you tap "get" and view teh short clip.
You can double the speed at which you collect rewards by selecting the vase and watching an advert.
In addition, you can activate the auto click feature by watering your tree. Again, you need to watch a video to do that.
How to Cash Out? 
As you already know, you need to need to reach the magic £704.10 in order to redeem.
Fairy Tree offers generous cash incentives and allows you to achieve the payout threshold in less than 10 minutes.
The question million dollar question is: Will Fairy Tree pay hundreds of pounds to every user who plays and watches only a couple of sponsored videos? If so, where is all this money coming from!
Money simply can't grow on trees, right?
Is Fairy Tree Legit? Does it Pay? 
No. Fairy Tree won't pay you a dime, even after all the requirements are met. Here is the lowdown on what you should expect from this app:

Once you reach £704.10 or the equivalent in your country, you'd think Fairy Tree would immediately transfer the money to your PayPal account. But unfortunately, that's not the case!
They will tell you to watch 37 video to activate the order, which is supposedly delivered in 24 hours.
However, this is just an excuse to make you play more and boost profits at the expense of your time.
After watching all the videos, they put you on another waiting list and claim that you can speed up the payment process by watching more videos.
Believe it or not, they have the audacity to require another 80 videos to activate the order. Again? Yes… it never ends!
I hope you realize Fairy Tree is not serious about rewarding people as advertised.

This reward platform is going viral! Cash out via PayPal, Visa, Gift Cards, and in-game currencies - Click here to find out how to generate an extra $10+ per day! 
Conclusion 

Fairy Tree won't pay you even after watching copious amount of advertising.
The game is boring to death, so people only play it because they expect to make some easy money.
If you are playing this game and watching videos, you are only helping developers receive more ad revenue.
It's a win-lose situation, and there is nothing you can to make them pay you. These developers usually operate from a faraway land and, as a result, are not help accountable.
Verdict: Not Recommended 
Earn a Full-Time Income Online
If you want to earn thousands of dollars, you need to ignore misleading adverts and focus on strategies that are proven to work.
Don't miss out on the amazing opportunity that the internet offers. I am talking about building an online business nurturing it until you reach your financial goals.
When I started by website, my dream was to earn enough money to quit my job and travel to south-east Asia!
So, I followed this step-by-step program, worked consistently and finally made it! In 2019, I bought a one-way ticket to Vietnam with my wife and off we went!
Today, I work 100% remotely, and don't need to commute to a job that I hate!
If this lifestyle appeals to you and you have the motivation to succeed, click here to learn more! 
Final Words
Thanks for reading my Fairy Tree app review. I hope this post saves you time pursuing the unachievable.
If you would like to share your thoughts about this game, publish your honest review in the comment box below.
Peace!