Welcome to my Overfood app review!
Overfood is a mobile game trying to persuade people to watch videos in return for excellent cash rewards.
When you launch the application for the first time, you stumble across a message saying the minimum prize is £704.10. There is a 24 hour countdown for you to reach the goal.
Then, they encourage you to fill up your PayPal email or phone number before the game begins.
Overfood seems like hundreds of applications that provide unrealistic prizes but never pay out! That's why I was very skeptical when found this game on the Play Store.
You are reading this post because you don't want to fall victim to a fake money game that uses your time for corporate profits.
So, is Overfood legit? Does it pay or not? Keep reading until the end to find out!
Before you leave this post, check out my top gpt site here! Members are making an extra 200 USD per month by completing simple tasks on the go. Withdraw the money via PayPal or gift cards. 100% Legit!
Overfood App Review 
Name: Overfood (Early Access)
Developer: zonghelizhijun
Eligibility: Worldwide
Minimum Payout: £704.10 (UK)
Price: Free (no in-app purchases)
Overall Rating: 1/5
What is Overfood?
Overfood is another casual merging game where you collide and merge identical food items into larger ones.
From time to time, the game will reward you after unlocking other round pieces of food.
You will see a PayPal logo with a specific cash amount, which is added to your account only if you watch the video.
I have reviewed many games like Overfood, such as Merge Fruit, Coin Merger, and Planet Bloom. They come in different chapes and forms, but the gameplay is exactly the same!
If you want to make a little extra cash on the side, check out this excellent GPT site. Fast payments are available via PayPal and gift cards.
How Does Overfood Work? 
Installation 
Overfood is available for Android devices, and can be installed it for free on Google Play.
Unlike the majority of money games, it doesn't access contents of your USB storage, which is one less thing to worry about.
How Does Overfood Work?
The game starts by offering players £70.41 just for signing in! You can earn a lot more if you launch the game for 7 consecutive days.
Next, tap where you want the food to fall and try to collide with identical items at the bottom.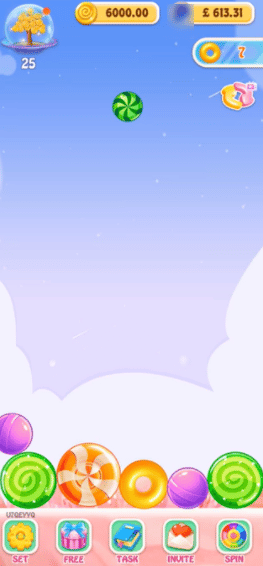 When two identical food items touch with each other, they merge into a new item that is bigger than the previous ones.
For example, two purple sweets turn into what it seems like a donut!
As you destroy foods and replace with new ones, you will get coins and virtual cash coupons.
The cash prizes are large enough to make you play non-stop, and anyone reaches the payout threshold in just a few minutes of gameplay.
You can collect more coins by tapping the Gold Tree and watching an advert.
How do You Get Paid? 
Overfood suggests that players who accumulate at least £704.10 can withdraw the money immediately to PayPal.
In addition, you can supposedly redeem at least 68000 coins for £140.82 via PayPal. It's possible to cash out even higher amounts if you meet certain requirements.
Is Overfood Legit? Does it Pay? 
No, it doesn't pay! Overfood doesn't provide real rewards and I will prove to you what happens if dedicate yourself to this game.
Once your cash balance reaches £704.10 and you confirm your account, you will see this disappointing message:
"You must watch more 30 videos to activate order." But folks, this is the first roadblock you will find on your way!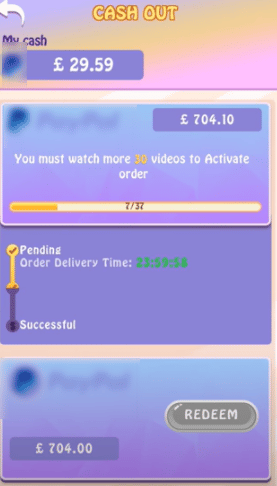 I hope you don't watch those misleading ads, but if you do, your status will be "pending" for 24 hours.
According to the instructions, watching a video will reduce the waiting time by 30 minutes. Well, that's what they say!
As you can see, this is another lame excuse to postpone payments and get players to watch more videos.
This tactic used by many developers to increase their profits because each ad view equals extra money in their pockets.
It's not a surprise that Overfood is still in development. Maybe they don't want people to read the reviews on Google Play and find out about the payment fiasco.

This reward platform is going viral! Cash out via PayPal, Visa, Gift Cards, and in-game currencies - Click here to find out how to generate an extra $10+ per day! 
Conclusion 
Don't waste your time playing Overfood with the expectation of making real money. This app only provides virtual cash with no currency value.

The ToS says that you can use virtual items to receive rewards in the form of gift cards from time to time.
Therefore, they are not making any promises regarding payments. It's just hype designed to get players to watch lots of ads!
After testing so many similar games, I got used to their businesses practices. That's why I don't even reach the final stage to tell whether people get paid or not.
There is simply no game that transfers hundreds or thousands of dollars by reaching specific goals. Period!
Earn a Full Time Income Online
You can earn a decent income month after month if you know the proper strategies to succeed online.
Not only that, but you must put up your sleeves and work to achieve your dreams!
Well, that's what I did back in 2015! I was sick of working 9-5 and wish I could travel more and enjoy more time with my family, so I took the plunge and committed myself to the process.
Today, I work 100% remotely, and don't need to report to a boss! Therefore, I can do whatever I want with my time.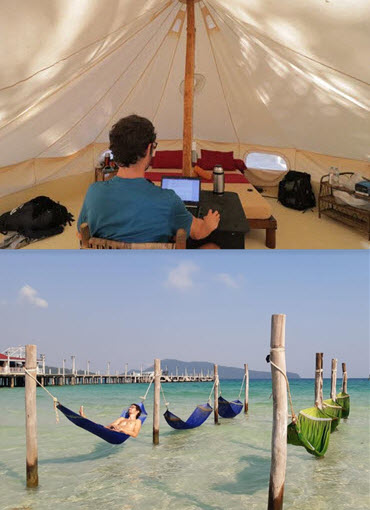 If you dream about having this lifestyle, I highly recommend you to build your own online business. Here is the best step-by-step training! 
Final Words
Thanks for reading my Overfood app review. I hope this post helps raise awareness and save your time.
Would like to publish your own review? If so, feel free to use the comment box below.
Peace!