Welcome to my Squid Gem app review!
Thousands of people are playing the Squid Gem game to redeem in-game currency such as Free Fire and PUBG diamonds.
To collect the reward, you must match 3 or more gems, watch sponsored videos and accumulate 10,000 diamonds.
Squid Gem is only exciting as long as you believe the developer will transfer the diamonds to your Player ID. Otherwise, it's just another casual game you play to pass the time.
You are visiting my website because you were trying to find whether Squid Gem is legit or fake. Well, I am here to tell you why playing this game is a complete was of your time and energy.
Top recommendation: This step-by-step program helped me achieve 2,000 US Dollars per month and quit my job in 2019. There is a free membership available! 
Squid Gem App Review 
Full Name: Squid Gem (Early Access)
Developer: davidliuppp
Payout Threshold: 10,000 diamonds
Price: Free (no in-app purchases)
Overall Rating: 1/5
What is Squid Gem? 
Squid Gems is an Android game in which you link all the identical gems at the same level to merge them.
The developer advertises the game as an opportunity to win in-game currency. But oddly enough, the app description doesn't mention a single word about it!
Besides, Squid Gem is still in development, which means you won't see a single user review on Google Play.
Keep in mind that fake money-games use the Early Access classification as an excuse to hide their terrible reputation.
The developer of Squid Gem is the one that operates many viral apps such as Pop Diamonds, Money Dogs and Pop Animal Party. Check out my Pop Diamonds review here! 
I may review Money Dogs soon, so stay tuned!
How Does Squid Gem Work? 
Installation and Permissions 
Squid Gem can be installed for free on the Play Store and won't ask for suspicious permissions.
Check in Bonus
As soon as you launch Squid Gem for the first time, you will earn a sign in bonus of 2000 diamonds.
You will collect bonus diamonds daily if you open the game for the next 7 days.
Wanna collect real in-game currency and even make a little extra cash? Join my top-rated reward site here! 
How to Play Squid Gem? 
Squid Gems works just like the popular Candy Crush.

Therefore, your job is to swipe and match gems of the same color to merge them into a higher level gem.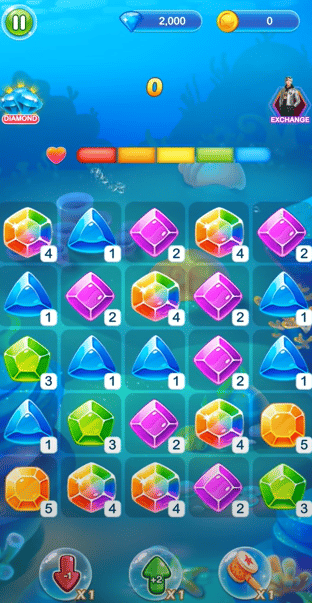 Try to link as many blocks as possible to earn the highest score and maximize your rewards.
Diamonds are credited automatically whenever you combine gems.
In addition, you will receive a big prize from time to time with the condition you tap "Collect" and watch the advert.
It's not always possible to match gems with a single move, and in that case, you will lose one life.
Don't forget to use props to save moves and achieve easy progress. You can use the hammer to destroy gems or the arrows to increase or decrease gem levels.
How to Receive The Reward? 
Once you collect 10,000 diamonds, you can exchange them for a different number of in-app items depending on the game.
Tap the Diamond or Exchange icon to enter the redeem page. Then, select any game from the following list:
Pokemon GO
PUBG Mobile
Mobile Legends
Free Fire
ROBLOX
Coin Master
Clash of Clams
And more!
For example, 10,000 diamonds will get you 1000 Candy Crush gold bars or 10,000 FF diamonds.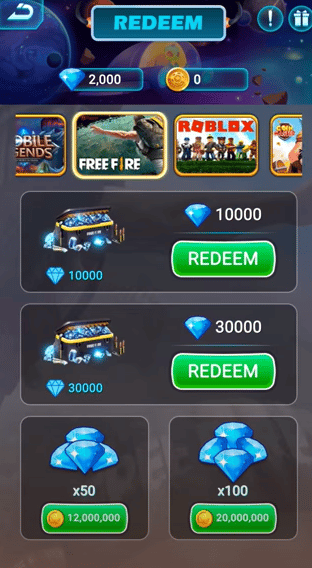 Many players are happy to spend a decent amount of money on game currencies.
However, most people simply cannot afford to buy them, and wish they could get them for free by playing Squid Gem.

Is Squid Gem Legit? Will They Pay You? 
No, Squid Gem won't transfer any currency to your account ID if you meet the requirements.
I was playing this game for a few minutes when all the diamonds disappeared out of nowhere!
They simply removed all the signs that this app could be used to earn rewards. Now, I just collect worthless tokens or coins.
It's very clear that Squid Gem is only trying to entice people to download the application and watch sponsored offers.

This reward platform is going viral! Cash out via PayPal, Visa, Gift Cards, and in-game currencies - Click here to find out how to generate an extra $10+ per day! 
I believe many players expect the diamonds will eventually return. But no one will get their reward even if after collecting 10,000 diamonds.

Conclusion 
Don't waste your time playing Squid Gem because the rewards are fake.
The developer could never afford to give away game currency that cost a lot of money.
Many games are now enticing players with these in-app items because they are more convincing than those who promise to pay thousands of dollars.
But make no mistake. This game is not committed to processing actual prizes! Otherwise, the company would be more than glad to let users review the app and spread the word.
Get Paid for Trying New Games! 
You can actually get paid for trying new games using this excellent Gpt site.
You will earn points for completing app offers and then exchange them for cash via PayPal, gift cards and in-app credits!
Final Words
Thanks for visiting my site and reading my Squid Gem app review until the end. If you want to share your thoughts about this game, you are welcome to do so in the comment box below.
Peace!