Welcome to my Pop Diamonds App Review!
In today's post, I am going to expose another match puzzle game that has been promoted intensively in the last few weeks.
The developers claim you can transfer $1,000 or even more to your phone account.
It's very odd because they suggest you are earning PayPal money, but require your phone number instead of your PayPal email.
This is not how people receive payments though this popular platform. So, what's going on? Is Pop Diamonds fake? Does it pay or not?
Keep reading to find out!
Top recommendation: This GPT site can help you earn an extra $200 on the side just by completing simple tasks from your phone. Cash out to PayPal and gift cards. 100% Legit!
Pop Diamonds App Review 
Full Name: Pop Diamonds (Early Access)
Developer: davidliuppp
Eligibility: Worldwide
Price: Free
Overall Rating: 

1/5
What is Pop Diamonds?
Pop Diamonds is a casual game where you select a group of clocks with the same colour to eliminate them.
The goal is to complete the level by destroying as many diamonds as possible.
As you play the game, you will receive virtual PayPal or Amazon cards worth a decent amount of money. I am talking about hundreds of dollars!
Pop Diamonds claims you can take the chance to withdraw all the money after 24 hours.
I don't like spoilers, but I would like to say there are many games like Pop Diamonds on Google Play that don't pay a dime!
Here are just a few examples:
How Does Pop Diamonds Work? 
Pop Diamonds can be installed for free on the Play Store in all countries. The game is free, but there are in-app purchases available.
Players can join the VIP Lucky Slot Machines for up to $9.99 and supposedly get more bonuses.
I don't recommend you spend your hard-earned money on this application until you read this post until the end.
How to Play Pop Diamonds? 
Simply tap groups of cubes with the same colour to destroy them and earn points. Reach the target in order to pass the level.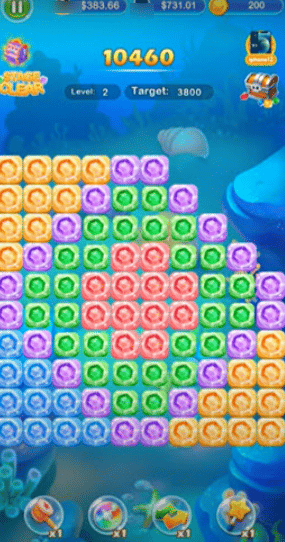 It's easy in the beginning, but at higher levels, you may need to use any of the following tools:
Hammer: Choose any block to destroy.
Brush: Select a block to change its color.
Transposition: exchange the places of existing blocks.
Meteor: Randomly destroy 5 blocks.
As I mentioned, you will receive virtual dollars when eliminating the blocks.
They will show you either a PayPal or Amazon card and encourage you to watch a video in order to collect the money.
After watching the video until the end, the cash will be added to your PayPal or Amazon balance.
When you complete the level, you may also earn big surprise bonuses. Open 4 boxes, watch the videos and collect more cash rewards.
Instead of installing useless apps, check out my top reward site and earn real cash rewards by completing surveys and offers.
How do You Get Paid? 
Pop Diamonds entices you to play the game with the expectation to withdraw actual cash via PayPal or Amazon gift cards.
Many people are playing for 24 hours non-stop because it says they can cash out after 24 hours or after reaching $1000.
It's very weird because you must submit your phone number instead of your email address linked to PayPal. That's not how you receive online payments!
Note they say "take the chance", which is implies there are no guarantees you will get paid.
Is Pop Diamonds Legit? Does it Pay? 
No, you won't receive any money and I will tell you precisely the sequence of events that will lead to failure.

After the countdown finishes, your payment will remain as "Pending" for another 24 hours. However, you must watch 30 videos to activate your Amazon card order.
As for the PayPal payment, they claim you can watch the advert to reduce the review time by 30 minutes.
But guess what will happen once you meet all the requirements? They will create a new one!
Now, you have to watch more 59 videos to activate the order, which of course, means nothing. Here is the proof: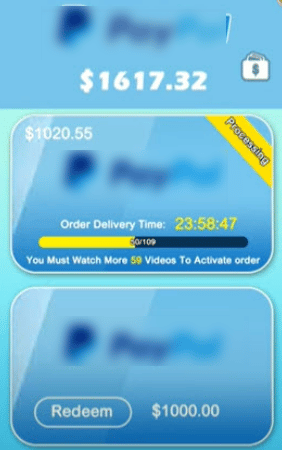 Pop Diamonds does not differ from countless games that use virtual cash as bait.

This reward platform is going viral! Cash out via PayPal, Visa, Gift Cards, and in-game currencies - Click here to find out how to generate an extra $10+ per day! 
Conclusion 

It's impossible to make real money from Pops Diamonds because they don't even ask your email liked to PayPal.
The developer wants players to believe if they watch enough videos, he will transfer the money.
However, this is only a tactic to make you watch more advertising and therefore, generate more ad revenue. 
I think people should be more cautious about easy ways to make money online.
Most of these apps and sites only benefit the owners, who are taking advantage of people, especially those who are desperate to pay off debt and put money on the table.
If you want to make money, avoid Pops Diamonds and dedicate your time towards proven strategies like content marketing, online surveys and freelancing.
How I Make Money Online
In short, I create helpful content for my own website. My reviews rank on Google and attract a decent number of visitors every day.
That's how I can make money because of the advertising and affiliate links that I have on my pages.
You can grow a successful website on a topic of your interest and earn income based on how many people visit your pages.
This excellent step-by-step program gave me the training and support to achieve my goals and quit my job in 2019.
You can join for free and take a peek inside the platform to learn more about the business model and its benefits.
Final Words
Thanks for reading my Pop Diamonds app review. So, did you watch all the videos? Would you like to share your thoughts about this game? If so, leave your comments below.
Peace!