Welcome to my Crazy Gem app review!
I was browsing the Play Store as usual when I came across Crazy Gem and the possibility of making lots of money.
After launching the game, it immediately says I can collect up to $1000 to withdraw. And of course, it shows a big PayPal logo to convey trust.
My mission with this post is to expose the game for those who value their time!
I know the pandemic has destroyed many livelihoods and there will be consequences for many years to come.
So, the least people want right now is to waste time with useless applications that are only designed to collect ad revenue for app developers.
Is Crazy Gem legit or fake? Does it pay once the time is up? Keep reading to find out before merging another diamond!
RECOMMENDED: Check out the step-by-step program that helped me build an affiliate website and quit my job in 2019. No special skills required! 
Crazy Gem App Review
Full Name: Crazy Gem (Early Access)
Developer: new Sunflowers
Eligibility: Worldwide
Price: Free (no in-app purchases)
Overall Rating: 1/5
What is Crazy Gem? 
Crazy Gem is a puzzle game just like the famous candy-crush, where players have to match at least 3 items to eliminate them.
The big difference here is that Crazy Gem is giving virtual dollars redeemable via PayPal.
This is not the only app that entices players with excellent cash rewards. For example, this match-3 game supposedly pays $200! 
I am very familiar with money games, but many people don't have the information they need to avoid pitfalls That's why I am here almost every single day to clarify and warn people about them.
How Does Crazy Gem Work? 
Installation
Crazy Gem is available on Google Play for Android devices. Just be aware that you are giving permission to access read, modify and even delete files.
So, if you store important documents and you don't want to be snooped, think twice before installing Crazy Gem.
How To Play Crazy Gem? 
Slide your finger to swap positions of two gems and match at least 3 identical ones.
When you place 3 or more same level gems side by side, they will merge into a single gem at a higher level.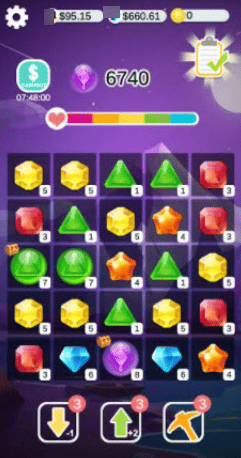 Whenever you combine the diamonds, you will you will earn a few cents of the dollar. Besides, Crazy Gem will give you a decent amount of PayPal or Amazon money after achieving combos.

Tap the balloon to open gift boxes and claim more cash and puzzle pieces.
Crazy Gem claims you can redeem an iPhone 12 pro valued at $1499 if you collect 300 fragments and watch 200 video ads.
Use props to increase a level, decrease a level or destroy any gem.
Need more cash? Yes, why not? Crazy Gem also features a spinning wheel so you can win rewards.
How Do You Get Paid? 
As I mentioned before, Crazy Gem allows you to collect up to $1000 and cash out to PayPal after 24 hours. Unlike other games, you don't need to reach a specific amount.
Just bind your PayPal email and wait for the countdown.
Do you I recommend you do that? Nope. Keep reading to find out why!
Is Crazy Gem Legit? Does it Pay? 
No, it doesn't! You will probably reach $1000 in 24 hours, but unfortunately, the company will never transfer the money.
The developer is offering cash to entice more people to download and play his game for longer.
The reason is that the more you play, the more profits he makes because of the increased in ad views.
Note that the developer has disabled the reviews on Google Play, so people cannot se other player's insights. It's weird because Crazy Gem is not on Early Access.

BE AWARE! 
I also want to draw your attention to the lack of Terms of Service and Privacy Policy.
I always thought that Google would only allow apps with at least a Privacy statement. Apparently, I was wrong since the developer just provides his email address.
Conclusion
Don't install Crazy Gem, and if you already did, uninstall it straight away. There are many reasons I don't recommend it.

This reward platform is going viral! Cash out via PayPal, Visa, Gift Cards, and in-game currencies - Click here to find out how to generate an extra $10+ per day! 
First, you won't receive any more, so you will waste your time and internet data.
Second, you are giving the app permission to unrestricted access content in your USB storage. This is risky because the developer can take your photos, videos and do whatever he wants!

And finally, the app does not respect regulations since it doesn't even provide a Privacy Policy.
Avoid Crazy Gem and any other game that overuse the PayPal logo and claim to pay a lot of money. They never do!
Verdict: Not Recommended 
Earn a Full-Time Income Online
If you want to make real money online, you need to look for a completely different alternative.
One of the best strategies is to provide helpful content and promote products as an affiliate.  That's how I make a living online! 
Anyone can set up an online business within just a few hours, but you need to learn all the details in order to grow your audience.
This excellent step-by-step program helped me create a successful site that allows me to work from my laptop anytime, anywhere I want.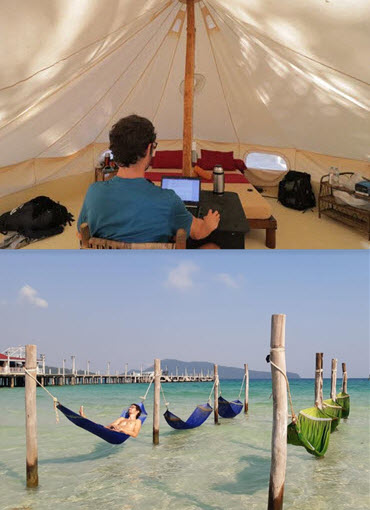 You can sign up for free and take your first steps today! Click here to learn more about the platform and how it can help you finally make real money from home!
Final Words
Thank you so much for reading my Crazy Gem app review. I hope it was helpful. If you want to share your opinions about this game, leave us a comment below.
Peace!