Welcome to my Drop Numbers Blocks App review!
I need to warn you about another application called Drop Numbers Blocks. What's funny about this app is that these guys don't even know how to spell "Start". Check this out!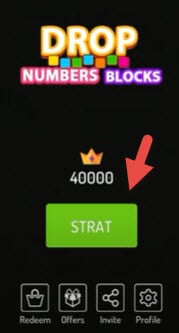 Anyway, the developer claims you can redeem thousands of dollars via PayPal, as if money grew on trees!
I downloaded the game and played it for a while to expose the game and help people understand how it works.
So, is Drop Numbers Blocks another scam? Does it pay or not? Keep reading to find out!
Before you leave, check out the step-by-step program that helped me reach $1,600+ per month from my laptop, and escape the 9-5. No special skills required!
Drop Numbers Blocks App Review
Name: Drop Numbers Blocks
Company: enettaee
Type: Puzzle
Eligibility: Worldwide
Price: Free
Overall Rating: 

1/5
What is Drop Numbers Blocks?
Drop Numbers Blocks is another 2048 game where you combine blocks with the same number to merge them.
The purpose of this game is to make you watch lots of videos so you can collect virtual currency and cash out via PayPal and Amazon gift cards.
There are many similar games on the Play Store that claim to pay hundreds of dollars just for merging numbers and watching videos. They come in different shapes, sizes and colors!
I already reviewed Stack the Numbers, Merge Numbers Plus, Swipe to Blast and a few others!
How Does Drop Numbers Blocks Work?
Installation and Permissions
Drop Numbers Blocks is available on the Play Store for your Android device.
It's important to know that once the app is installed, the developer has will have unrestricted access to content in your phone or tablet.
Yes, that includes your personal photos, files and everything! Since there is no information about the developer, you cannot trust him blindly. So, advise you to think twice before installing this application!
How to Play Drop Numbers Blocks? 
Just tap where you want the block to fall and try to combine the same numbers together.
The identical blocks merge into a single block that has a number which is double the previous one.
Unlike other 2048 games that start with the number 2, Drop Numbers Blocks starts with "128" and follows the sequence: 128, 256, 512, 1K, 2K.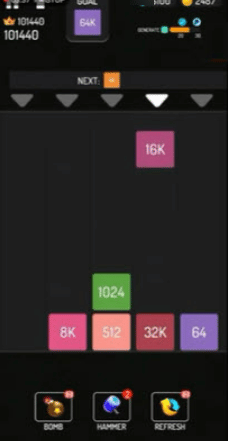 The goal is to combine two blocks "1028" to unlock the "2048" block, which will be destroyed thereafter.
So, what about the money? Every time you eliminate that block, the progress bar with fill up and eventually reach the PayPal logo.
As a result, Drop Numbers Blocks will offer you virtual cash that you can collect after watching a video ad.
Needless to say, the developer is getting paid by advertisers to display videos promoting other apps.
The cash rewards alternate between PayPal and Amazon dollars. So, there are two separate balances, each one requiring a specific amount of withdraw.
Let's talk more about payments in the next section.
How Do You Get Paid? 
Drop Numbers Blocks has an extensive selection of option to cash out via PayPal. It starts at $1,000 and goes all the way up to $9999. That's crazy, right?
But here is the catch ladies and gentleman….
After you reach the minimum redemption amount and request the payment, they say you must watch 70 videos to activate the order. Otherwise, it remains as "processing" forever!
The same thing will happen when you try to withdraw money from your Amazon balance.
Is Drop Numbers Blocks Legit? Does it Pay? 
No! Drop Numbers Blocks will not pay you a dime, even if you watch all those 70 videos.

No game developer can afford to pay $1,000 to everyone who reaches this amount playing a free game.
But even if they could, I am sure they wouldn't transfer the money since none of them are obligated to do so!
It's a shame that many people are still falling for these types of apps, and nothing is done to stop them. Instead, I see more and more applications flood Google Play with no restrictions.
Brazilians, Be AWARE! 
I noticed that Drop Numbers Blocks targets mostly Brazilians since there are lots of Youtubers advertising the game in that country.

This reward platform is going viral! Cash out via PayPal, Visa, Gift Cards, and in-game currencies - Click here to find out how to generate an extra $10+ per day! 
I am from Brazil, so I can understand what's going on. Those Youtubers are showing income proof and claiming they received $10 from the Chinese company.
Please, don't fall for those unscrupulous marketers on social media. If they are truly making money, that is because there are getting paid by the developer to promote the app.

Otherwise, they are just fake payment screenshots! Trust me. I checked hundreds of comments below the videos and no one seems to make any money!
Conclusion 
Drop Numbers Blocks is a nice game to pass the time, but there is no chance to win any money.
The dollars are completely fake and can never be redeemed even after the requirements are met.
The only person who is making profits is the owner, who collects advertising fees while you are wasting time and internet data.
Is There an Alternative to Drop Numbers Blocks?
I am not aware of any 2048 game that pays. Unfortunately, all of them are using fake rewards to lure people into watching countless ads.
You may be wondering whether you can play a mobile game that transfers actual money to PayPal.
Yes, you can! The ones developer by WINR Games are rewarding users through their weekly prize draws. I really like this particular game to train my math skills. 
They also let players convert tickets into cash and withdraw $10.
Just be aware that not everyone receives the payment, since the company's priority is to generate profits.
Earn a Full Time Income Online 
If you wish you could make a significant amount of money from the internet, I suggest you operate your own online business.
At first, you may think this is too complicated. But I can assure you that all you need is the motivation to succeed and work ethics.
In 2015, I started this website with no previous experience in web design or marketing.
I joined this excellent step-by-step program that helped me set up a WordPress site, rank on Google, and make profits.
An online business allows me to work whenever and wherever I want. That's me in the beautiful Koh Rong Island in Cambodia!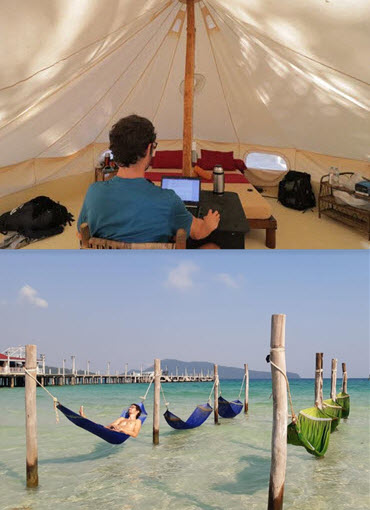 "You are never too old to set another goal or to dream a new dream." So, join for free and take your first steps today! 
Final Words
Thank you for reading my Drop Numbers Blocks review. I hope it helps!
So, did you reach the cash out limit? Did you get paid? Let us know in the comment box!

Peace!