Welcome to my Bubble Breaker app review!
Today, we are going to dissect the popular Bubble Breaker and explain why you want to avoid it at all costs.
You have probably found this application through an ad saying you could win in-game currency.
That's a very tempting offer since most people cannot afford to spend money on Free Fire, PUBG, ROBLOX and other games.
For example, 2420 FF Diamonds are being sold for whooping £14.82 on Dundle. That's a lot of money!
Bubble Breaker claims you can redeem 10,000 FF Diamonds if you accumulate 10,000 diamonds.
I pretty sure you can't wait to tap the redeem button and enjoy excellent perks like skins, weapons and more!
However, I urge you to read this post to find out whether you will receive in-game currency or not. Is Bubble Breaker legit or fake? Let's find out!
TOP Recommendation: Why chasing in-game currency when you can make thousands of dollars online and buy anything you want? This step-by-step program helped me reach 2,000 USD per month and quit my job in 2019!
Bubble Breaker App Review 
Full Name: Bubble Breaker – Aim to Win (Early Access)
Developer: Sprfuntechbr
Payout Threshold: 10,000 diamonds
Price: Free (no in-app purchases)
Overall Rating: 1/5
What is Bubble Breaker? 
Bubble Breaker is a classic ball shooting game similar to Bubble Perish and Frenzy Bubble Shooter.
While you eliminate bubbles of the same colour, you will collect diamonds redeemable for in-game currency.
The app has reached the remarkable number 1 million installs. However, it's still classified as "Early Access", meaning it's still in development mode.
For me, this is a big red flag because it suggests the developer doesn't players to review the game on Google Play.
How Does Bubble Breaker Work? 
Installation and Permissions 
Bubble Breaker can be installed for free on the Play Store and requires some inconvenient permissions.
It may come as a surprise, but this app can read, and even delete contents in your USB storage. Yes, I am talking about your personal gallery and other files!
I am wondering why they have this kind of permission considering the game has no uploading feature. It's strange, to say the least!
How to Play Bubble Breaker? 
Simply aim and shoot towards sets of 2 or more bubbles of the same color.
You must complete the level by eliminating all bubbles on the screen without running out of moves.

If you want, you can conveniently tap to switch the balls.
Note that some bubbles contain coin and diamonds that are added to your account once you blast them.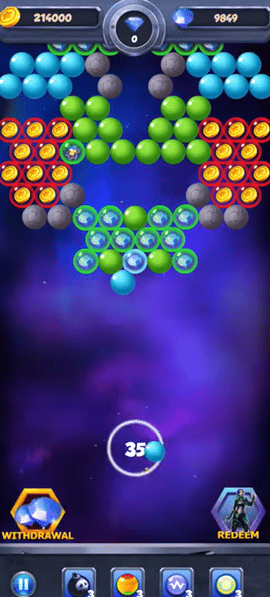 Once you clear the stage, Bubble Breaker will give you hundreds of diamonds according to your performance.
You can always tap the "free" button and watch the ad in order to multiply the reward by up to 10 times.
As you achieve progress in the game, you will unlock props such as bombs, multi colored bubbles and more!
Bear in mind the game opens an insane number of adverts while you are playing, which consume your battery and mobile data.
How to Collect In-Game Currency? 
At first glance, Bubble Breaker makes it very easy to collect diamonds and redeem for your favorite in-game currency.
Once you accumulate 10,000 diamonds, open the redeem page and select any of the three games: 
ROBLOX – Earn 20,000 Roblox
Mobile Legends – Redeem 13,500 diamonds
Free Fire – Earn 30,000 FF diamonds
Next, enter your Player ID twice and click "Redeem". In the next section, I will explore what will happen if you try to collect your reward.
Is Bubble Breaker Legit? Does it Pay? 
No, it doesn't! Bubble Breaker will not transfer game items to your user account even if you meet all the requirements.
They didn't tell you from the start, but reaching 10,000 is only the first step towards the prize.

After you tap the redeem button, it says you must watch 50 videos to activate your order.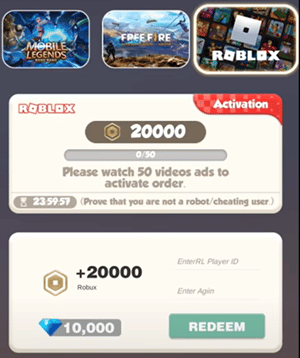 Now that they betrayed your trust with this hidden requirement, how can you keep using this app?
I hope you didn't go though the next phase because this is what will happen.
They will tell you the money will be transferred to your PayPal account in 24 hours. WOW! Now they are saying you will earn real money?
Did they ask your PayPal email to process your payment? NOPE!

This reward platform is going viral! Cash out via PayPal, Visa, Gift Cards, and in-game currencies - Click here to find out how to generate an extra $10+ per day! 
Again, they entice you to watch more ads to speed up the reward by 60 minutes. Well, that's only another lame excuse to make more profits at the expense of your time!

Conclusion 
Bubble Breaker is a nice game to kill time and boredom, but the reward is just an illusion.
It will make you watch an insane number videos, most of which leading to fake reward games in the likes of Cube Crack, Fairy Tree and Bubble Connect.
Don't fall for any of them! Otherwise, you will lose even more time unnecessarily.
So, how can you get in-game items without breaking the bank? Well, you could join a GPT platform, and collect points for completing surveys or sponsored offers.
For example, Prizerebel allows members to redeem ROBLOX, League of Legends, and Steam gift cards worth $10.
You can also cash out via PayPal, Visa Prepaid card, Amazon gift card and several other methods!
Final Words
Thanks for visiting my blog and reading my Bubble Breaker app review. Kindly share your thoughts about this game in the comment box below.
Peace!