Welcome to my Bubble Connect app review!
Today, we are going to expose a mobile game that offers the opportunity to win over $1,000, an iPhone 12 Pro and other big prizes.
This application gives you virtual dollars just for connecting blocks of the same color and watching videos. It doesn't get any easier than that!
Thousands of people are installing Bubble Connect with the expectation of getting paid and improve their financial life.
I have reviewed countless games that don't keep their word of rewarding players, and I am yet to find one that actually pays through PayPal.
Don't forget to check my top-rated Gpt site. Members are making an extra 200 USD per month by installing sponsored apps and giving their opinions. Join now and get paid by PayPal or gift cards. 100% Legit and no verification required.
Bubble Connect App Review 
Name: Bubble Connect (Early Access)
Developer: Jia22
Eligibility: Worldwide
Minimum Payout: $300
Price: Free (no in-app purchases)
Overall Rating: 1/5
What is Bubble Connect?
Bubble Connect is an addictive game where you connect three or more bubbles of the same color to destroy them. It's very similar to this merging dots game! 
Each level has a target you need to meet in order to pass the level.
As you eliminate specific bubbles with the PayPal logo and gift symbols, you will accumulate virtual dollars and puzzle pieces.
The game claims if you collect $300 or enough items, you can request the payment or claim the prize.
Bubble Connect is still on "Early Access", meaning the app hasn't been fully launched yet. This is important to know since games in developments don't accept reviews on Google Play.
How Does Bubble Connect Work? 
Installation 
Bubble Connect is only available for Android users. You can download and install the application for free through the Play Store.
By installing this app on your phone or tablet, you grant permission to modify and delete content in your USB storage. That includes photos, media and files!
It's unclear whether the developer can access your personal files without your explicit consent. So, I prefer to stay on the safe side and uninstall these apps after testing them.
How to Play Bubble Connect? 
Just link 3 or more blocks of the same color to eliminate them and collect diamonds.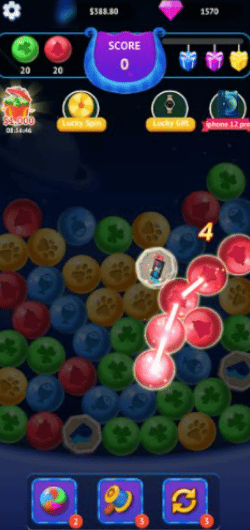 By connecting bubbles near gift boxes, you will also earn rewards such as virtual dollars or puzzle fragments.

Once you eliminate a specific number of bubbles and complete the level, you will get the chance to flip 4 cards and win more rewards.
Flip 4 cards to get iPhone 12 Pro puzzle pieces.
Just a reminder, you will always have to watch a video to collect virtual cash and puzzles that supposedly lead to rewards.
If you connect 10 – 14 bubbles of the same color, you will create a purple marble that blasts a large number of bubbles.
Receive Money Via PayPal
Play Bubble Connect until you reach $1,000 and fill in your PayPal account. According to the app's instructions, you will have 24 hours to receive this bonus.
Redeem Diamonds
You can supposedly exchange your diamonds for Amazon, Visa, Steam, Google Play, Playstation and Xbox gift cards.
The minimum requirement is 980K diamonds, which are equivalent to $100.
How Can You Win an iPhone 12 Pro?
Bubble Connect claims you can win an iPhone 12 worth $1299 if you collect 100 puzzle fragments and watch 200 videos!
Earn extra puzzles if you complete daily tasks such as winning 10 levels or playing the Lucky Spin 10 times.
Win Big Prizes
Believe it or not, Bubble Collect tries to convince players they can win even more prizes if they collect 10 puzzle pieces. Heer is the full list:

Sumsung Galaxy S21
Apple MacBook Pro
Apple AiPods Pro
Airpad Pro
Sony WH-100XM4
Nintendo Switch
Fossil Gen SE
Pandora Jewelry
iRobot i7 Vaccum
Puzzle fragments can be obtained by playing connecting adjacent bubbles, watching videos in the Puzzle Bubble, or playing the Lucky Spin.
Is Bubble Connect Legit? Does it Pay? 
Nope! You won't receive any money from this company even if you play non-stop for the eternity.
Once you press the redeem button and provide your PayPal account, the game shows its true colors by exposing a hidden requirement.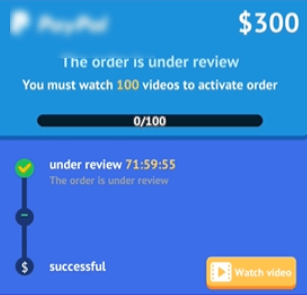 This reward platform is going viral! Cash out via PayPal, Visa, Gift Cards, and in-game currencies - Click here to find out how to generate an extra $10+ per day! 
You must watch 100 videos to activate your $300 PayPal order. But do you really think they will pay you after that?
Of course not…

The order remains in progress and they persuade you to watch another 200 adverts within 5 days to get the reward.
In other words, you will never receive the money into your PayPal account. One person reported watching 3,000 videos with no money to show for it.
I feel sad for people who don't do proper research and end up wasting hours to reach app requirements.
In the meantime, the developer is making real money from all the advertising displayed during the game. This is a such a disgusting business practice!
Conclusion 
Bubble Connect lures players into watching hundreds of clips with the expectation to cash out via PayPal and gift cards.
They even entice people with eye-catching prizes such as iPhones, MacBooks, Samsung smartphones and more!
Don't listen to what they say! You won't receive any prize despite your commitment to fulfill all the requirements.
Everyone who values their time should avoid Bubble Connect and search for proven strategies that put real money in the pocket. 
Verdict: Not Recommended 
Earn a Full Time Income Online
Playing games for fake dollars is not nice! It can trigger your emotions and cause unnecessary stress and despair!
Why? Because you could use that time to learn something new and even build a lucrative online business.
That's exactly what I did back in 2015! I created an affiliate site that pays for all my living expenses, even while I am travelling the world.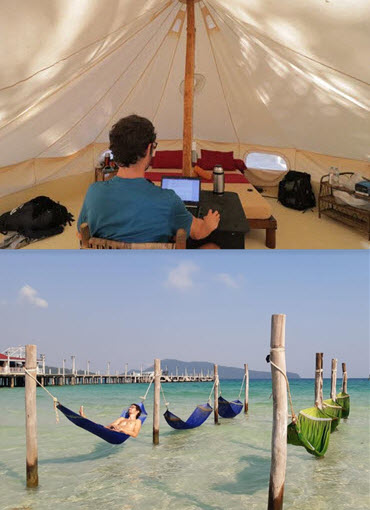 This step-by-step program helped me create this site and apply effective strategies to rank high and attract a massive audience
Anyone can generate thousands of dollars per month with this comprehensive training and benefit from a freedom lifestyle like I do.
Final Words
Thanks for reading my Bubble Connect app review. I hope it was helpful!
If you would like to share your thoughts about this crazy application, let us know in the comment box.
Peace!