Welcome to my Merge Bird App Review!
I came across Merge Bird after reviewing another money-game by the same developer called Nengchaoer.
This game gives you virtual dollars that you can supposedly cash out to PayPal after 24 hours or after reaching $1,000.
The possibility of making thousands of dollars just by playing a merge game blows my mind and seems too good to be true.
However, it seems to be working well for the developer, who got over 100,000 installations so far!
My missions with this blog is to expose apps and site so that people understand what they are getting themselves into. Ultimately, it's all about saving people's time and money!
So, can you make real money with Merge Bird? Is a legit or fake application? Keep reading to find out!
Top recommendation: This step-by-step program helped me earn $2,000+  per month and quit my job in 2019. Claim your free membership here! 
Merge Bird App Review 
Name: Merge Bird (Early Access)
Developer: Nengchaoer
Eligibility: Worldwide
Minimum Payout: No threshold required
Price: Free (no in-app purchases)
Overall Rating: 1/5
What is Merge Birds?
Merge Birds is an addictive merging game in which players combine bird blocks of the same level to earn virtual dollars.
This concept can be found in many 2048 games, such as Merge Emoji, Perfect 2248, Drop Numbers Blocks, just to name a few.
Over 100,000 people have installed the game so far, which is a remarkable achievement considering the strong competition.
The main reason is, of course, the opportunity to win money while having fun with casual game. It's so easy that it feels like a wonderful dream!
Merge Birds is still in development and therefore, doesn't allow players to express their opinions on Google Play.
How Does Merge Birds Work? 
Installation 
Merge Birds is available for Android devices through the Play Store. Before installing any application on your phone, it's important to know what permissions it requires.
Most people are clueless, but this app can read, modify, and even delete your files.
I am not saying the developer can or will violate content in your device, but I just can't wrap my head around this type of permission. Why does a game need to access to your photos, media and files?
Sign-in Bonus
Once you open Merge Birds, you will get a sign-in bonus of $20. Collect higher cash rewards by signing in for 7 consecutive days.
How to Play Merge Birds? 
Merge Birds is a very simple game!
Tap the screen to drop the bird block and try to match it with another identical bird of the same level at the bottom.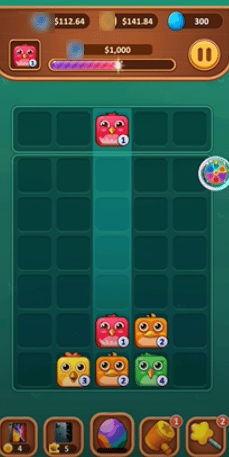 When two identical blocks collide, they will merge into a higher level bird and you may earn Amazon or PayPal cash rewards.
Depending on your country, you may get GCash coupons instead.
Merge Bird offers you virtual cash coupons after you match multiple blocks at once (combo). But as expected, you must tap the "collect" button and watch the advert to receive the dollars.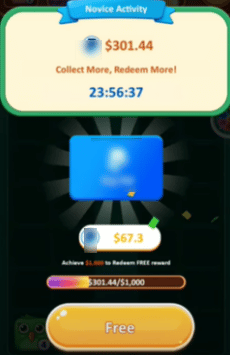 Another factor that will trigger cash rewards is when you unlock a new level. In this case, you can flip 4 lucky cards and win additional rewards.
Sometimes, you drop an egg with the Apple logo to destroy a block of any level and win a puzzle fragment.
According to the app, you can win an iPhone 12 Pro if you collect 300 of these fragments. 
As if that wasn't good enough to lure players into watching videos, Merge Birds also allows you to collect lucky coins and take part in the prize draw.
There are three prizes: MacBook Pro 12, Apple iPad Pro and Apple Airpods.
Be aware also of this fake bird game 
How do You Get Paid? 
Merge Birds claims you can withdraw all the money you collect within teh first 24 hours. However, you can cash out immediately if you reach $1,000!
It will be quick and easy to meet this requirement since the cash rewards are always generous!

After reaching the payout threshold, they ask you to enter your email, mobile number or account.
This cash out form is very suspicious and raises a big red flag! Because if they pay via PayPal, they should be more specific and ask for your PayPal email address and not your phone number or another account.
I hope no one enters critical information there, such as bank details or passwords. Please be careful! 
Is Merge Birds Legit? Does it Pay? 
No, it doesn't! Merge Birds won't pay you a dime nor let you claim the expensive iPhone 12 Pro. There is no chance!

This reward platform is going viral! Cash out via PayPal, Visa, Gift Cards, and in-game currencies - Click here to find out how to generate an extra $10+ per day! 
Once you enter your details to withdraw the money, it says you must watch 30 videos within 12 hours to activate your order.
Sadly, they will tell you that the daily limit of 10 orders have been sent today and demand more video views from you.

The magic solution? Watch 100 videos to apply directly without waiting!
That's a classic excuse to make players stick to the game even longer and generate more ad revenue for the developer.
Conclusion 
If you want to make real money, don't waste your time playing Merge Birds because it won't pay you a dime!
Forget about how the game was advertised because none of that is real!
At the end of the day, you are just filling the developer's pockets with money every time you watch a commercial.
Avoid playing game that claim to pay thousands of dollars and focus on real strategies like the one I mention in the next section.
Verdict: Not Recommended
Earn a Full-Time Income Online
One of the best strategies to make money online is to create an internet business allows you to monetize your content.
Once you have a decent audience, you can get paid by promoting products as an affiliate, or by displaying banners.
This is ideal if you wish to work remotely and enjoy the freedom of being your own boss.
This step-by-step program helped me start on the right feet and grow a successful website that covers all my living expenses.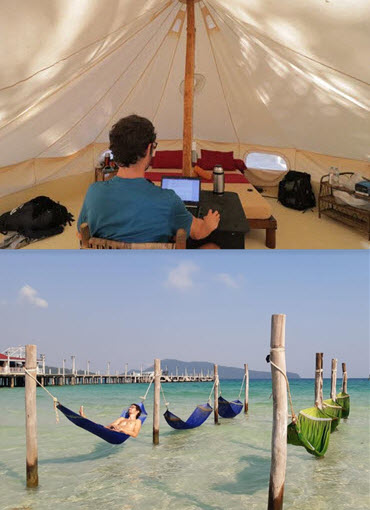 Thanks to this platform, I can work from anywhere thanks to the effective strategies they showed me! Click here for full details!
Final Words
Thanks for reading my Merge Birds app review. I hope it was helpful!
If you have questions, or thoughts about this application, let us know in the comment box. I am always glad to help!
Peace!