Welcome to my Bird Linked app review!
In today's post, my mission is to expose another merge game that promises to pay thousands of dollars.
All you have to do is link birds of the same number and accumulate virtual cash.
If you live in the UK, the US, you can supposedly redeem all the money via PayPal or Amazon after 24 hours.
Bird Link work with other payment methods, and you can cash out as soon as you reach $1,000.
Let me remind you that Bird Link is also enticing players with the new iPhone 13 Pro, and other excellent prizes.
Since you value your time, you are here to find out whether this app is legit or fake. Bear with me as I explain exactly how this game behaves.
Before you leave this site, don't forget to check out my top-rated GPT site. Members are making $200+ on the side by completing simple tasks and referring friends. Cash out via PayPal and gift cards!
Bird Linked App Review
Full Name: Bird Linked (Beta)
Developer: Nengchaoer
Payout Threshold: $1000
Price: Free (no in-app purchases)
Overall Rating: 

1/5
What Is Bird Linked? 
Bird Linked is another casual game where players connect birds to collect cash rewards and prizes.
Your job is to link and merge at least two identical birds with the same number (level).
After merging the birds, you will earn PayPal, Amazon or another type of coupon depending on your country.
Then, you can supposedly withdraw the money as soon as you reach $1,000 or after 24 hours.
Playing Bird Link feels like you have just found a gold mine because the cash prizes are so unrealistic!
How Does Bird Linked Work? 
Installation 
Bird Linked is available on the Play Store for Android users in any country.
Before installing any mobile application on your phone, always check the app permissions.
With Bird Linked, you grant access to your personal files, such as photos and videos. They can read, modify and even delete your data.
I have installed many mobile games on my phone and never had any issues. Not that I know of, but you never know!
Daily Check-in
Bird Linked gives you bonuses when you sign in for 7 consecutive days and watch a video. You will earn virtual cash and puzzle pieces.

How to Play Bird Linked? 
Simply draw a line connecting every bird of the same number. You can move in all directions – left, right, up, down and diagonally.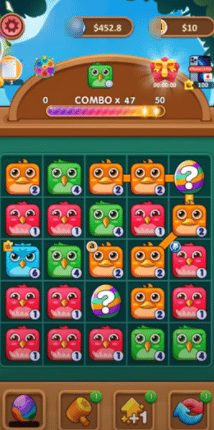 All the linked birds will merge into a higher level bird and maybe trigger a reward.
There is no target, so you are free to merge as many birds as you want and grow your cash balance.
You will also collect cash coupons or gold puzzles after linking the colorful bird's egg.
To receive the reward, you must you to tap the "collect" button and watch the sponsored video.
Of course, the developers are getting paid to display advertising on your mobile device. So, the more you play, the more they earn!
When the progress bar is completed, the game allows you to open eggs and win more rewards. Open the all the 4 eggs to earn an extra lucky reward.
Bird Link also features the lucky wheel that awards cash prizes just by spinning and watching videos.
How Can You Cash Out? 
Bird Linked allows you to collect unlimited profits and withdraw after 24 hours.
You can also cash out immediately once your balance reaches $1000 or the equivalent in your currency.
The payment method depends on your country, but PayPal and Amazon gift cards are the most common options.

Earn an iPhone 13 Pro 1TB
As you play Bird Linked, you will collect gold puzzle pieces that accumulate in your account.
The company claims that you can win an iPhone 13 if you collect 400 puzzles and check-in daily for 7 days.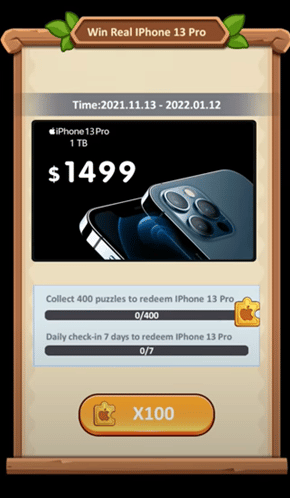 Win Apple products
As if cash and iPhone were not good enough, you can win a Macbook Pro 12, Apple iPad and Apple Airpods.

This reward platform is going viral! Cash out via PayPal, Visa, Gift Cards, and in-game currencies - Click here to find out how to generate an extra $10+ per day! 
Watch 30 videos to collect lucky coins, which you can use as prize draw entries.
You need to click the pen symbol on the left side and provide your shipping address to receive the prize.

Is Bird Linked Legit? Does it Pay? 
Bird Linked behaves just like most fake money games. It entices people to watch hundreds of videos and doesn't pay a dime! 
But their smart tactic goes way beyond asking people to reach $1000 and ignoring payment requests.
Once you provide your PayPal details, they say, "Congratulations, please watch 30 videos within 12 hours to activate your $1,000 order.
This bird merging games uses the same strategy to squeeze even more revenue at the expense of people's time.
They didn't mention about order activations before, which is a big red flag. What else are they hiding from you? Can you expect more surprises after watching all the videos?
Of course you can!
Next, they will tell you that the daily limit is 10 orders, and that all orders have been sent out today.
What you can do is watch 100 videos to apply directly without waiting.
This is a such a cliché because I reviewed many apps that use the exact same wording and excuse.
I hope you didn't waste your time and expensive mobile data watching so many clips.
Conclusion 
Bird Linked features excellent graphics and gameplay. It's great for killing time, which is probably the opposite of what you want.
App developers should never advertise a casual game as an opportunity to money, unless it was proven to pay.
Otherwise, people will find it abusive and misleading since they expect to cash out once they meet the conditions.
Verdict: Not Recommended
If you want to earn a little extra cash on the side, I advise you to join long-lasting platforms. Reward apps are usually very unreliable!
There are many legit options that allow you to complete simple tasks in return for real money. Prizerebel is currently my top recommendation. 
You can rank up $200 per month depending on how many surveys and offers you complete.
Now, if you are searching for an opportunity to work remotely, an online business might be the best strategy for you!
By creating niche sites, you can grow a substantial income from home and eventually kiss your job goodbye.
That's what I did! I joined Kyle's step-by-step program, who helped me create this lucrative site you are reading right now.

Today, I can open my laptop and work from anywhere as long as I have an internet connection.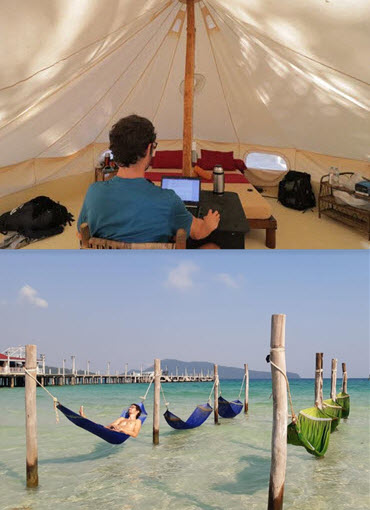 >> Check out my #1 recommendation and join now for free! <<
Final Words
Thanks for taking the time to read my Bird Linked app review. I hope it was informative enough!
If you want to share your thoughts about this game, leave us a comment below.
Peace!