Welcome to my Slots for Happy app review!
You are here because you found Slots for Happy and the opportunity to win $1,000 just by pressing the spin button.
The game features a 3-reel slot machine you can play for free and earn PayPal coupons, coins and other items.
Then, you can supposedly withdraw the money once you reach the minimum cash out requirement.
I lost count of how many fake money games I tested in the last few years. They advertise as if you could make a quick buck, but it's all lies to get you to watch lots of videos.
You don't want to waste your time tapping your phone screen for nothing. So, will Slots for happy pay you? Is it legit or fake?
Let's find out!
Wasting too much time with fake money games? Check out my #1 recommendation. This step-by-step program helped me generate over $2K+ per month. Join the free starter membership here and start now! 
Slots for Happy App Review 
Full Name: Slots for Happy (Early Access)
Developer: AlwaysWin
Payout Threshold: $1,000
Type: Entertainment with no financial risk
Price: Free (no in-app purchases)
Overall Rating: 1/5
What is Slots for Happy? 
Slots for Happy is an Android game that allows you to spin slots for free for a chance to win real money.
All you have to do is tap the spin button and match different symbols that trigger virtual rewards.
They will entice you to watch sponsored video with the promise of multiplying your cash rewards.
Most players are more than happy to watch them because they want to cash out $1,000 as soon as possible. Do you understand what is going on here?
How Does Slots for Happy Work? 
Installation
Slots for Happy is available for free on Google Play. There are no in-app purchases in order to play the game, so you are not putting your hard-earned money at risk.
Be aware this game has access to photos, media and files in your USB storage, which is very odd.
Usually, social media apps require this type of permission to let users to upload pictures. But a game? Why would they need that?
Getting Started
First, you must read and accept the Privacy Policy.
Right off the bat, I noticed Slots for Happy has no Terms of Service, which is a big red flag. 
The reason is that legit sites and apps usually provide detailed information about rewards and contest rules.

That's the minimum you should expect from a company that supposedly pays users to play or complete tasks.
Get paid real money for your online activity – Click here and join Prizerebel for free! 
How to Play Slots for Happy? 
Before the game starts, it will show you a page with the saying: "Collect $1,000 to collect PayPal card". 
It also shows a countdown from 24 hours, suggesting that you have a limited time to reach the target.
Just tap the spin button and wait for the reels to stop at a winning combination.
Free spins are always added to your account every 2 minutes. But you can watch a video if you run out of spins and you don't want to wait.
If you match 3 PayPal logos, you will receive a virtual coupon with a decent amount of money.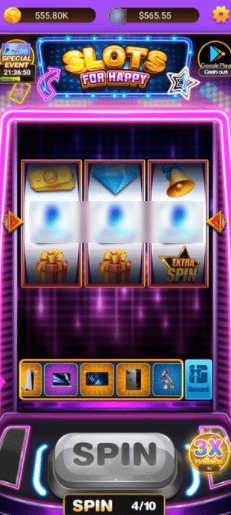 Click the "Claim" button and watch the commercial to collect your reward.
You can also match other symbols such as Bonus, Extra Spin, Gifts, VIP cards, diamonds, coins, gold tickets and bells.
If you get two "WILD" symbols together with one of those above, you will get more rewards.
There are so Many Rewards! 
If you already installed Slots for Happy, you probably know what you can do with all those virtual items.

Here is a screenshot of the cash out page with all the conditions to withdraw $1,000: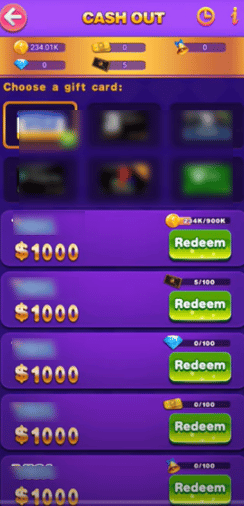 Slots for Happy gives you 6 gift cards options when you reach the payout threshold:
Visa
Amazon
Steam
Google Play
Playstation
Xbox
You will also get puzzle pieces when you match 3 gifts symbols. They can be used to redeem real world gifts such as video games, iPads, smartphones, and laptops.
Don't forget you can withdraw the money via PayPal when you reach that magic $1,000 target.

This reward platform is going viral! Cash out via PayPal, Visa, Gift Cards, and in-game currencies - Click here to find out how to generate an extra $10+ per day! 
Is Slots for Happy Legit? Does it Pay? 
No, it doesn't. Unfortunately, Slots for Happy is not a money-making app by any means, so you should now expect to get your payment or prize.

But they will never tell you that! The reason is that they want you to play and watch their sponsored videos for as long as possible.
After you reach the payout threshold and try to cash out, Slots for Happy will demand you to watch an extra 20 adverts.
But when you get there, they will slap your face with another requirement. Now, they say your order is under review and you must watch 60 videos in 1 day to get the reward.
Do you think this is the end? Oh, it's just the tip of the iceberg, my dear!
After that, Slots for Happy will increase the requirement by 200 videos. Here is the proof: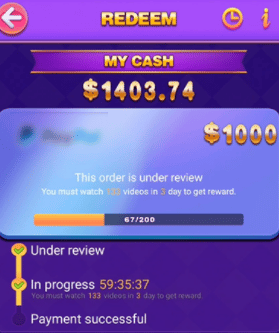 What a joke, folks!
Conclusion 
Slots for Happy should actually be named Slots for Disappointment.
The game pushes copious amounts of advertising down your throat so the developer makes money off your time.
That would be perfectly fine hadn't the game enticed players with rewards that don't actually exist.
I hope you don't go through this never ending sequence of requests that only benefit the developer. There is no real money to be made with the slot machine simulation.
Verdict: Not Recommended 
Earn a Full-Time Income Online
If you dream about making thousands of dollars online, you should avoid these applications and focus on providing value.
One of the best strategies to accomplish this is by building a content-based business. You only need a laptop, an internet connection and a strong desire to succeed.
This step-by-step program helped me grow a significant online audience and make over 2,000 USD per month!
That allowed to escape the dreadful 9-5 and travel to many countries while receiving commissions month after month.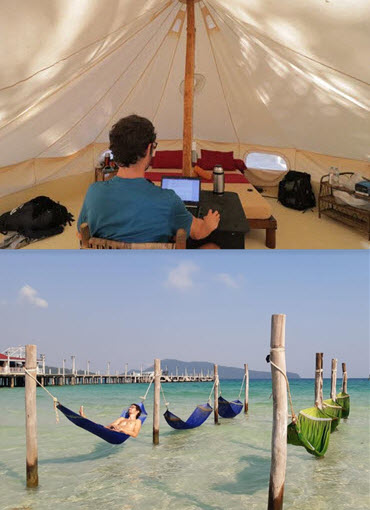 Does this lifestyle appeals to you? Do you have the drive to succeed? If so, click here to learn more! 
Final Words
Thank you so much for reading my Slots for Happy app review until the end. I hope it was informative enough!
Kindly share your thoughts about this game in the comment box below. See you in the next post!

Peace!