Welcome to my Plinko Winner app review!
Perhaps you already have Plinko Winner on your phone with hundreds of pounds sitting still in your account.
You are not alone. Thousands of people are playing this game in the hope of withdraw over £240 to PayPal.
However, we don't see anyone who actually made any money with this application.
Why? Because the app still in development, and as you may know, "Early access" apps block reviews on Google Play.
You deserve to know if this is a legit or fake application before wasting your valuable time and data.
After all, the company or individual who owns it is collecting ad revenue at every video you watch.
Is it possible to earn real money by playing a game like Plinko Winner? Keep reading to find out!
My Recommendation: Check out the top gpt site where members are making an extra 200 USD per month. Earn points by completing simple online tasks and easily withdraw the money via PayPal or gift cards. 100% Legit and no verification required.
Plinko Winner App Review
Full Name: PLinko Winner (Early Access)
Developer: amofun
Eligibility: Worldwide
Price: Free (no in-app purchases)
Overall Rating: 1/5
What is Plinko Winner?
Plinko Winner is another dropping ball game in which you collect virtual cash and tokens just by tapping your screen.
As the balls hit slots at the bottom, you will have the chance to spin the wheel of fortune and collect rewards.
The game dishes out coins and virtual cash and allows you to redeem using different payment methods such as PayPal, Cash app, Coinbase and Tez.
Plinko Master has been installed over 100,000 times and was developer by Amofun.
I coudn't find any information about the company or individual who owns this application. There is not even a name to be found!
The only thing we know is their email address and the fact they also operate a few other apps, such as this cube merging game. 
How Does Plinko Winner Work? 
Games like Plinko Winner generate profits by displaying sponsored video while you make achievements.
By offering virtual cash, the developer encourages more people to download the app and play for much longer.
That's how they can boost revenue without designing innovative titles. After all, players are hooked by the opportunity to make money instead of the game itself.
Don't waste more time. Collect points and redeem via PayPal here! 

Installation and Permissions
Plinko Winner is available on Google Play for Android devices
Be aware the developer has access to photos, media and files you store on your phone. They can read, modify and even delete the data.
Is this the reason the app is classified as "Horror"? Just asking…
How To Play Plinko Winner? 
Just keep tapping the screen to drop the balls inside the pegboard. You can decide the places where you want the balls to fall.
Next, they will hit obstacle and land on slots with specific multipliers.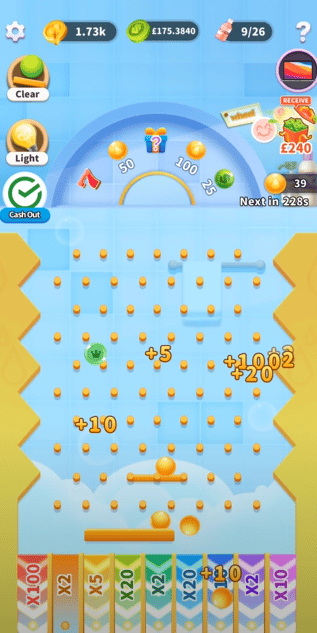 Yellow balls award coins, whereas green balls will give you virtual cash in your country's currency.
For example, in the UK, when a green ball hits the 10x slot, you will earn £0.08. 
You can also spin the lucky wheel whenever all the slots are activated. It gives you the chance to win a large number of balls, items, and bonuses.
If you land on the number 7, all the obstacles will vanish, and several green balls will fall straight into the slots.
Therefore, you can make a decent amount of "money" in a short time.
If you run out of balls, you can always watch a video or spend £1.6 to collect an extra 50 balls.
Don't forget to use these two tools:

Lights: Light 1 bulb to activate the lucky wheel.
Clear: Clear all obstacles for 60 seconds.
Check out the top sweeepstakes apps here! 
Winning Prizes
Plinko Winner claims you can win several prizes, such as a MacBook Pro 13 and a Playstation 5.
To claim your reward, you must collect 10 puzzle pieces by playing the game or tapping the bubble of puzzles.
How Do You Get Paid? 
Plinko Winner makes it seem very easy to withdraw the money using different payment methods like PayPal, Coinbase, Cash App, and more.

This reward platform is going viral! Cash out via PayPal, Visa, Gift Cards, and in-game currencies - Click here to find out how to generate an extra $10+ per day! 
In the UK, the minimum cashout requirement is £240, but you can supposedly redeem higher amounts up to £1600. Crazy, right?
But now you deserve to know the truth. Will you get paid or not?

Is Plinko Winner Legit? Does it Pay?
Nope. Plinko Winner doesn't pay!
Once you reach the cashout limit and request the payment, it says your money will be transferred to your PayPal account in 7 days.
There is a countdown you can see on the screenshot: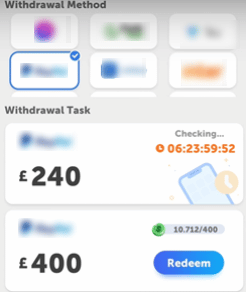 I'm sure many people will wait patiently for 7 days and even try to collect even more money.
Unfortunaltey, all your orders be ignored because the developer has no obligation to transfer the funds.
If you check the Terms of Service, it says any cash balance in your account does not constitute real balance nor reflect any stored value.
Besides, the app may expire free coupons given to you at any time. That's enough proof that they have no responsibility to fulfil payment requests.
Conclusion 
Don't play any Android or iOS game in the hope of making hundreds or thousands of dollars.
That's just an illusion to make players watch an insane number of videos with no guarantees.
You should avoid all games that try to get your attention with enormous sums of cash rewards. They never pay out!
Make no mistake. You are just wasting your time and expensive mobile data using these apps.
Verdict: Not Recommended 
Earn a Full-Time Income Online
Instead of playing games that don't pay, I suggest using a proven business model that can help you earn life-changing commissions.
In 2015, I created an affiliate site that allows me to make profits simply by creating helpful content
I coudn't ask for a better work-life balance as I can set my own schedule and even work from a tropical paradise.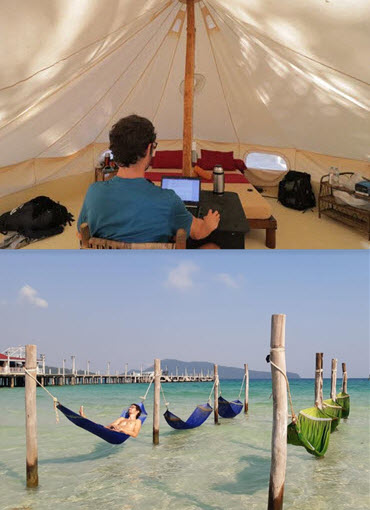 This step-by-step program helped me create this site from the ground up and attract a massive audience.
Anyone can achieve success by following their coherent plan of action and taking massive action.

Final Words
Thanks for reading my Plinko Winner app review!
I hope it answers all the questions about this game. If you want to share thoughts on it, please feel free to use comment section below.
Peace!