Welcome to my Bubble Garden app review!
Are you trying to make money by playing Bubble Garden?
If so, I highly encourage you to read this post to understand how it works and why you should avoid it.
The developers advertised this app as an opportunity to collect hundreds of dollars and cash out via PayPal.
They also entice user with the new iPhone 13 and other excellent prizes.
I lost count of how many fake reward games I reviewed in this blog, and yet, new ones are launched almost every single day.
So, is Bubble Garden legit? Will they pay you once your cash balance reaches the target amount?
Let's find out!
Are you searching for a legit platform that transfers real money to PayPal? Click here and discover my top-rated gpt site! Members are making over $200/mo on the side. 100% legit and no verification required.
Bubble Garden App Review
Full Name: Bubble Garden (Early Access)
Developer: Jia22
Eligibility: Worldwide
Price: Free (no in-app purchases)
Overall Rating: 1/5
What is Bubble Garden?
Bubble Garden is an addictive game where you connect identical bubbles to eliminate them and collect rewards.
The name of this app comes from the fact that each bubble is represented by a specific fruit.
As you get rid of the bubbles, you will get diamonds, cash coupons, and lucky puzzles.
You don't have to make any deposit to play this game and yet, you are led to believe you can withdraw real money through PayPal.
So, many people see in this app an opportunity to earn a decent income without risking their hard-earned money.
How Does Bubble Garden Work? 
Installation 
Bubble Garden is available for free on Google Play for your Android device.
Be aware that once the app is installed on your phone, it can access content stored in your USB storage. Yes! I am talking about your photos, media and files!
They can also track your precise location, supposedly to show you targeted advertising.
How to Play Bubble Garden? 
It's very simple! Just link 3 or more bubbles of the same color to blast them all.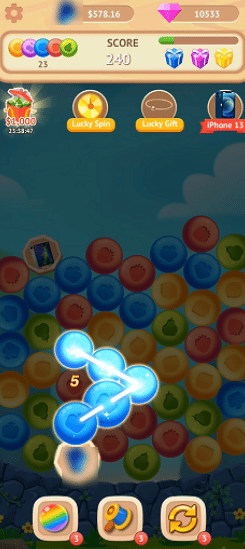 The level is completed once you eliminate all the bubbles indicated at the top of the screen.
Note there are special bubbles with the PayPal logo and prize symbols.
By destroying them, Bubble Garden will offer you cash reward and puzzle pieces related to a specific gifts, such as Sony Headphones, Samsung Galaxy S21, PlayStation, and more.
You must collect 10 puzzle pieces to claim each reward.
After completing the level, you will also get the chance to flip four gift boxes and collect more virtual items.
The virtual cash coupons are only provided if you tap the "Collect" button and watch the video.
How Are You Supposed to Get Paid?
Bubble Garden encourages players to play, watch videos and reach $1,000 to cash out.
You will have 24 hours to receive the $1,000 bonus. This is a smart urgency tactic to compel people to play for hours until they meet the requirements.
Is Bubble Garden Legit? Does it Pay? 
No. Bubble Garden doesn't transfer real money to PayPal nor ship any gifts for collecting puzzles. This is definitely not a real reward application.
When you reach $1,000 and try to cash out, it says the order is under review and you must watch 60 videos to activate it.

Of course, this is just an excuse to make you watch even more advertising and boost profits at the expense of your time.
After watching all the ads, they will increase the cash out requirement to 200 videos! Here is the proof: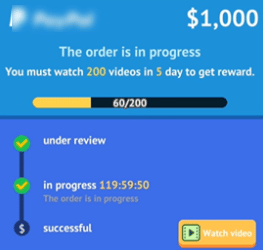 I hope you don't complete this progress bar because your cash balance has no monetary value.
To make matters worse, the developer blocks reviews on Google Play by classifying Bubble Garden as "Early Access".
Most of fake-money games remain in development even after attracting millions of players. Now, you know why! They don't pay and don't want other's to find out from other players' experiences.

This reward platform is going viral! Cash out via PayPal, Visa, Gift Cards, and in-game currencies - Click here to find out how to generate an extra $10+ per day! 
Conclusion 

You should never play any mobile game with the expectation of earning thousands of dollars.
Even though Bubble Garden is free, the developer generates revenue by displaying lots of ads and that tells you everything!
Players are watching those videos not necessarily because they enjoy the game, but because of the amazing cash incentives.
Make no mistake. You are just making the developer richer while wasting your time and mobile data.
Verdict: Not Recommended 
Earn A Full-Time Income Online
Instead of using apps that don't work in your best interest, I recommend a proven business model that can help you make big fat commissions.
In 2015, I created an affiliate site that allows me to generate profits just by creating helpful content to the internet.
Today, I can set my own schedule and work remotely wherever I want.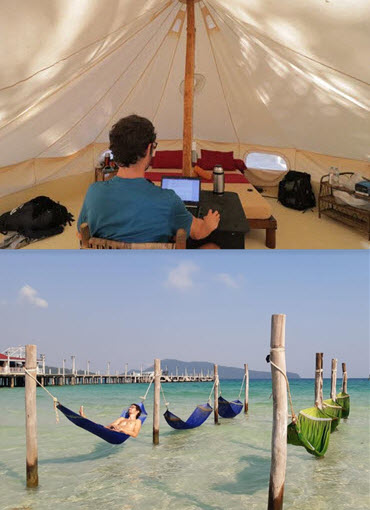 If this lifestyle appeals to you, this excellent program will guide you step-by-step. 
I know many members who also quit their jobs and became full-time digital marketers. So, it works if you complete the lessons and remain consistent!
Final Words
Thanks for reading my Bubble Garden app review until the end! If you want to share thoughts about this application, feel free to use comment box below.
Peace!