Welcome to my Merge Cats app review!
Many people are trying to find legit apps to earn passive income while having fun.
The problem is that most games that claim to transfer hundreds of dollars to PayPal are completely fake! 
I have already tested plenty of deceitful titles such as Kitty Town, Cat Paradise and Dog Condo.
They all trick people into watching videos, but they never pay out! Therefore, I was very skeptical when I first heard about a similar app called Merge Cats.
However, this merge game supposedly allows you to withdraw the blockchain SOUL token to your ETH Wallet.
This gave me a bit of hope since games that pay Cryto are usually more reliable.
So, I installed Merge Cats and played for 1 hour to share with you my experience. I also did some careful research to find out whether players were receiving the reward.
If you are playing Merge Cats with the expectation of earning crypto, you have to the right place!
Searching for a legit platform that transfers real money to PayPal? Click here and discover my top-rated gpt site! Members are making over $300/mo on the side. 100% legit and no verification required.
Merge Cats App Review
Full Name: Merge Cats (Early Access)
Developer: Sergey Zasorin
Eligibility: Worldwide
Price: Free – Lots of in-app purchases available
Overall Rating:

2.4/5
What Is Merge Cats?
Merge Cats is an addictive idle game where you combine same level cats to unlock new ones at a higher level.
The developer claims you can earn crypto tokens just by completing quests and making progress.
Then, your LIS tokens can exchanged for Bitcoin or Etherium paid to your crypto wallet.
The company also operates Crypto Dragons, which has a similar gameplay. You can also collect tokens with this game and transfer using the same platform called Cryptosoul.io.
Cryptosoul claims to offer a new economic model for the gaming industry, whereby players receive real currency for their achievements.
How Does Merge Cats Work? 
Installation 
Merge Cats is an Android game, so it can only be installed in an Android device.
How to Play Merge Cats? 
Merge Cats is a game in which you drag the cats and merge them with cats of the same level.
As you combine identical cats, you will unlock higher level kitties that generate more coins per second and run faster.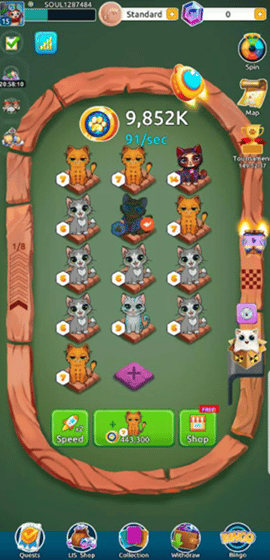 You should place the creatures in the race court, where they will generate coins every time they hit the finish line.
Please note that coins cannot be converted to crypto or any other reward. They can only be used to purchase more cats in the shop to keep merging.
Merge Cats has many other features, such as Speed, Super Cat Manager, Lucky Spin, and capsules.
Players can also take part in tournaments, and even purchase offers like the Auto Merge, +70% Lifetime income, and more!
Earning Crypto With Merge Cats
If you cannot exchange coins for crypt, how are you supposed to get paid? I will explain…
First, it's important to know that you need to accumulate Soul tokens (LIS). That's the virtual currency you need to withdraw crypto.
Besdies, you can only withdraw LIS to your wallet in the real world once you unlock level 14. 
But how can you earn the purple crystal in the first place? You must complete quests and achievements. 
For example, you will collect 0.014 LIS whenever you launch 20 lv. 5 cats. There are many tasks at different levels.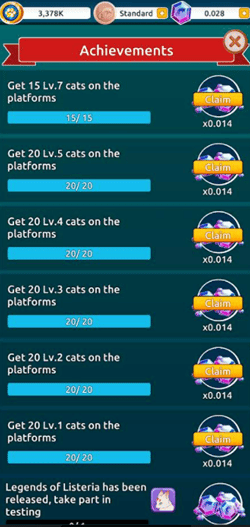 I played Merge Cats for over 1 hours to access the cash out page, and at that point, I had accumulated only 1.2 LIS.
Since 1000 LIS is worth approximately $135, I made only 0.16 USD for this one hour.

What I like about Merge Cats is that there are no ads, which makes me wonder how they are capable of rewarding players.
How to Withdraw Cryptocurrency? 
Here is the part where most people feel stuck. It's a bit tricky because you will have to use their site cryptosoul.io.
Tap the withdraw button and then click the "login" button?. You will be taken to the website where you have to create a free account.
You must also install a compatible wallet to receive the crypto currency. Here are the recommend ones that support SOUL:
Metamask
ImToken
Eidoo
MyEtherWallet
TrustWallet
Next, click on "withdraw to site" and confirm that you would like to withdraw all the crystals to the website.

This reward platform is going viral! Cash out via PayPal, Visa, Gift Cards, and in-game currencies - Click here to find out how to generate an extra $10+ per day! 
Enter your cryptosoul wallet, select "Receive" and choose either ERC-20 or BEP8. Then, copy your wallet address and finally click on "I understand".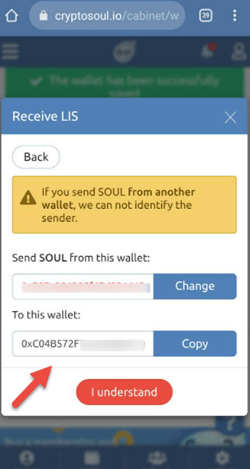 According to the site's instructions, withdrawals can take up to 48 hours. 
Is Merge Cats Legit? Does it Pay? 
As of November 2021, Merge Cats is not transferring crypto rewards to the player's Etherium wallet.
I know this because the company replied to a review on Google Play by claiming they will fix this once they move to the realis.network website.
I tried to withdraw, but there is nothing yet in my crypto wallet and the LIS is still available on my Cryptosoul account.
Here is another person who played Merge Cats for a week and didn't receive her reward.
She asked the company if players were able to withdraw, and they said withdrawals will only be available after blockchain launch.

So, that's enough proof that Merge Cats are not transferring ETH or BTC to Crypto wallets.
That doesn't mean the app is fraudulent. However, they should be honest and inform users they still cannot provide the rewards that were promised.
Another big problem with this application is that it's accepting payments even though it cannot process rewards.
Conclusion 
Merge Cats is an excellent game for killing time. However, players are not getting paid because the blockchain hasn't been launched yet. Well, that's what the company says!
Sadly, many people are buying expensive items and upgrades with the expectation of winning a decent amount of crypto.
In my opinion, the company should either stop promoting Merge Cats as an opportunity to win Crypto or stop selling items to players. At least until they can transfer the funds!
Is There an Alternative to Merge Cats? 
There is no similar game that pays users. However, I can recommend a few other games, most of which developed by a Canadian company called Bling.
As far as I know, these are the only games that transfer BTC to your Coinbase account:
Crypto Connect 3
Bitcoin Food Fight
Bitcoin Blast
Bitcoin Solitaire
Unfortunately, the amount of satoshi you earn by playing these games is very low. For example, you may play for an entire week and only make 10 cents worth of BTC.
If you want to make a substantial amount of money online, you'd better search for an effective and proven strategy!
Keep reading to find out the business model that generates me over 2,000 USD per month.
Earn a Full-Time Income Online

Instead of wasting time with games that pay little or no money, I suggest a proven business plan that can help you generate life-changing commissions.
By creating an affiliate site and ranking articles on Google, you can attract a large audience and make profits.
My online business has allowed me to quit my job and travel non-stop for the past 2 years, even with the current situation.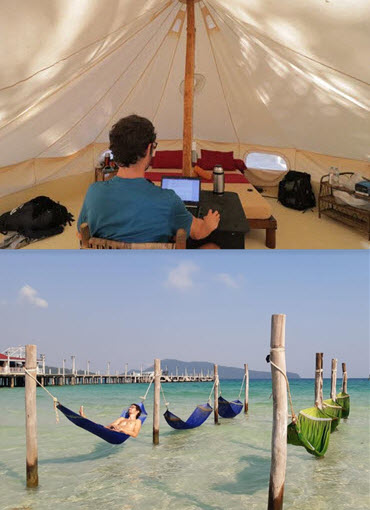 Perhaps you just want more time with your family and wish to work from home.
Yes, you can make your wishes come true if you put in the work and follow a clear plan of action.
This excellent program will give you the proper training and support to succeed and generate income.
Final Words
Thanks for reading my Merge Cats app review! If you would like to share thoughts about this game or ask any question, feel free to use comment box below.
Peace!