Welcome to my Bingo Time app review!
What if you could play Bingo on your smartphone for free and earn real cash rewards?
With Bingo Time, you can collect coins, virtual dollars, and Amazon puzzles by playing bingo games.
You don't need to spend any money on cards as the developer generates revenue with advertising.
Great! Watching a few videos here and there while making free money seems like an easy decision!
Once you reach the payout threshold, you can withdraw the funds to your PayPal account or request Amazon gift cards.
Many people feel like this is a great opportunity to ease their financial struggles and don't think twice before installing the app.
But the question is: Is Bingo Time legit or fake? Will they pay you or not?
Let's find out!
Before you leave, discover the step-by-step program that helped me reach 2,000 USD+ per month and quit my job. Click here and sign up for free!
Bingo Time App Review
Name: Bingo Time – Happy Hour
Developer: Nigel Fowler
Availability: Worldwide
Price: FREE
Type: Entertainment (no financial risk)
Minimum payout: $100
Overall Rating: 1/5
What Is Bingo Time?  
Bingo Time is a virtual bingo game for Android devices in which players can win real cash prizes. 
The application gives you the opportunity to play for free and collect virtual items redeemable for PayPal Cash, Amazon vouchers, and several gifts.
All you have to do is mark the numbers on the card and hit bingo when you complete the winning patterns.
Bingo Time was developed by Nigel Fowler, who is also the creator of Bingo Carnival and this coin pusher game. 
How Does Bingo Time Work?
Installation
Bingo Time works on Android devices and is available worldwide.
You don't need to sign up to access the game and start collecting rewards.
However, it's important to know the developer has permission to read, modify and even delete content that you hold on your phone.
That's very odd, considering users don't need to upload any photo or file through the app. So, why do they ask for this?
They should provide an answer to this question through the Terms of Service. However, Google Docs states you can't access the page because it violates their Terms of Service.
How to Play Bingo Time?
How to Cash Out? 
As you can see right at the top of the screen, there are three balances: Coins, cash coupons, and amazon cards.
If you open the wallet, it gives you four ways to withdraw the money:
$100 PayPal – Collect 10,000,000 coins
$150 PayPal – Reach $150 worth of coupons.
$100 Amazon voucher – Collect 100 Amazon cards
You may also win the big jackpot of $777 in the slot machine if you match three numbers 7.
According to app instructions, they will send you the money within 7 business days (except on weekends). If you don't get paid, they advise contacting them by email.
Lucky Activity
Bingo Time also awards fractions of puzzles by playing Bingo, watching videos, and spinning the lucky wheel.
Once you collect ten full fragments, you can redeem them for amazing gifts such as iPhone 12, Sony 75-inch, Louis Vuitton bag, and more!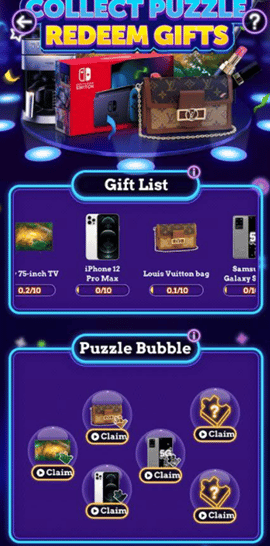 Is Bingo Time Legit? Does it Pay? 
No. You won't receive any more gifts by playing Bingo Time. This is only a simulation with no real cash payments.
Even though Bingo Time was launched in 2021 and has 100,000 installs, it's still in "Early Access".
What that means is that you cannot even read the reviews because users are not allowed to publish them.
Therefore, it's safe to assume your cash balance won't be transferred to your PayPal account. The cash amount is too high, and no developer can afford it.
Please note the last sentence in the app instructions: "Final interpretation is owned by Bingo Time". 
Basically, it means the developer has the right to reject your payment request for any or no reason whatsoever.
Conclusion 
I really enjoyed playing Bingo Time thanks to its excellent graphics and gameplay
However, it's just impossible to receive cash and expensive prizes worth hundreds of dollars.
The developer seems to be the only person who benefits from it since he monetizes his app by displaying lots of advertising.
There are countless Android games that do the same, making people waste a significant amount of their time.
Unfortunately, there are no free Bingo apps out there capable of giving away big cash prizes. You will
Earn A Full-Time Income Online
I never play bingo or slots because I prefer to spend my time growing my own online business. 
You can work from home and earn a decent income by becoming a content creator like me.
That's how I make over $2,000 per month in affiliate commissions and advertising.
You need to learn how to set up your foundation before you can take consistent steps to attract an online audience.
If you want to learn more about this opportunity and get excellent support from expert digital marketers, check out my #1 recommendation here! 
They provide the best training and help you avoid trial and error that can cost you a lot of money down the road. Since I joined this site back in 2015, I can only say positive things about it.
Final Words
Thanks for reading my Bingo Time app review. If you have questions or thoughts about this game, leave us a comment below.
Peace!